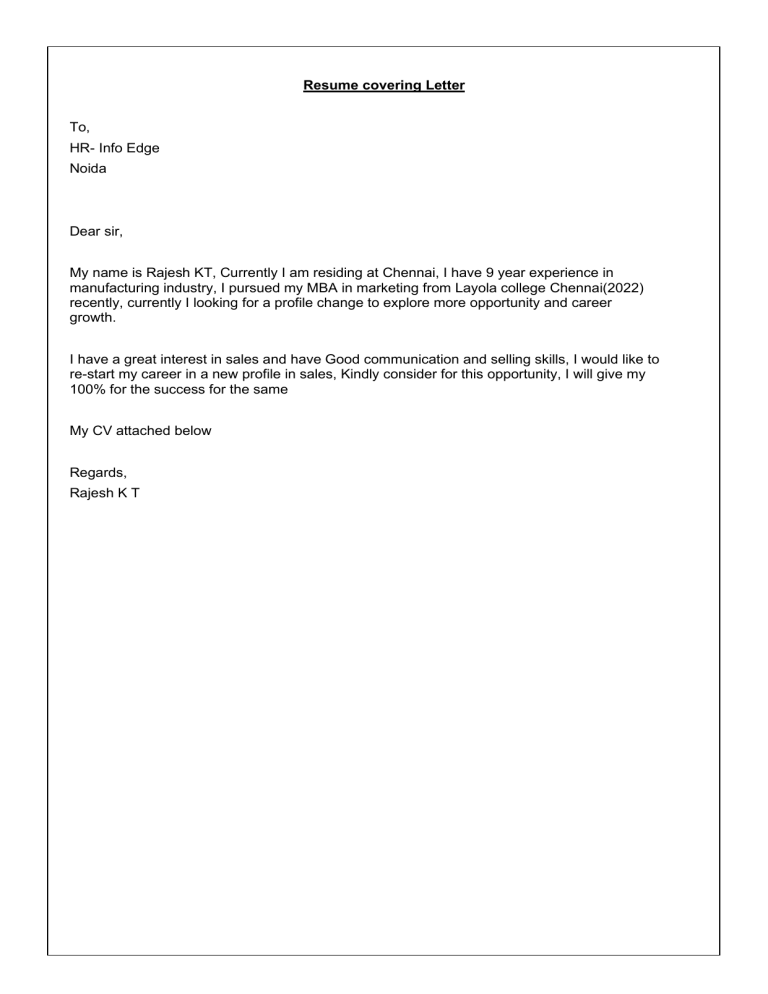 Resume covering Letter
To,
HR- Info Edge
Noida
Dear sir,
My name is Rajesh KT, Currently I am residing at Chennai, I have 9 year experience in
manufacturing industry, I pursued my MBA in marketing from Layola college Chennai(2022)
recently, currently I looking for a profile change to explore more opportunity and career
growth.
I have a great interest in sales and have Good communication and selling skills, I would like to
re-start my career in a new profile in sales, Kindly consider for this opportunity, I will give my
100% for the success for the same
My CV attached below
Regards,
Rajesh K T
RAJESH K T
rajeshkt9@gmail.com
Kizhakkekallelil (H),Muvattupuzha P.O,Adooparambu,
Kerala-686661, India
Mob: +91 9633392721
Passport No: J5245693
OBJECTIVES
My objective is to develop a career in the ever changing, challenging and dynamic
field of management by giving the best with all my ability, sincerity as to attain
organizational goals there by fulfilling my personal goals
EDUCATION
1) MBA- Marketing- Layola College, Chennai, (2022)
2) B. Tech (EEE), Government engineering college (RIT), Kottayam, Kerala
EXPERIENCE
PRESENT
❖ Indo Tech transformers ltd (Formerly GE PROLEC)| Chennai,
Deputy manager-QA (JUNE 2016 TO PRESENT)
EARLIER
❖ PRIME MEIDEN | Nellore, Andhra Pradesh
Engineer- Quality Assurance (APRIL 2013 TO MAY 2016)
SKILLS
•
•
•
•
•
•
•
•
•
•
•
•
•
Experienced in manufacturing quality inspections
Workers training
Continual improvement
Co-ordinating process digitalization initiatives
Handling customer inspections
Vendor evaluation and audits
Team management
Expertise in Non-conformance management
Skilled in making PPTs, analysis using various MS office tools
Excellent communication skills
Good analytical and interpersonal skills
Excellent understanding in engineering drawings and quick learner
Initiate and co-ordinate process improvements
LANGUAGES KNOWN (PROFICIENT)
Malayalam, English, Hindi and Tamil
PERSONAL PROFILE
Age
: 33 Years
Date of Birth
: 02.10.1988
Gender
: Male
Nationality
: Indian
Marital Status
: Married
Hobbies
: Reading books, Watching Movies.