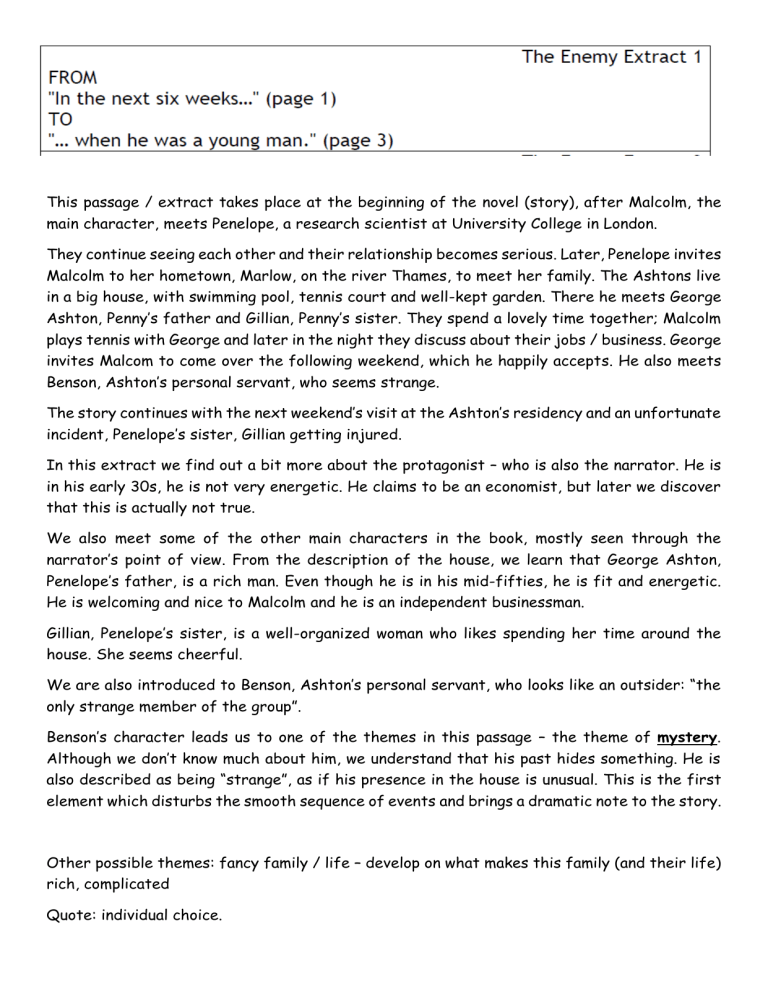 This passage / extract takes place at the beginning of the novel (story), after Malcolm, the
main character, meets Penelope, a research scientist at University College in London.
They continue seeing each other and their relationship becomes serious. Later, Penelope invites
Malcolm to her hometown, Marlow, on the river Thames, to meet her family. The Ashtons live
in a big house, with swimming pool, tennis court and well-kept garden. There he meets George
Ashton, Penny's father and Gillian, Penny's sister. They spend a lovely time together; Malcolm
plays tennis with George and later in the night they discuss about their jobs / business. George
invites Malcom to come over the following weekend, which he happily accepts. He also meets
Benson, Ashton's personal servant, who seems strange.
The story continues with the next weekend's visit at the Ashton's residency and an unfortunate
incident, Penelope's sister, Gillian getting injured.
In this extract we find out a bit more about the protagonist – who is also the narrator. He is
in his early 30s, he is not very energetic. He claims to be an economist, but later we discover
that this is actually not true.
We also meet some of the other main characters in the book, mostly seen through the
narrator's point of view. From the description of the house, we learn that George Ashton,
Penelope's father, is a rich man. Even though he is in his mid-fifties, he is fit and energetic.
He is welcoming and nice to Malcolm and he is an independent businessman.
Gillian, Penelope's sister, is a well-organized woman who likes spending her time around the
house. She seems cheerful.
We are also introduced to Benson, Ashton's personal servant, who looks like an outsider: "the
only strange member of the group".
Benson's character leads us to one of the themes in this passage – the theme of mystery.
Although we don't know much about him, we understand that his past hides something. He is
also described as being "strange", as if his presence in the house is unusual. This is the first
element which disturbs the smooth sequence of events and brings a dramatic note to the story.
Other possible themes: fancy family / life – develop on what makes this family (and their life)
rich, complicated
Quote: individual choice.