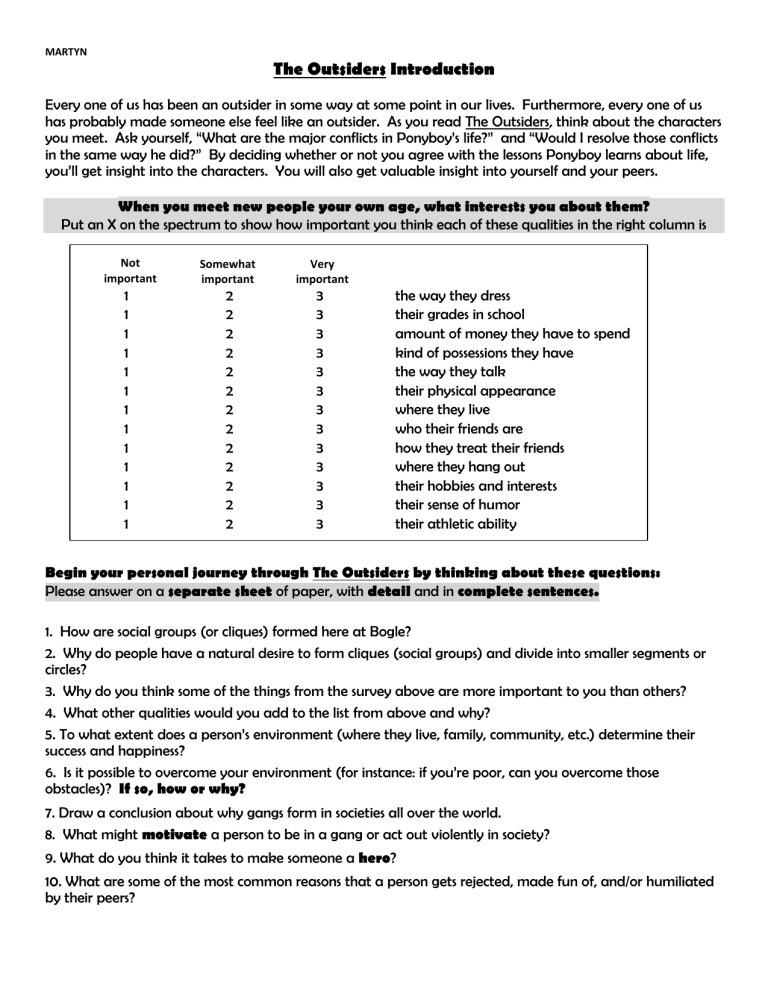 MARTYN
The Outsiders Introduction
Every one of us has been an outsider in some way at some point in our lives. Furthermore, every one of us
has probably made someone else feel like an outsider. As you read The Outsiders, think about the characters
you meet. Ask yourself, "What are the major conflicts in Ponyboy's life?" and "Would I resolve those conflicts
in the same way he did?" By deciding whether or not you agree with the lessons Ponyboy learns about life,
you'll get insight into the characters. You will also get valuable insight into yourself and your peers.
When you meet new people your own age, what interests you about them?
Put an X on the spectrum to show how important you think each of these qualities in the right column is
Not
important
1
1
1
1
1
1
1
1
1
1
1
1
1
Somewhat
important
Very
important
2
2
2
2
2
2
2
2
2
2
2
2
2
3
3
3
3
3
3
3
3
3
3
3
3
3
the way they dress
their grades in school
amount of money they have to spend
kind of possessions they have
the way they talk
their physical appearance
where they live
who their friends are
how they treat their friends
where they hang out
their hobbies and interests
their sense of humor
their athletic ability
Begin your personal journey through The Outsiders by thinking about these questions:
Please answer on a separate sheet of paper, with detail and in complete sentences.
1. How are social groups (or cliques) formed here at Bogle?
2. Why do people have a natural desire to form cliques (social groups) and divide into smaller segments or
circles?
3. Why do you think some of the things from the survey above are more important to you than others?
4. What other qualities would you add to the list from above and why?
5. To what extent does a person's environment (where they live, family, community, etc.) determine their
success and happiness?
6. Is it possible to overcome your environment (for instance: if you're poor, can you overcome those
obstacles)? If so, how or why?
7. Draw a conclusion about why gangs form in societies all over the world.
8. What might motivate a person to be in a gang or act out violently in society?
9. What do you think it takes to make someone a hero?
10. What are some of the most common reasons that a person gets rejected, made fun of, and/or humiliated
by their peers?