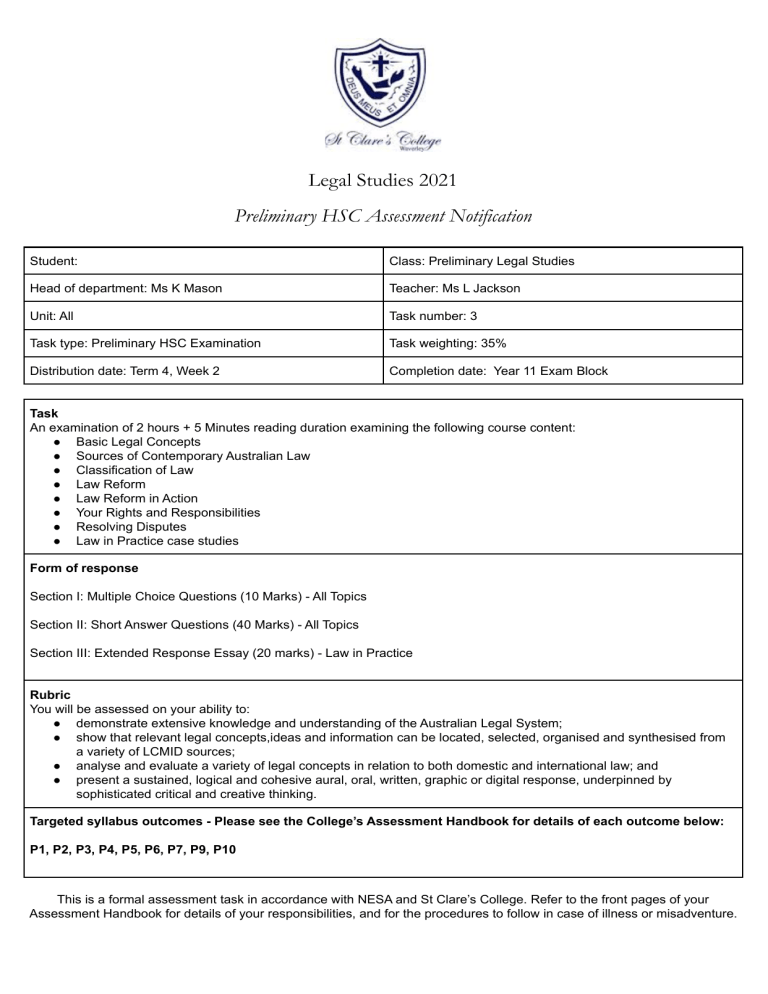 Legal Studies 2021
Preliminary HSC Assessment Notification
Student:
Class: Preliminary Legal Studies
Head of department: Ms K Mason
Teacher: Ms L Jackson
Unit: All
Task number: 3
Task type: Preliminary HSC Examination
Task weighting: 35%
Distribution date: Term 4, Week 2
Completion date: Year 11 Exam Block
Task
An examination of 2 hours + 5 Minutes reading duration examining the following course content:
● Basic Legal Concepts
● Sources of Contemporary Australian Law
● Classification of Law
● Law Reform
● Law Reform in Action
● Your Rights and Responsibilities
● Resolving Disputes
● Law in Practice case studies
Form of response
Section I: Multiple Choice Questions (10 Marks) - All Topics
Section II: Short Answer Questions (40 Marks) - All Topics
Section III: Extended Response Essay (20 marks) - Law in Practice
Rubric
You will be assessed on your ability to:
● demonstrate extensive knowledge and understanding of the Australian Legal System;
● show that relevant legal concepts,ideas and information can be located, selected, organised and synthesised from
a variety of LCMID sources;
● analyse and evaluate a variety of legal concepts in relation to both domestic and international law; and
● present a sustained, logical and cohesive aural, oral, written, graphic or digital response, underpinned by
sophisticated critical and creative thinking.
Targeted syllabus outcomes - Please see the College's Assessment Handbook for details of each outcome below:
P1, P2, P3, P4, P5, P6, P7, P9, P10
This is a formal assessment task in accordance with NESA and St Clare's College. Refer to the front pages of your
Assessment Handbook for details of your responsibilities, and for the procedures to follow in case of illness or misadventure.