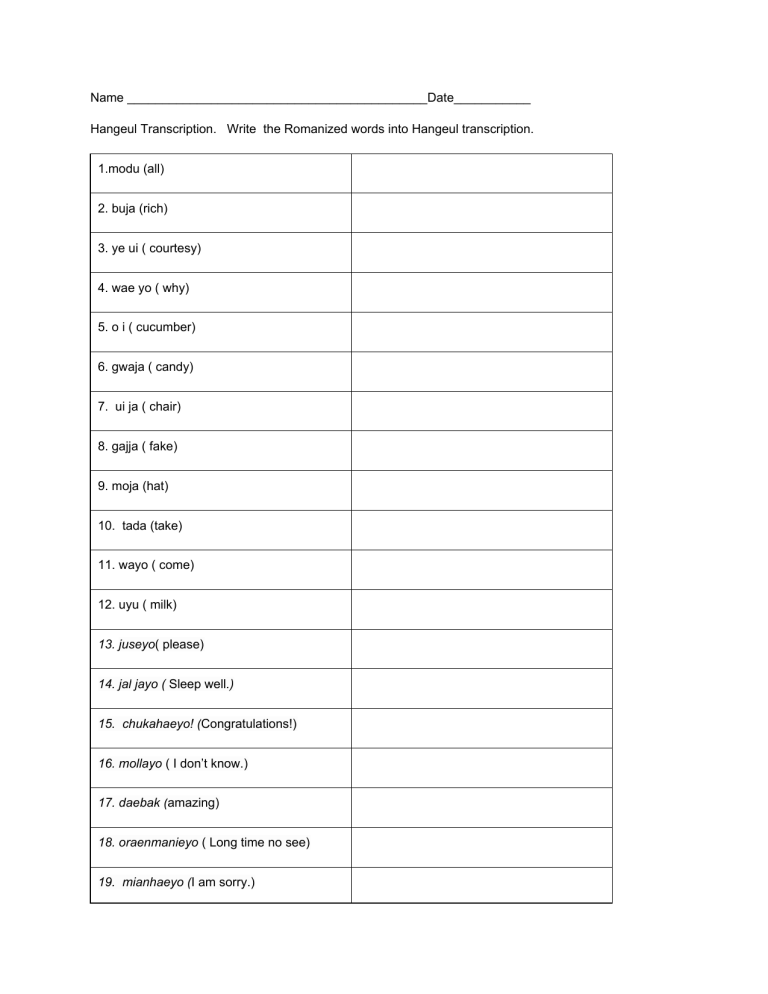 Name ___________________________________________Date___________
Hangeul Transcription. Write the Romanized words into Hangeul transcription.
1.modu (all)
2. buja (rich)
3. ye ui ( courtesy)
4. wae yo ( why)
5. o i ( cucumber)
6. gwaja ( candy)
7. ui ja ( chair)
8. gajja ( fake)
9. moja (hat)
10. tada (take)
11. wayo ( come)
12. uyu ( milk)
13. juseyo( please)
14. jal jayo ( Sleep well.)
15. chukahaeyo! (Congratulations!)
16. mollayo ( I don't know.)
17. daebak (amazing)
18. oraenmanieyo ( Long time no see)
19. mianhaeyo (I am sorry.)
20.jalgayo( Take care)
Practice writing the following sentences.
이
저
름
김
도
반
아
뭐
는
저
영
이
일
학
갑
년
,
요
예
이
람
저
에
.
요
다
이
는
?
요
에
니
사
요
이
습
국
니
유
예
.
.
요
영
국
.
.
사
람
아
니
에
Write the following phrases/sentences in Hangeul.
1,Gongbuhaeyo. ( I am studying.)
2.Hangugeodo Alayo?( Do you know Korean too?)
3.Haeboseyo! ( Try it yourself!)
4.Ichari pieo issoyo?( Is this seat free?)
5.Eolma yeyo?( How much will it be?)
6.Eoneu nala esoe isseoyo?( What country are you from?)
7.Hangugeo sueopi anje isseoyo? ( When do you have Korean classess?)
8.Eodi eseo mannasseoyo? ( Where did you meet?)
9.Orenji maheun gae juseyo? (Can I have 40 oranges please?)
10. Keopi syup eseo mannasseoyo. ( We met in the coffee shop.)
요
.
B. Please be reminded of the individual activity ( tongue twister) and the dyad activity ( conversation drill)
next week.