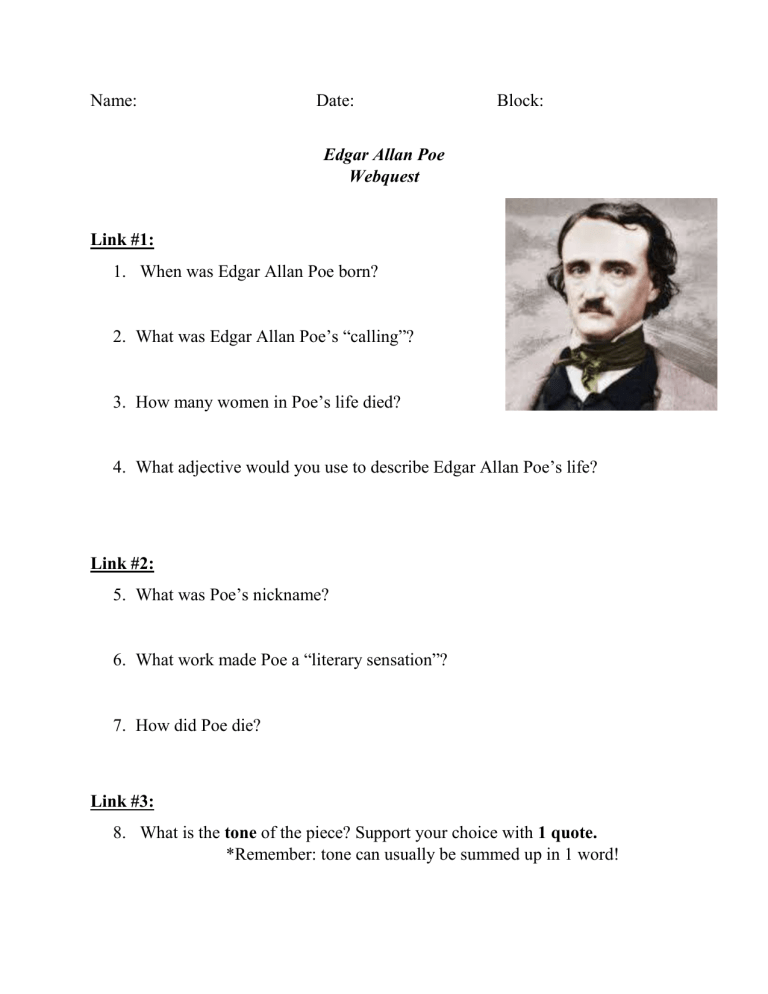 Name:
Date:
Block:
Edgar Allan Poe
Webquest
Link #1:
1. When was Edgar Allan Poe born?
2. What was Edgar Allan Poe's "calling"?
3. How many women in Poe's life died?
4. What adjective would you use to describe Edgar Allan Poe's life?
Link #2:
5. What was Poe's nickname?
6. What work made Poe a "literary sensation"?
7. How did Poe die?
Link #3:
8. What is the tone of the piece? Support your choice with 1 quote.
*Remember: tone can usually be summed up in 1 word!
9. What event in Edgar Allan Poe's life would cause him to write a piece like
this?
Link #4:
10. Choose 1 element of horror discussed earlier today that is shown in the
movie trailer.
11.Provide at least 1 example from the movie trailer which shows this element
well.
12. If Edgar Allan Poe were still alive today, what is one question you would
ask him?
Directions:
Now that you have gathered all the background information on Edgar Allan Poe
that you need, you can now complete the final task.
Log onto Canvas and answer the following question in paragraph form. Use this
worksheet to help you write the best answer that you can!
Now that you have a taste of who Edgar Allan Poe was, write a paragraph that
expands upon 1 character trait of Edgar Allan Poe or his life. Remember, use
three examples!
Nombre:
Fecha:
Bloque:
Edgar Allan Poe
Búsqueda web
Enlace #1:
1. ¿Cuándo nació Edgar Allan Poe?
2. ¿Cuál fue la "vocación" de Edgar Allan Poe?
3. ¿Cuántas mujeres murieron en la vida de Poe?
4. ¿Qué adjetivo usarías para describir la vida de Edgar Allan Poe?
Enlace #2:
5. ¿Cuál era el apodo de Poe?
6. ¿Qué obra convirtió a Poe en una "sensación literaria"?
7. ¿Cómo murió Poe?
Enlace #3:
8. ¿Cuál es el tono de la pieza? Apoye su elección con 1 cotización. *Recuerde: ¡el
tono generalmente se puede resumir en 1 palabra!
9. ¿Qué evento en la vida de Edgar Allan Poe lo llevaría a escribir una pieza como
esta?
Enlace #4:
10. Elija 1 elemento de terror discutido anteriormente hoy que se muestra en el
avance de la película.
11. Proporcione al menos 1 ejemplo del tráiler de la película que muestre bien este
elemento.
12. Si Edgar Allan Poe todavía viviera hoy, ¿qué pregunta le harías?
Direcciones:
Ahora que ha recopilado toda la información de fondo sobre Edgar Allan Poe que
necesita, ahora puede completar la tarea final.
Inicie sesión en Canvas y responda la siguiente pregunta en forma de párrafo. ¡Usa
esta hoja de trabajo para ayudarte a escribir la mejor respuesta que puedas!
Ahora que tiene una idea de quién fue Edgar Allan Poe, escriba un párrafo que
amplíe un rasgo de carácter de Edgar Allan Poe o su vida. ¡Recuerde, use tres
ejemplos!
Ім'я:
Дата:
Блок:
Едгар Аллан По
Веб-квест
Посилання №1:
1. Коли народився Едгар Аллан По?
2. Яким було «покликання» Едгара Аллана По?
3. Скільки жінок померло за життя По?
4. Який прикметник ви б використали, щоб описати життя Едгара Аллана
По?
Посилання №2:
5. Яке прізвисько було у По?
6. Який твір зробив По «літературною сенсацією»?
7. Як помер По?
Посилання №3:
8. Яка тональність твору? Підтвердіть свій вибір 1 цитатою. *Пам'ятайте: тон
зазвичай можна описати одним словом!
9. Яка подія в житті Едгара Аллана По змусила б його написати подібний
твір?
Посилання №4:
10. Виберіть 1 елемент жахів, про який ми говорили сьогодні, який показано
в трейлері фільму.
11. Наведіть принаймні 1 приклад із трейлера фільму, який добре демонструє
цей елемент.
12. Якби Едгар Аллан По був живий сьогодні, яке запитання ви б йому
поставили?
Напрямки:
Тепер, коли ви зібрали всю необхідну довідкову інформацію про Едгара
Аллана По, ви можете виконати останнє завдання.
Увійдіть на Canvas і дайте відповідь на наступне запитання у формі абзацу.
Використовуйте цей аркуш, щоб допомогти вам написати найкращу
відповідь!
Тепер, коли ви здогадалися, ким був Едгар Аллан По, напишіть абзац, який
розповість про 1 рису характеру Едгара Аллана По або його життя.
Пам'ятайте, використовуйте три приклади!