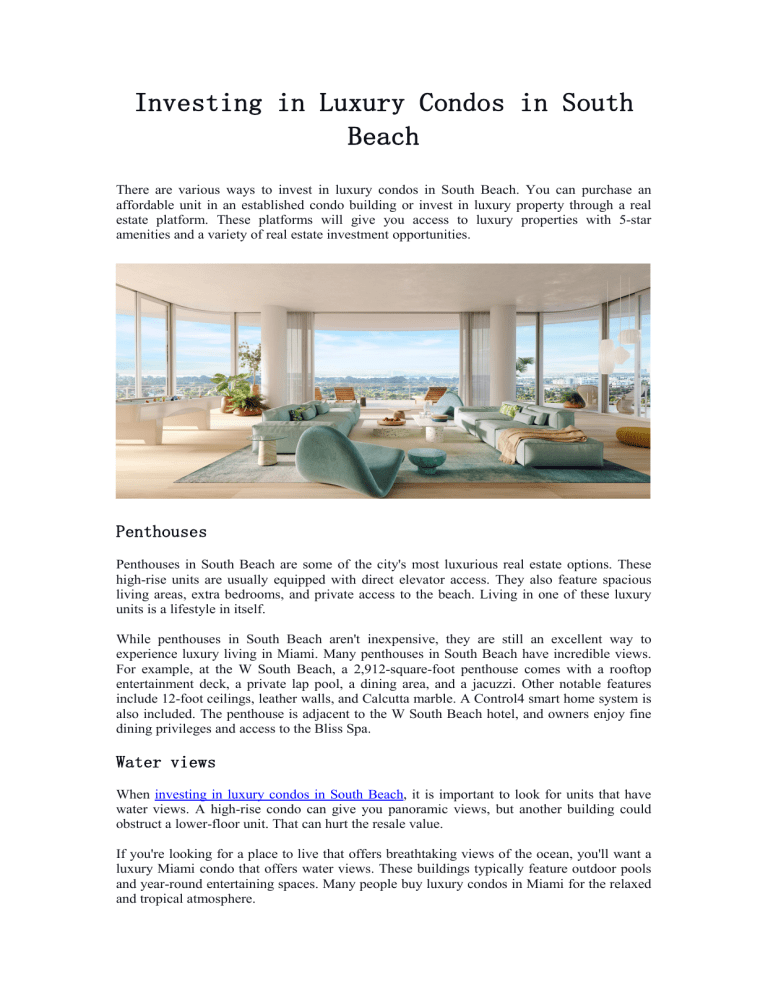 Investing in Luxury Condos in South
Beach
There are various ways to invest in luxury condos in South Beach. You can purchase an
affordable unit in an established condo building or invest in luxury property through a real
estate platform. These platforms will give you access to luxury properties with 5-star
amenities and a variety of real estate investment opportunities.
Penthouses
Penthouses in South Beach are some of the city's most luxurious real estate options. These
high-rise units are usually equipped with direct elevator access. They also feature spacious
living areas, extra bedrooms, and private access to the beach. Living in one of these luxury
units is a lifestyle in itself.
While penthouses in South Beach aren't inexpensive, they are still an excellent way to
experience luxury living in Miami. Many penthouses in South Beach have incredible views.
For example, at the W South Beach, a 2,912-square-foot penthouse comes with a rooftop
entertainment deck, a private lap pool, a dining area, and a jacuzzi. Other notable features
include 12-foot ceilings, leather walls, and Calcutta marble. A Control4 smart home system is
also included. The penthouse is adjacent to the W South Beach hotel, and owners enjoy fine
dining privileges and access to the Bliss Spa.
Water views
When investing in luxury condos in South Beach, it is important to look for units that have
water views. A high-rise condo can give you panoramic views, but another building could
obstruct a lower-floor unit. That can hurt the resale value.
If you're looking for a place to live that offers breathtaking views of the ocean, you'll want a
luxury Miami condo that offers water views. These buildings typically feature outdoor pools
and year-round entertaining spaces. Many people buy luxury condos in Miami for the relaxed
and tropical atmosphere.
Resale value
In the third quarter of this year, luxury condo sales on Miami Beach posted record sales.
Despite a seasonal dip, the region still recorded triple-digit growth. In addition, while the
median sale price decreased slightly, luxury condos on the beach were up 17.7% from Q2 this
year.
In contrast, luxury condos in South Beach spent only 97 fewer days on the market in the third
quarter of this year than in the third quarter of last year. That's an impressive statistic and
indicates that buyers have a clear understanding of the market and quickly come to an
agreement on pricing and other expectations. Again, this indicates a strong demand for luxury
condominiums in this neighborhood.
Prices per square foot increased 9.1% year-over-year for luxury condos in South Beach. But
while luxury condos on the beach were selling for more than $1 million in the third quarter,
they still command a high price per square foot. In Miami, luxury condos on the beach
command the highest prices per square foot.