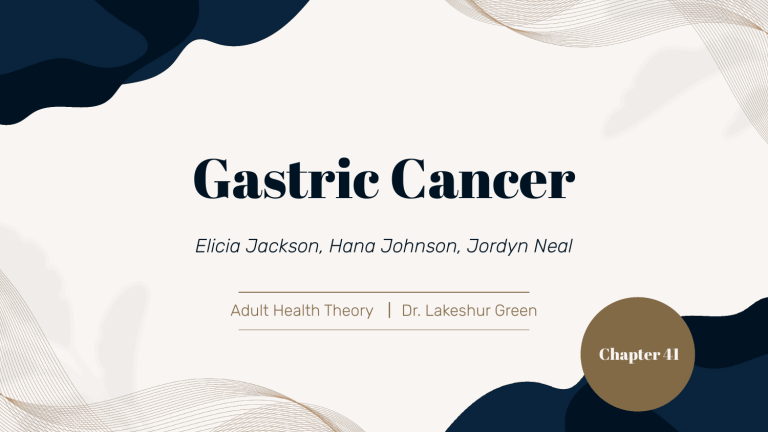 Gastric Cancer
Elicia Jackson, Hana Johnson, Jordyn Neal
Adult Health Theory | Dr. Lakeshur Green
Chapter 41
What is Gastric
Cancer?
Ethnicity
Demographics
Asian Americans, Pacific Islander,
Hispanics, and blacks have a higher
rate of incidence than non-hispanic
whites
Gender
Men are twice as likely to develop
stomach cancer than women
Age
Older people are the most common
age group with diagnostic average age
being 68.
Pathophysiology & Etiology
Risk Factors & Causes
H. Pylori, repeated exposure to irritants, tobacco use
Stomach cancer can be caused by nonspecific mucosal injury
as a result of infection at an early age, irritation of bile, or
irritation caused by NSAIDs.
Predisposing Factors: Atrophic gastritis, pernicious
anemia, adenomatous polyps, hyperplastic polyps,
and achlorhydria
Smoking and obesity increase risk
Diets high in smoked foods, salted fish and meat,
and pickled vegetables.
Clinical Manifestations
Progression of the disease is insidious.
Cancer spreads to adjacent organs before the
manifestations are present. These include:
❖
❖
❖
❖
❖
❖
❖
❖
❖
❖
Weight loss
Abdominal pain and discomfort
Signs and symptoms of anemia
➢
Chronic Blood Loss
➢
Pernicious Anemia
Early satiety
Pale and weakness
Fatigue, weakness, and dizziness
Positive occult blood in the stool
Supraclavicular lymph nodes that are hard and
enlarged
Shortness of breath in severe cases
Poor Prognosis Sign: ascites
Diagnostic Assessment
Best Diagnostic Tool: Upper GI Endoscopy
History & physical exam
Stool examination to determine presence of occult blood
Diagnostic
Studies
Stage the disease with: Endoscopic ultrasound, CT, MRI, and
PET
Histologic and tissue biopsy are important in diagnosis
Laparoscopy is done to determine the peritoneal spread
CBC is used to: determine the severity of anemia
Increased liver enzymes and serum amylase levels indicate
liver and pancreatic involvement
Tumor Markers can help diagnose cancer
alpha-Fetoprotein
carbohydrate antigen
carcinoembryonic antigens
Interprofessional
Care
❏
01
02
Focus on correcting nutritional
deficits and treatment of
anemia.
Nutritional
Deficits
Anemia
Preoperative Goals
❏
Gastric decompression may be
needed for surgery. (Gastric Outlet
Obstruction)
❏
Transfusion of packed RBCs
needs to be implemented to
correct the anemia.
Surgical Therapy
❏
Aim to remove majority of the stomach of the tumor and a
margin of normal tissue.
❏
❏
Specific surgery sites:
1.
Location and extent of the lesion
2.
Patient's physical condition
3.
HCP preference
Types of procedures
➢
Billroth I or II: Lesions in the antrum or pyloric region
➢
Total gastrectomy with esophagojejunostomy: Lesion
in the fundus
➢
Extended surgeries: metastasis to organs (spleen,
ovaries, or bowel)
➢
Partial colon resection: tumor extends into the
transverse colon.
Chemotherapy & Radiation
Therapy
❏
List of Chemotherapy drugs
for stomach cancer
➢
➢
➢
➢
➢
➢
➢
➢
➢
Fluorouracil
Capecitabine (Xeloda)
Carboplatin
Cisplatin
Docetaxel (Taxotere)
Epirubicin (Ellence)
Irinotecan
(Camptosar)
Oxaliplatin (Eloxatin)
Pacilataxel
❏
Combination therapies
(Different phases of the cell cycle)
➢
➢
ECF (epirubicin, cisplatin,
fluorouracil) and docetaxel,
irinotecan, oxaliplatin
Cisplatin with fluorouracil or
capecitabine
❏
➢
Radiation Therapy
Used together with
chemotherapy to reduce the
recurrence or as palliative
measure to decrease tumor
mass and provide temporary
relief of obstruction.
Targeted Therapy
❏
Stomach cancer treatment: Trastuzumab
(Herceptin) & Ramucirumab (Cyramza)
❏
Patient with stomach cancer have too
much HER-2 (surface of the cancer cells)
➢
Trastuzumab: targets the HER-2
protein and kills the cancer kills
➢
Ramucirumab: bind to receptor
VEGF and prevent VEGF from
binding to the receptor preventing
the growth and spread of cancer.
(Used to treat esophageal cancer).
Nursing
Management
Assessment
Obtain Data on:
●
●
●
●
Nutritional assessment
Psychosocial history
Patients perception of health problems and need
for care
Physical examination
Goals of Care (Planning)
3 Goals:
1)
Minimal discomfort
2)
Achieve optimal nutritional status
3)
Maintain degree of psychological well-being
appropriate to the disease stage
Acute Care
●
●
●
●
●
Retest, provide support, provide information and
maintain a positive attitude.
Provide several smaller meals rather than 3
frequent meals
Provide preoperative and postoperative
information as needed
Packed RBCs and fluid volume may be given
preoperative
Provide detailed instructions of radiation and
chemo therapies
Ambulatory
●
●
●
After radiation and chemo therapy referral to a
home health care may be beneficial
Provide a list of community agencies
Encourage patient to adhere prescribed
therapies, keep appointment, and inform
healthcare providers of changes in physical
conditions
Evaluation
Same as the goals:
●
Have no minimal discomfort, pain, or nausea
●
Achieve optimal nutritional status
●
Maintain a degree of psychological well-being
appropriate to the disease stage
Health Promotion
Encourage
Detection
Identify the patients at risk
of specific disorders such
as H. pylori infection,
pernicious anemia, and
achlorhydria
Be aware of symptoms
Symptoms often occur late
and mimic conditions such
as PUD which include poor
appetite, weight loss, fatigue
and persistent stomach
distress
Patient with positive
family history of stomach
cancer to be evaluated
for anemia, PUD, or
vague epigastric
distress.
Recognize
The possibility of stomach
cancer in patient who is
treated for PUD and does
not get relief with therapy
Discussion Question
An optimal teaching plan for an outpatient with stomach cancer receiving
radiation therapy should include information about
a. cancer support groups, alopecia, and stomatitis.
b. nutrition supplements, ostomy care, and support groups.
c. prosthetic devices, wound and skin care, and grief counseling.
d. wound and skin care, nutrition, drugs, and community resources.
Correct answer: d
Rationale: Radiation therapy is an adjuvant to surgery or for palliation in
treatment of stomach cancer. The nurse's role is to provide detailed instructions,
to reassure the patient, and to ensure completion of the designated number of
treatments. The nurse should start by assessing the patient's knowledge of
radiation therapy. The nurse should teach the patient about skin care, the need
for nutrition and fluid intake during therapy, and the appropriate use of
antiemetic drugs.
Discussion Question
A patient who has been diagnosed with stomach cancer a year ago comes to the
hospital complaining of abdominal discomfort, loss of appetite, and shortness of
breath. Which diagnostic or surgical procedure can best determine the spread of
stomach cancer to the peritoneum?
a.
Biopsy
b.
Ultrasound
c.
Laparoscopy
d.
CT
Correct answer: c
A laparoscopy can determine the spread of cancer to the peritoneum.
A biopsy of the tissue and subsequent histologic examination are
important for the diagnosis of stomach cancer. Ultrasound and CT
studies are used to stage the disease.
References
Elsevier. (n.d.). Lewis's medical-surgical nursing. Lewis's Medical-Surgical Nursing - 11th Edition. Retrieved March
20, 2022, from https://www.elsevier.com/books/lewiss-medical-surgical-nursing/harding/978-0-323-55149-6
Thank You !