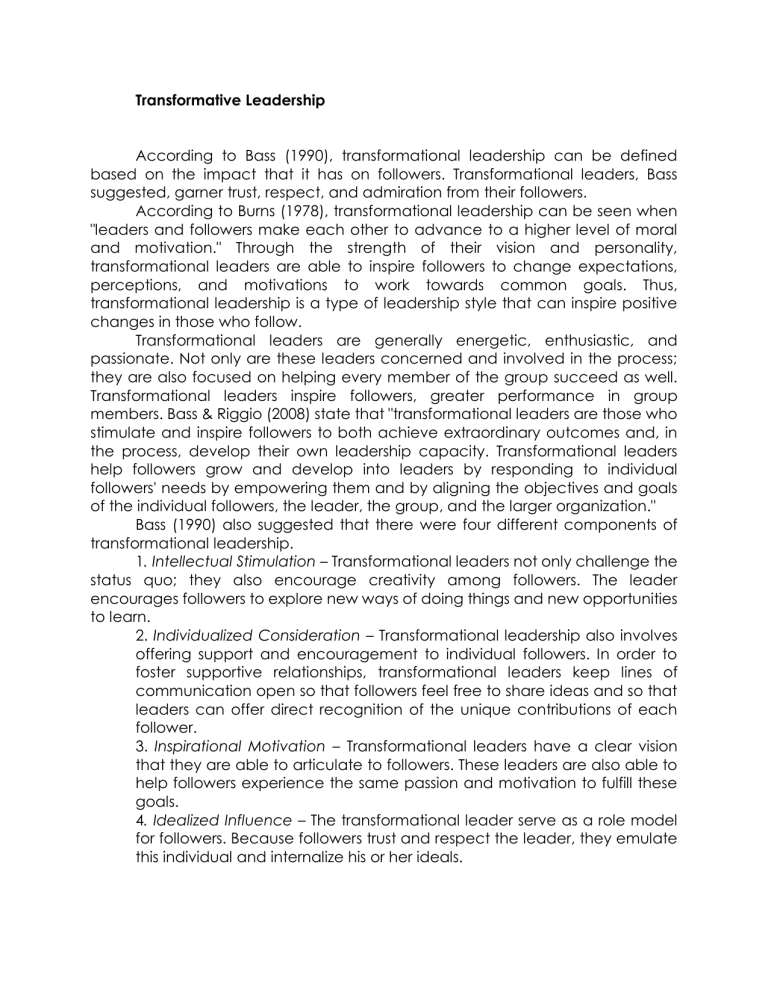 Transformative Leadership
According to Bass (1990), transformational leadership can be defined
based on the impact that it has on followers. Transformational leaders, Bass
suggested, garner trust, respect, and admiration from their followers.
According to Burns (1978), transformational leadership can be seen when
"leaders and followers make each other to advance to a higher level of moral
and motivation." Through the strength of their vision and personality,
transformational leaders are able to inspire followers to change expectations,
perceptions, and motivations to work towards common goals. Thus,
transformational leadership is a type of leadership style that can inspire positive
changes in those who follow.
Transformational leaders are generally energetic, enthusiastic, and
passionate. Not only are these leaders concerned and involved in the process;
they are also focused on helping every member of the group succeed as well.
Transformational leaders inspire followers, greater performance in group
members. Bass & Riggio (2008) state that "transformational leaders are those who
stimulate and inspire followers to both achieve extraordinary outcomes and, in
the process, develop their own leadership capacity. Transformational leaders
help followers grow and develop into leaders by responding to individual
followers' needs by empowering them and by aligning the objectives and goals
of the individual followers, the leader, the group, and the larger organization."
Bass (1990) also suggested that there were four different components of
transformational leadership.
1. Intellectual Stimulation – Transformational leaders not only challenge the
status quo; they also encourage creativity among followers. The leader
encourages followers to explore new ways of doing things and new opportunities
to learn.
2. Individualized Consideration – Transformational leadership also involves
offering support and encouragement to individual followers. In order to
foster supportive relationships, transformational leaders keep lines of
communication open so that followers feel free to share ideas and so that
leaders can offer direct recognition of the unique contributions of each
follower.
3. Inspirational Motivation – Transformational leaders have a clear vision
that they are able to articulate to followers. These leaders are also able to
help followers experience the same passion and motivation to fulfill these
goals.
4. Idealized Influence – The transformational leader serve as a role model
for followers. Because followers trust and respect the leader, they emulate
this individual and internalize his or her ideals.
A. Leading and Managing Learning Institutions Towards Quality and Excellence
Pursuant to Republic Act No. 9155 known as Governance of Basic
Education Act of 2001, this policy aims to strengthen School-Based Management
(SBM) by further devolving the governance of education to schools, empowering
school teams and personnel, expanding community participation and
involvement, and making the delivery of education services to the learners more
responsive, efficient, and effective through an enhanced school planning and
communication process.
What is a School Improvement Plan (SIP)?
A School Improvement Plan (SIP) is a roadmap that lays down specific
interventions that a school, with the help of the community and other
stakeholders, undertakes within a period of three (3) consecutive school years. It
aims to improve the three key result areas in basic education: access, quality, and
governance. It is evidence-based, results-based, and child or learner-centered.
The SIP is central in School-Based Management (SBM) and is prepared by the
School-Community Planning Team (SPT). It is the basis for the school's Annual
Implementation Plan.
With the crucial role of the SIP in school management, five (5) instructional
videos were produced that will serve as supplementary references for schools to
further capacitate themselves in the implementation of the enhanced SIP Process
as well as to aid them in crafting their School Report Cards (SRC). This endeavor
was led by Bureau of Human Resource and Organizational Development – School
Effectiveness Division (BHROD-SED), together with DepEd schools and offices,
UNICEF, and CBN Asia.
The department strongly believes that educating our Filipino children is
everyone's responsibility. Thus, information dissemination about our programs is as
vital as its implementation. BHROD-SED ensured that the instructional videos are
filled with information that can easily be understood by school stakeholders
committed to help and support our schools. It may be a challenge but with our
hearts centered on the achievement of providing quality, accessible, relevant,
and liberating education for all our learners, there is nothing we cannot triumph
over.
Steps in the enhanced SIP cycle
The enhanced planning process is made to be more systematic. Thus, it is best to
follow the steps sequentially. However, some steps especially in the Assess phase
can be repeated to validate data and information (e.g. Listening to the voice
of the learner can be done at various stages of the process).
The enhanced SIP development and implementation cycle follow three phases:
Assess, Plan, and Act. The AIP, which is the year-by-year plan, likewise
undergoes these three phases with each year's implementation being checked
for its progress to ensure continuous improvement.
The Assess phase is where the identification of the PIAs is done and the general
objectives of the SIP are set. This phase includes listening to the voice of the
learners and other stakeholders and analyzing the school data and processes to
determine the root cause of each PIA.
The Plan phase involves the preparation and writing of the SIP and AIP. It is when
the formulation of solutions and development of project designs are done.
Sources:
DepEd Order 44 s. 2015
https://www.teacherph.com/school-improvement-plan-sip/
Okinyi,N.P. et.al (2015). The Role of Leaders in Transforming Learners and
Learning in the Higher Learning Institutions in Kenya. Journal of Education and
Practice www.iiste.org ISSN 2222-1735 (Paper) ISSN 2222-288X (Online) Vol.6,
No.25, 2015
Bass J. (1990). Teachers bringing out the best in teachers: A guide to peer
consultation for administrators and teachers. Thousand Oaks, CA: Corwin Press.
Burns, J. (1978). What works in elementary schools: Results-based staff
development? Oxford, OH: National Staff Development Council.
Bass & Riggio (2008). Pathways: Charting a course for professional learning.
Portsmouth, NH: Heinemann.