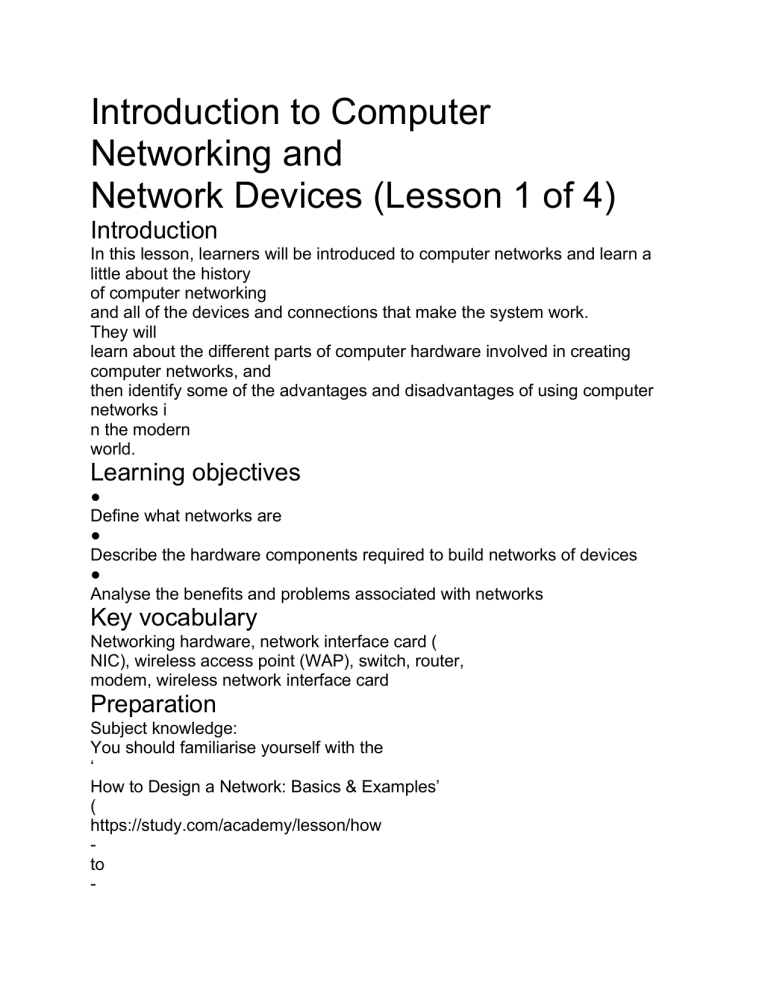 Introduction to Computer
Networking and
Network Devices (Lesson 1 of 4)
Introduction
In this lesson, learners will be introduced to computer networks and learn a
little about the history
of computer networking
and all of the devices and connections that make the system work.
They will
learn about the different parts of computer hardware involved in creating
computer networks, and
then identify some of the advantages and disadvantages of using computer
networks i
n the modern
world.
Learning objectives
●
Define what networks are
●
Describe the hardware components required to build networks of devices
●
Analyse the benefits and problems associated with networks
Key vocabulary
Networking hardware, network interface card (
NIC), wireless access point (WAP), switch, router,
modem, wireless network interface card
Preparation
Subject knowledge:
You should familiarise yourself with the
'
How to Design a Network: Basics & Examples'
(
https://study.com/academy/lesson/how
to
-
design
a
network
basics
examples.html
) before the
lesson so that you are confident in assisting learners when they construct their
own networks.
You will need:
●
Slides
(ncce.io/netw
1
s)
●
Activities:
○
Card sort:
printout
(ncce.io/netw
1
a2
w)
—
cut out and prepared
○
Paper network:
worked
example
(ncce.io/netw
1
a3
s)
○
Benefits and disadvantages:
worksheet
(ncce.io/netw
1
a4
w) and
solutions
(ncce.io/netw
1
a4
s)
—
print 1 worksheet for every 3 to 5
learners
○
Recap:
worksheet
(ncce.io/netw
1
aP
w) and
solutions
(ncce.io/netw
1
aP
s)
●
Lengths of string
●
Homework:
worksh
eet
(ncce.io/netw
1
w)
Assessment opportunities
You can assess learners' understanding through the 'Benefits and
disadvantages' activity and the
'Recap' activity.