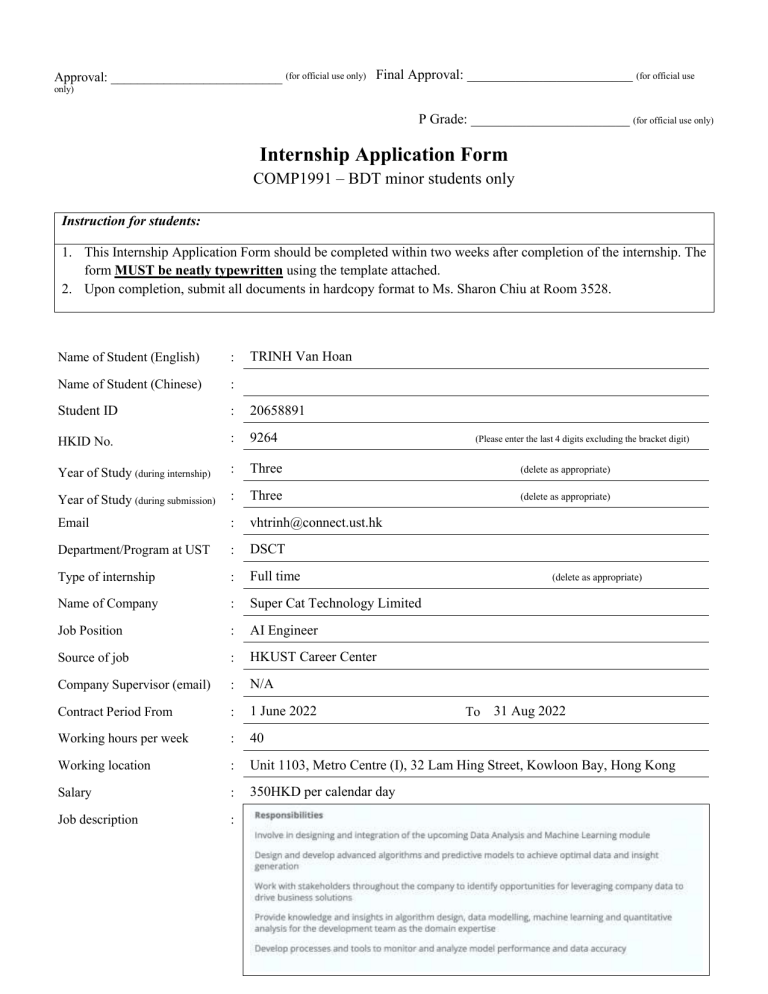 Approval: __________________________ (for official use only) Final Approval: ________________________ (for official use
only)
P Grade: _______________________ (for official use only)
Internship Application Form
COMP1991 – BDT minor students only
Instruction for students:
1. This Internship Application Form should be completed within two weeks after completion of the internship. The
form MUST be neatly typewritten using the template attached.
2. Upon completion, submit all documents in hardcopy format to Ms. Sharon Chiu at Room 3528.
TRINH Van Hoan
Name of Student (English)
:
Name of Student (Chinese)
:
Student ID
:
20658891
HKID No.
:
9264
Year of Study (during internship)
:
Three
(delete as appropriate)
Year of Study (during submission)
:
Three
(delete as appropriate)
Email
:
vhtrinh@connect.ust.hk
Department/Program at UST
:
DSCT
Type of internship
:
Full time
Name of Company
:
Super Cat Technology Limited
Job Position
:
AI Engineer
Source of job
:
HKUST Career Center
Company Supervisor (email)
:
N/A
Contract Period From
:
1 June 2022
Working hours per week
:
40
Working location
:
Unit 1103, Metro Centre (I), 32 Lam Hing Street, Kowloon Bay, Hong Kong
Salary
:
350HKD per calendar day
Job description
:
(Please enter the last 4 digits excluding the bracket digit)
(delete as appropriate)
To
31 Aug 2022
How is this job relevant to
your discipline?
:
The job matches my major (DSCT) as well as my skills (Maths, Programming,
Machine Learning)
Note:
●
After your submission, your application will be reviewed by your department for provisional approval. Final
approval will be granted after your submission of the final training report if it is deemed satisfactory by your
department.
●
This application and subsequent approval only apply to the program offered by the Department indicated in this
form. Student with double major designation should still fulfill the industrial experience or industrial training
requirement as specified in their curriculum in order to graduate.
●
Non-local students MUST possess valid "No-Objection-Letter" (NOL) issued by the Immigration Department for
taking up internship in Hong Kong. For any non-summer employment (from Sept - May), non-local students are
REQUIRED to seek prior endorsement from School in order to work legally in Hong Kong.