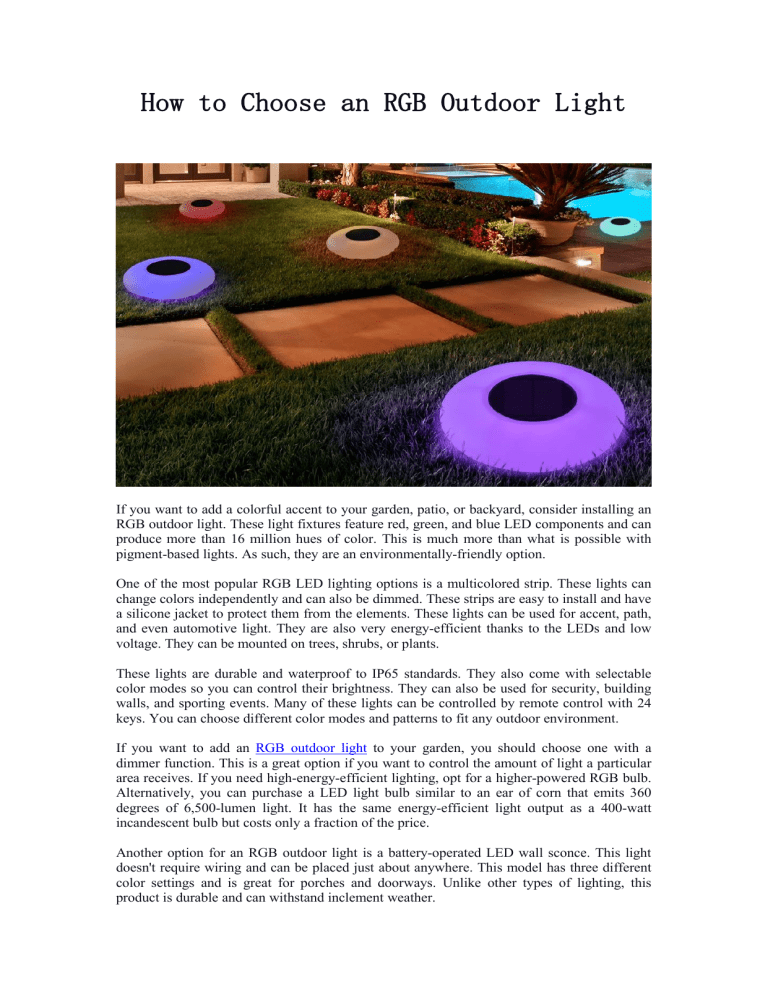 How to Choose an RGB Outdoor Light
If you want to add a colorful accent to your garden, patio, or backyard, consider installing an
RGB outdoor light. These light fixtures feature red, green, and blue LED components and can
produce more than 16 million hues of color. This is much more than what is possible with
pigment-based lights. As such, they are an environmentally-friendly option.
One of the most popular RGB LED lighting options is a multicolored strip. These lights can
change colors independently and can also be dimmed. These strips are easy to install and have
a silicone jacket to protect them from the elements. These lights can be used for accent, path,
and even automotive light. They are also very energy-efficient thanks to the LEDs and low
voltage. They can be mounted on trees, shrubs, or plants.
These lights are durable and waterproof to IP65 standards. They also come with selectable
color modes so you can control their brightness. They can also be used for security, building
walls, and sporting events. Many of these lights can be controlled by remote control with 24
keys. You can choose different color modes and patterns to fit any outdoor environment.
If you want to add an RGB outdoor light to your garden, you should choose one with a
dimmer function. This is a great option if you want to control the amount of light a particular
area receives. If you need high-energy-efficient lighting, opt for a higher-powered RGB bulb.
Alternatively, you can purchase a LED light bulb similar to an ear of corn that emits 360
degrees of 6,500-lumen light. It has the same energy-efficient light output as a 400-watt
incandescent bulb but costs only a fraction of the price.
Another option for an RGB outdoor light is a battery-operated LED wall sconce. This light
doesn't require wiring and can be placed just about anywhere. This model has three different
color settings and is great for porches and doorways. Unlike other types of lighting, this
product is durable and can withstand inclement weather.
An IP65 waterproof LED strip light can withstand jets of water from all sides. However, it
cannot be submerged. The IP65 waterproof feature makes these lights a perfect choice for
high-splash areas and makes them easier to clean. Besides, it can be used as a theater set or
entertainment lighting. Furthermore, these LED lights come with 10 screw-down plastic
holders and waterproof connectors. Lastly, they're UL-listed and RoHS-approved.
These lights have built-in sensors that turn on when an object passes by. Some also have 360degree lighting coverage, making it easier to see shadowy yard areas. Additionally, some are
automated and can be controlled by an app on your smartphone. This kind of automation
increases comfort and security. These lights are also easy to install. These light fixtures can be
programmed to turn on automatically at dusk or after a certain time.