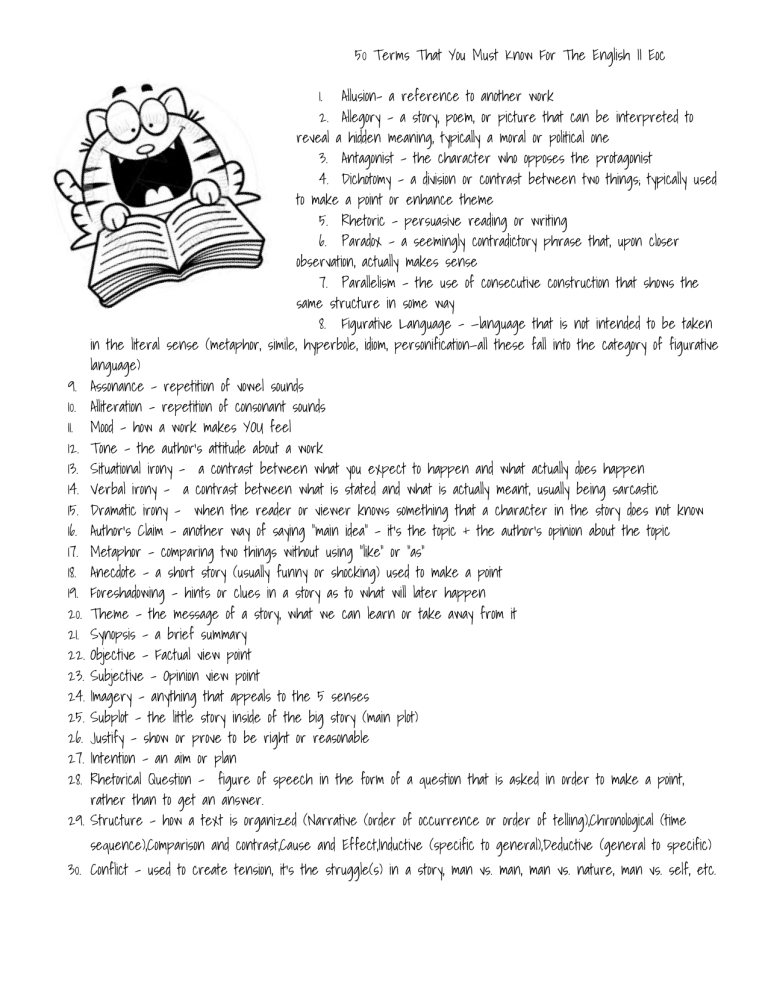 50 Terms That You Must Know For The English II Eoc
9.
10.
11.
12.
13.
14.
15.
16.
17.
18.
19.
20.
21.
22.
23.
24.
25.
26.
27.
28.
29.
1. Allusion- a reference to another work
2. Allegory - ​
a story, poem, or picture that can be interpreted to
reveal a hidden meaning, typically a moral or political one
3. Antagonist - the character who opposes the protagonist
4. Dichotomy - a division or contrast between two things; typically used
to make a point or enhance theme
5. Rhetoric - persuasive reading or writing
6. Paradox - a seemingly contradictory phrase that, upon closer
observation, actually makes sense
7. Parallelism - the use of consecutive construction that shows the
same structure in some way
8. Figurative Language - —language that is not intended to be taken
in the literal sense (metaphor, simile, hyperbole, idiom, personification—all these fall into the category of figurative
language)
Assonance - repetition of vowel sounds
Alliteration - repetition of consonant sounds
Mood - how a work makes YOU feel
Tone - the author's attitude about a work
Situational irony - a contrast between what you expect to happen and what actually does happen
Verbal irony - a contrast between what is stated and what is actually meant, usually being sarcastic
Dramatic irony - when the reader or viewer knows something that a character in the story does not know
Author's Claim - another way of saying "main idea" - it's the topic + the author's opinion about the topic
Metaphor - comparing two things without using "like" or "as"
Anecdote - a short story (usually funny or shocking) used to make a point
Foreshadowing - hints or clues in a story as to what will later happen
Theme - the message of a story, what we can learn or take away from it
Synopsis - a brief summary
Objective - Factual view point
Subjective - Opinion view point
Imagery - anything that appeals to the 5 senses
Subplot - the little story inside of the big story (main plot)
Justify - show or prove to be right or reasonable
Intention - an aim or plan
Rhetorical Question - figure of speech in the form of a question that is asked in order to make a point,
rather than to get an answer.
Structure - how a text is organized (Narrative (order of occurrence or order of telling),Chronological (time
sequence),Comparison and contrast,Cause and Effect,Inductive (specific to general),Deductive (general to specific)
30. Conflict - used to create tension, it's the struggle(s) in a story, man vs. man, man vs. nature, man vs. self, etc.