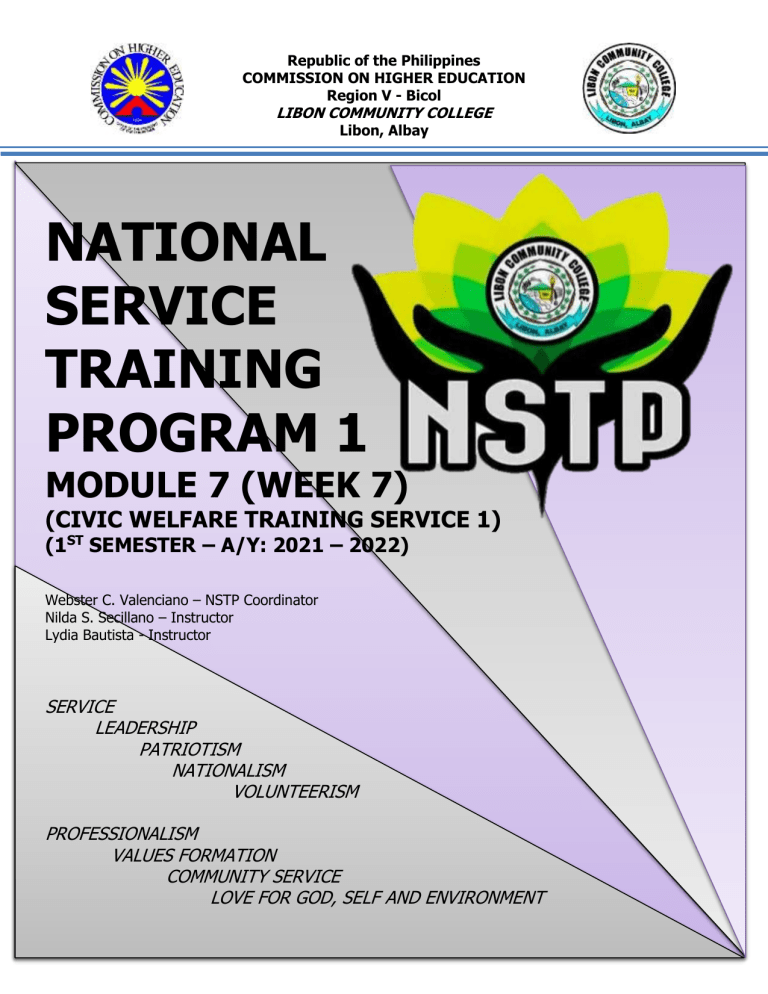 Republic of the Philippines
COMMISSION ON HIGHER EDUCATION
Region V - Bicol
LIBON COMMUNITY COLLEGE
Libon, Albay
NATIONAL
SERVICE
TRAINING
PROGRAM 1
MODULE 7 (WEEK 7)
(CIVIC WELFARE TRAINING SERVICE 1)
(1ST SEMESTER – A/Y: 2021 – 2022)
Webster C. Valenciano – NSTP Coordinator
Nilda S. Secillano – Instructor
Lydia Bautista - Instructor
SERVICE
LEADERSHIP
PATRIOTISM
NATIONALISM
VOLUNTEERISM
PROFESSIONALISM
VALUES FORMATION
COMMUNITY SERVICE
LOVE FOR GOD, SELF AND ENVIRONMENT
COMMISSION ON HIGHER EDUCATION
LIBON COMMUNITY COLLEGE
LIBON ALBAY
NATIONAL SERVICE TRAINING PROGRAM 1
Course and Year: BEED 1, BSED 1, BTVTED 1, BECE 1, and BSAB 1
LEARNING OUTCOMES
After going through this module, you are expected to:
Define alcohol and alcoholism
Distinguish the alcoholic beverages
Enumerate the effects of alcohol
Define smoking
Discuss the major health consequences of smoking
LECTURE/DISCUSSION:
DEFINITION OF TERMS
ALCOHOL
a colorless volatile flammable liquid that is produced by the natural fermentation of
sugars and is the intoxicating constituent of wine, beer, spirits, and other drinks, and
is also used as an industrial solvent and as fuel.
ALCOHOLIC
a person suffering from alcoholism.
ALCOHOLISM.
an addiction to the consumption of alcoholic liquor or the mental illness and
compulsive behavior resulting from alcohol dependency.
It is also called as "Alcohol use disorder" AUD.
WHY DO PEOPLE DRINK ALCOHOL?
1. Past experiences - Past experiences with alcohol help to shape people's current
value and the expectations that they place on drinking alcohol.
2. Stress - People going through a stressful period in their life may value drinking
alcohol more highly, because it helps to alleviate their negative feelings
3. Social norm - Social norms are the behavioural expectations within a community.
Alcohol is used at specific events and regular times.
4. Environment - Exposure to alcohol-related cues increases the craving for alcohol,
for example TV programmes, advertisements at events etc.
5. Accessibility - This is a very simple reason. People drink because alcoholic drinks
are quite accessible
6. As an Act of Rebellion - Some drink alcohol to be a rebel. They want to defy the
rules and show that they are different from all the others.
7. Peer Pressure - Peer pressure is one of the most prominent reasons for drinking
.Being afraid that you might be isolated or discarded from a group of people and
doing an activity.
8. For Fun People generally tend to drink alcohol in order to have fun.
Alcoholic beverages comprise a large group of beverages that contain varying amounts of alcohol
(ethanol). Alcoholic beverages produced on an industrial scale include beer, wine, and distilled spirits
THE FOLLOWING ARE THE TYPES OF ALCOHOLIC BEVERAGES
BEVERAGE
Wines
Beer
Spirit
DEFINITION
the alcoholic usually fermented juice of
a plant product (such as a fruit) used
as a beverage
Is an alcoholic beverage or drink made
from yeast-fermented malt flavored
with hops
one of the oldest and most widely
consumed alcoholic drinks in the world.
Distilled spirit, alcoholic beverage (such
as brandy, whisky, rum, or arrack) that
is obtained by distillation from wine of
other fermented fruit or plant .
EXAMPLES
Tuba (also called Coconut Red Wine)
Lambanog (Coconut white wine or Coconut Vodka)
Basi (Sugar Cane Wine)
Bignay/Bugnay (Wild Berry Wine)
Laksoy (Palm Liquor) Tapuy (Rice Wine)
Tanduay Ice Beer Beer Na Beer
Red Horse Beer
San Mig Light Beer , San Miguel Pale Pilsen
Colt 45 Beer, Gold Eagle Beer, Manila Beer
Brandy, Gin, Rum, Tequila, Vodka, and Whiskey ·
Brandy · Gin · Rum · Tequila · Vodka · Whiskey.
THE EFFECTS OF ALCOHOL
SHORT TERM EFFECTS OF ALCOHOL
1.
2.
3.
4.
5.
6.
7.
8.
In
Feeling of wellbeing, talkative, relaxed and more confident
Impaired judgement and movement and reduced inhibitions
Slurred speech, impaired balance, unstable emotions
Nausea and vomiting
Unable to walk without help, sleepy
difficulty breathing
memory loss
possible loss of consciousness
the short term, drinking too much alcohol can also lead to:
 accidental injury (to yourself or others)
 being in a road accident
 deliberately harming yourself or others
 unprotected or unwanted sex
 alcohol poisoning
 hangovers
Requirements for Community Needs Assessment
Long-term effects
1. Mental health issues such as increased risk of suicide
2. Substance abuse — you may become dependent or addicted to alcohol,
especially if you have depression or anxiety, or a family history of alcohol
dependence.
3. Increased risk of diabetes and weight gain
4. impotence and other problems with sexual performance
5. cancers such as stomach cancer, bowel cancer, breast cancer, mouth
cancer, throat cancer, esophageal cancer and liver cancer
6. fertility issues such as reduced sperm count and reduced testosterone
levels in men
7. brain damage and brain-related conditions such as stroke and dementia
8. heart issues such as high blood pressure, heart damage and heart attacks
9. cirrhosis of the liver and liver failure
10. If you're pregnant, or planning a pregnancy, you should not drink alcohol.
If you are breastfeeding, not drinking alcohol is safest for your baby.
Drinking any amount of alcohol can harm your fetus (unborn baby) or baby
Requirements for Community Needs Assessment
SMOKING
DEFINITION OF TERMS
SMOKING
the act of inhaling and exhaling the fumes of burning plant material. A
variety of plant materials are smoked, including marijuana and hashish,
but the act is most commonly associated with tobacco as smoked in a
cigarette, cigar, or pipe.
CIGARETTE
a thin cylinder of finely cut tobacco rolled in paper for smoking. It
contains narcotic, herbs, or a medicated substance for smoking.
CHEMICAL COMPOSITION OF CIGARETTE
CLASSIFICATIONS OF SMOKE
CLASSIFICATIONS
Mainstream Smoke
Secondhand Smoke
Sidestream Smoke
Passive Smoke
DEFINITIONS
Is a smoke exhaled and inhaled by a smoker
Combination of smoke from the burning end of a cigarette and smoke breathed out
by a smoker.
A smoke from the lighted end of a cigarette
Inhalation of smoke, or environmental tobacco smoke. It occurs when tobacco
smoke enters an environment causing its inhalation by people within that
environment.
\
MAJOR HEALTH CONSEQUENCES OF SMOKING
DISEASE
1. Lung Cancer
2. COPD (Chronic
Obstructive
Pulmonary Disease)
3. Heart Disease
4. Stroke
5. Asthma
6. Reproductive
Effects in Women
7. Premature, Low
Birth-Weight Babies
8. Diabetes
9. Blindness,
Cataracts and AgeRelated Macular
Degeneration
10. Cancer
DEFINITIONS
More people die from lung cancer than any other type of cancer. Cigarette smoking
is the number one risk factor for lung cancer; it's responsible for 87% of lung cancer
deaths.
COPD is an obstructive lung disease that makes it hard to breathe. It causes serious
long-term disability and early death.
Smoking can cause blockages and narrowing in your arteries, which means less
blood and oxygen flow to your heart.
A stroke happens when the blood supply to your brain is temporarily blocked. Brain
cells are deprived of oxygen and start to die. A stroke can cause paralysis, slurred
speech, altered brain function and death.
Asthma is a chronic lung disease that makes it harder to move air in and out of your
lungs—otherwise known as "breathing." Because cigarette smoke irritates air
passages, it can trigger sudden and severe asthma attacks
Smoking can cause ectopic pregnancy in women, which is when a fertilized egg
implants somewhere other than the uterus. It also causes reduced fertility, meaning
it makes it more difficult to get pregnant.
The effects of smoking not only impact mom's health, but also that of her baby.
Smoking while pregnant can cause babies to be born prematurely and/or with a low
birth-weight
You're more likely to get type 2 diabetes if you smoke. The risk of developing type 2
diabetes is 30 to 40% higher for smokers than non-smokers
Smoking can make you go blind. It damages your eyes and can result in vision loss.
Types of Cancer, Including Colon, Cervix, Liver, Stomach and Pancreatic Cancer.
Basically, all the cancers. For both cancer patients and survivors, those who smoke
are more likely to develop a second primary cancer.