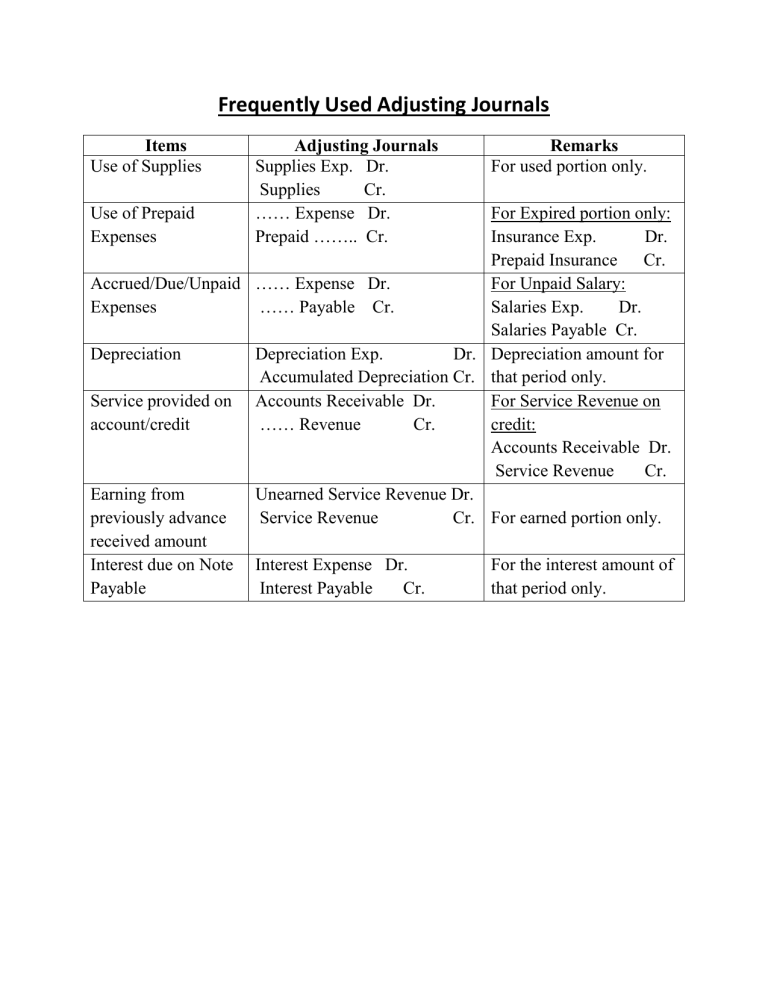 Frequently Used Adjusting Journals
Items
Use of Supplies
Use of Prepaid
Expenses
Adjusting Journals
Supplies Exp. Dr.
Supplies
Cr.
…… Expense Dr.
Prepaid …….. Cr.
Remarks
For used portion only.
For Expired portion only:
Insurance Exp.
Dr.
Prepaid Insurance Cr.
Accrued/Due/Unpaid …… Expense Dr.
For Unpaid Salary:
Expenses
…… Payable Cr.
Salaries Exp.
Dr.
Salaries Payable Cr.
Depreciation
Depreciation Exp.
Dr. Depreciation amount for
Accumulated Depreciation Cr. that period only.
Service provided on Accounts Receivable Dr.
For Service Revenue on
account/credit
…… Revenue
Cr.
credit:
Accounts Receivable Dr.
Service Revenue
Cr.
Earning from
Unearned Service Revenue Dr.
previously advance
Service Revenue
Cr. For earned portion only.
received amount
Interest due on Note Interest Expense Dr.
For the interest amount of
Payable
Interest Payable
Cr.
that period only.