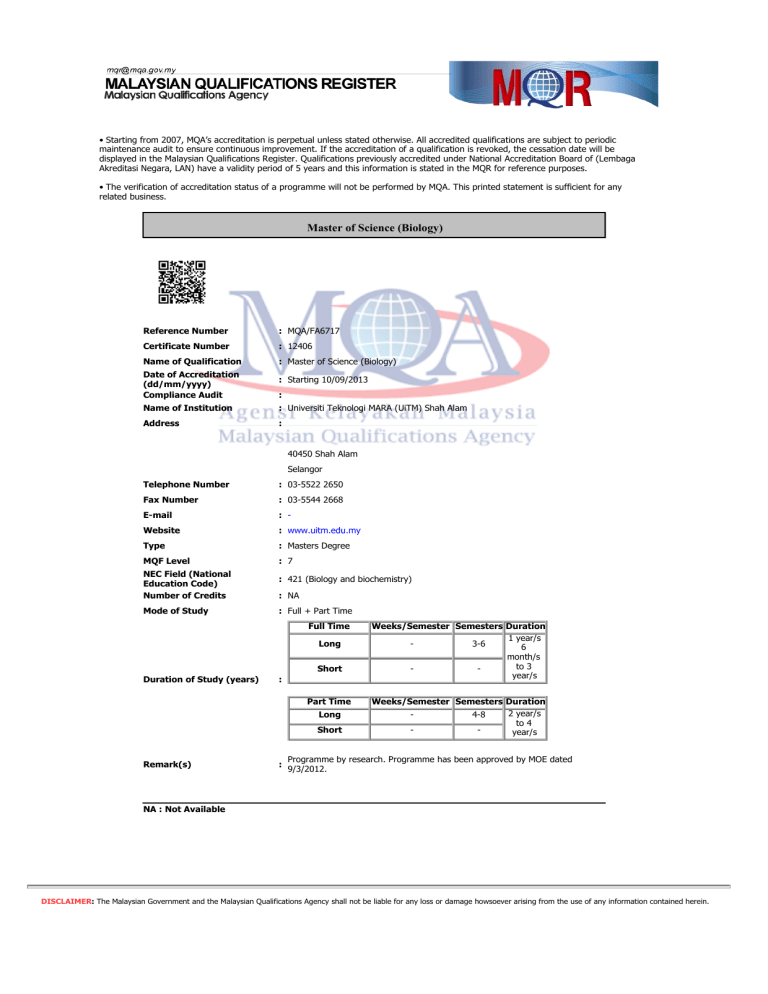 • Starting from 2007, MQA's accreditation is perpetual unless stated otherwise. All accredited qualifications are subject to periodic
maintenance audit to ensure continuous improvement. If the accreditation of a qualification is revoked, the cessation date will be
displayed in the Malaysian Qualifications Register. Qualifications previously accredited under National Accreditation Board of (Lembaga
Akreditasi Negara, LAN) have a validity period of 5 years and this information is stated in the MQR for reference purposes.
• The verification of accreditation status of a programme will not be performed by MQA. This printed statement is sufficient for any
related business.
Master of Science (Biology)
Reference Number
: MQA/FA6717
Certificate Number
: 12406
Name of Qualification
: Master of Science (Biology)
Date of Accreditation
(dd/mm/yyyy)
Compliance Audit
: Starting 10/09/2013
:
Name of Institution
: Universiti Teknologi MARA (UiTM) Shah Alam
Address
:
40450 Shah Alam
Selangor
Telephone Number
: 03-5522 2650
Fax Number
: 03-5544 2668
E-mail
: -
Website
: www.uitm.edu.my
Type
: Masters Degree
MQF Level
: 7
NEC Field (National
Education Code)
Number of Credits
Mode of Study
: 421 (Biology and biochemistry)
: NA
: Full + Part Time
Full Time
Long
Short
Duration of Study (years)
:
Part Time
Long
Short
Remark(s)
:
Weeks/Semester Semesters Duration
1 year/s
3-6
6
month/s
to 3
year/s
Weeks/Semester Semesters Duration
2 year/s
4-8
to 4
year/s
Programme by research. Programme has been approved by MOE dated
9/3/2012.
NA : Not Available
DISCLAIMER: The Malaysian Government and the Malaysian Qualifications Agency shall not be liable for any loss or damage howsoever arising from the use of any information contained herein.