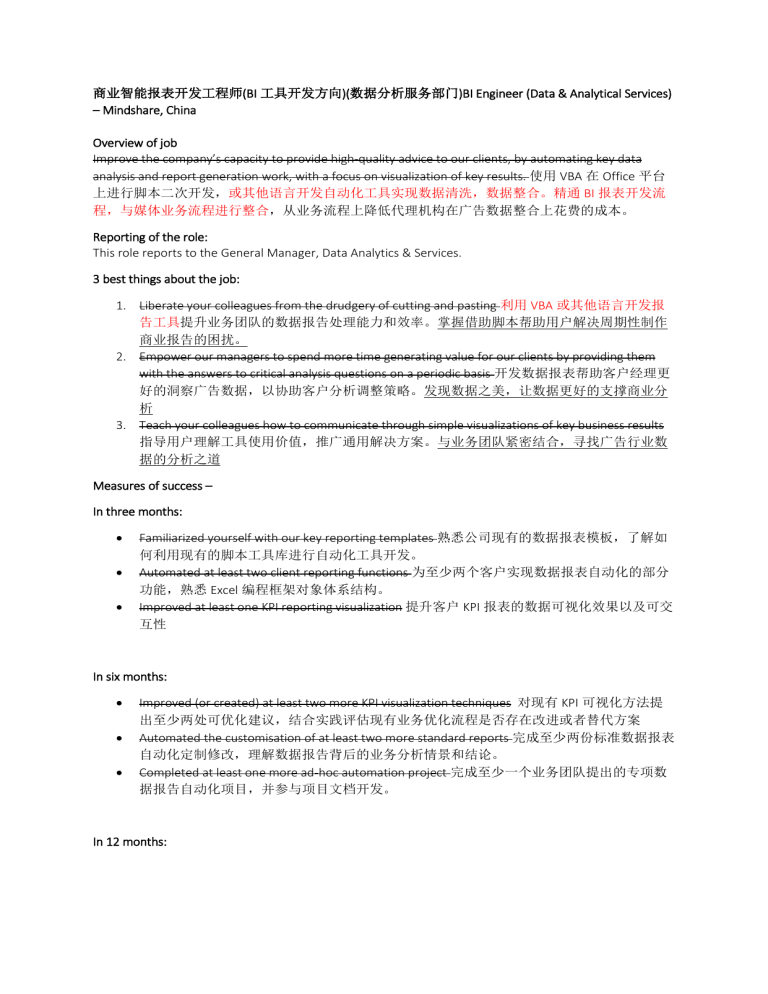 商业智能报表开发工程师(BI 工具开发方向)(数据分析服务部门)BI Engineer (Data & Analytical Services)
– Mindshare, China
Overview of job
Improve the company's capacity to provide high-quality advice to our clients, by automating key data
analysis and report generation work, with a focus on visualization of key results. 使用 VBA 在 Office 平台
上进行脚本二次开发,或其他语言开发自动化工具实现数据清洗,数据整合。精通 BI 报表开发流
程,与媒体业务流程进行整合,从业务流程上降低代理机构在广告数据整合上花费的成本。
Reporting of the role:
This role reports to the General Manager, Data Analytics & Services.
3 best things about the job:
1. Liberate your colleagues from the drudgery of cutting and pasting 利用 VBA 或其他语言开发报
告工具提升业务团队的数据报告处理能力和效率。掌握借助脚本帮助用户解决周期性制作
商业报告的困扰。
2. Empower our managers to spend more time generating value for our clients by providing them
with the answers to critical analysis questions on a periodic basis 开发数据报表帮助客户经理更
好的洞察广告数据,以协助客户分析调整策略。发现数据之美,让数据更好的支撑商业分
析
3. Teach your colleagues how to communicate through simple visualizations of key business results
指导用户理解工具使用价值,推广通用解决方案。与业务团队紧密结合,寻找广告行业数
据的分析之道
Measures of success –
In three months:



Familiarized yourself with our key reporting templates 熟悉公司现有的数据报表模板,了解如
何利用现有的脚本工具库进行自动化工具开发。
Automated at least two client reporting functions 为至少两个客户实现数据报表自动化的部分
功能,熟悉 Excel 编程框架对象体系结构。
Improved at least one KPI reporting visualization 提升客户 KPI 报表的数据可视化效果以及可交
互性
In six months:



Improved (or created) at least two more KPI visualization techniques 对现有 KPI 可视化方法提
出至少两处可优化建议,结合实践评估现有业务优化流程是否存在改进或者替代方案
Automated the customisation of at least two more standard reports 完成至少两份标准数据报表
自动化定制修改,理解数据报告背后的业务分析情景和结论。
Completed at least one more ad-hoc automation project 完成至少一个业务团队提出的专项数
据报告自动化项目,并参与项目文档开发。
In 12 months:



Completed the full suite of KPI reporting visualizations for all key search and display metrics 拥有
能够独立开发涵盖搜索广告或展示广告关键分析指标的 KPI 可视化报表的能力,熟练掌握
使用 VBA 脚本制作报告的核心方法。
Introduced new reporting visualizations to at least 3 new client pitches 能够将可视化报告引入
到至少 3 个新的客户竞标活动,在其他客户间推广 KPI 可视化报表开发流程。
Completed at least 3 more ad-hoc automation projects 完成至少 3 个专项数据报告自动化项目
Responsibilities of the role:
All standard Reports generated at the group level have been customized according to our individual
agency (and client) needs. And, beyond standard reporting, campaign managers receive weekly updates
on the health of their campaigns, based on tailor-made data mining operations.
集团公司已经为独立代理提供了标准报告。通过定制数据挖掘方法,扩展标准报告才能满足广告
活动负责人对广告日常活动数据分析的需要。利用 VBA 脚本或其他工具帮助业务团队开发可以长
期使用的数据清洗和报告整合工具。
What you will need:





A minimum of two years' experience actively using SQL to extract / transform / load data 在使用
SQL 查询/转换/清洗 数据方面,拥有至少 2 年经验。
A minimum of two years' experience automating key Excel functions using VBA 在使用 VBA 或者
其他语言调用 Excel 功能和对象进行编程方面,拥有至少 2 年经验。
A passion for data visualization and communication 热爱数据可视化分析工作,对新知识有快
速的学习能力。
A desire to expand your skill set beyond coding and develop your own communication skills 渴望
扩展自身能力,在编程能力之外也拥有超凡的交流技巧
A patient, methodical and detailed personality, with the ability to maintain your focus and see
ideas through to results. 对工作有耐心,逻辑能力强,处理问题仔细。在复杂的环境中能够
保持专注,拥有良好的数据敏感度和商业直觉。
About Mindshare
Mindshare, the global media agency network, and part of WPP, the largest marketing
communications network in the world, has more than 7,000 employees, in 116 offices across 86
countries. Mindshare APAC has won over 300 awards in 2014/2015 and was the most awarded
agency at the 2015 Campaign Asia Awards Festival. Mindshare was also recognised as the
SMARTIES™ APAC 'Agency Network of the Year 2015' for the third consecutive year. Mindshare is
also home to The 2015 Festival of Media Asia Pacific Rising Star – Jason Maggs.
To learn more about Mindshare and our philosophy of Original Thinking, visit us at
www.mindshareworld.com
About China
China is now the second largest media market, and the world's most vibrant digital market,
growing at double the rate of the US. In 2013, China surpassed the US in e-commerce, and China
leads the world in mobile with over 600m smartphone connections. The pace of change and the
scale of China's emerging consumer market are unparalleled in any other market. Global CEOs are
looking to China to drive growth, and brands are rushing to keep pace.
If you want a future in media and communications, there is clearly no place more vibrant,
challenging and exciting than China, where opportunities for you to innovate and grow are
unparalleled.
GroupM APAC is committed to fostering a culture of diversity and inclusion. Our people
are our strength so we respect and nurture their individual talent and potential.