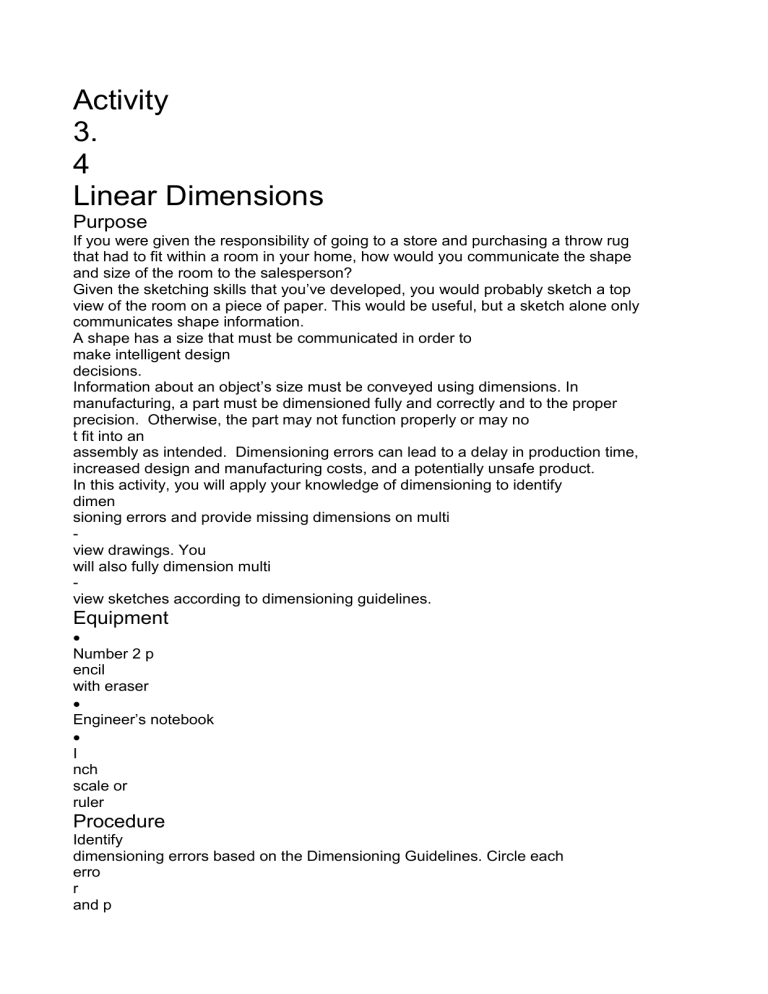 Activity
3.
4
Linear Dimensions
Purpose
If you were given the responsibility of going to a store and purchasing a throw rug
that had to fit within a room in your home, how would you communicate the shape
and size of the room to the salesperson?
Given the sketching skills that you've developed, you would probably sketch a top
view of the room on a piece of paper. This would be useful, but a sketch alone only
communicates shape information.
A shape has a size that must be communicated in order to
make intelligent design
decisions.
Information about an object's size must be conveyed using dimensions. In
manufacturing, a part must be dimensioned fully and correctly and to the proper
precision. Otherwise, the part may not function properly or may no
t fit into an
assembly as intended. Dimensioning errors can lead to a delay in production time,
increased design and manufacturing costs, and a potentially unsafe product.
In this activity, you will apply your knowledge of dimensioning to identify
dimen
sioning errors and provide missing dimensions on multi
view drawings. You
will also fully dimension multi
view sketches according to dimensioning guidelines.
Equipment

Number 2 p
encil
with eraser

Engineer's notebook

I
nch
scale or
ruler
Procedure
Identify
dimensioning errors based on the Dimensioning Guidelines. Circle each
erro
r
and p
lace a letter,
A
through
P
, next to each
error
on the drawing. In the space
provided below each drawing, next to the appropriate letter, give the reason for each
correction
a
nd cite
the dimensioning guideline that is misapplied.