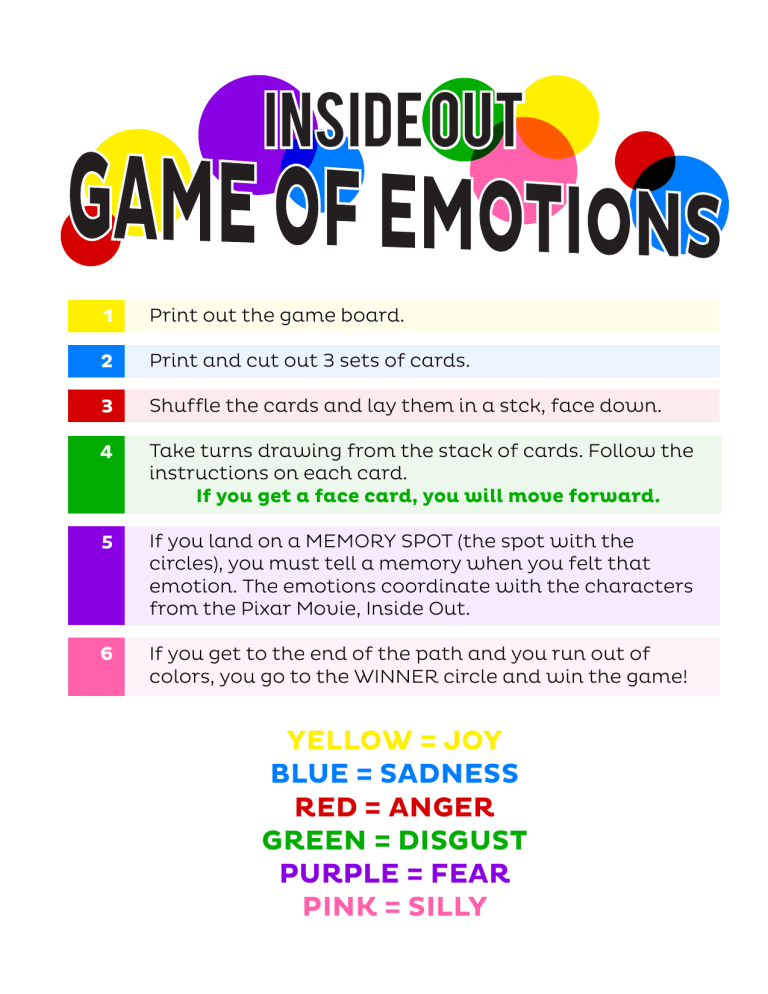 INSIDE OUT
1
Print out the game board.
2
Print and cut out 3 sets of cards.
3
Shuffle the cards and lay them in a stck, face down.
4
Take turns drawing from the stack of cards. Follow the
instructions on each card.
If you get a face card, you will move forward.
5
If you land on a MEMORY SPOT (the spot with the
circles), you must tell a memory when you felt that
emotion. The emotions coordinate with the characters
from the Pixar Movie, Inside Out.
6
If you get to the end of the path and you run out of
colors, you go to the WINNER circle and win the game!
YELLOW = JOY
BLUE = SADNESS
RED = ANGER
GREEN = DISGUST
PURPLE = FEAR
PINK = SILLY
INSIDE OUT
www.strawberrymommycakes.com
INSIDE OUT EMOTIONS PLAYING CARDS
M
A
DISGUSTE
!
D
I
DIRECTIONS: PRINT AND CUT OUT 3 COPIES OF THIS SHEET.
MOVE TO
M AFRAID
A
!
I
M HAPPY!
IA
MOVE TO
MOVE TO
GREEN
PURPLE
YELLOW
M SAD!
IA
M MAD!
IA
M SILLY!
IA
MOVE TO
BLUE
MOVE TO
RED
MOVE BACK
TO THE
CLOSEST
YELLOW SPOT
MOVE BACK
TO THE
CLOSEST
PINK SPOT
MOVE BACK
TO THE
CLOSEST
PURPLE SPOT
MOVE BACK
TO THE
CLOSEST
RED SPOT
MOVE BACK
TO THE
CLOSEST
GREEN SPOT
MOVE BACK
TO THE
CLOSEST
BLUE SPOT
MOVE TO
PINK
For personal use only.
Find more free printables at www.strawberrymommycakes.com.