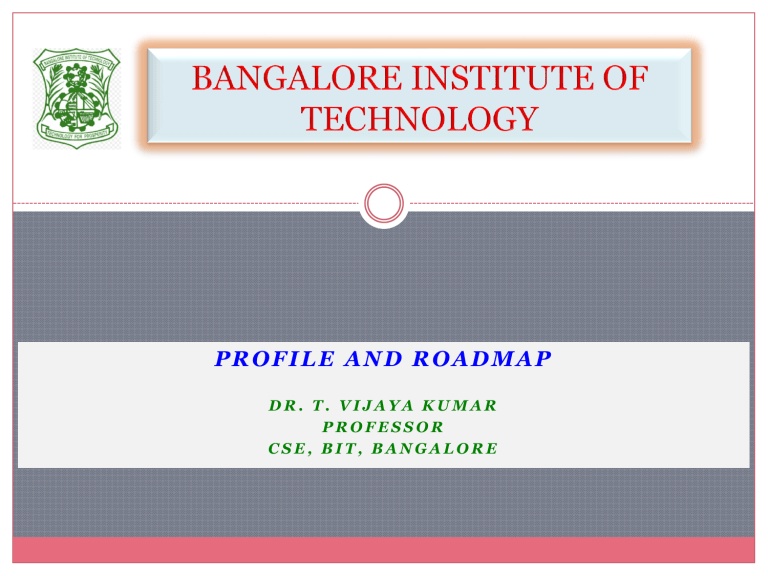 PROFILE AND ROADMAP
DR. T. VIJAYA KUMAR
PROFESSOR
CSE, BIT, BANGALORE
 Ph.D [Computer Science and Engineering]
Year :2018
Visvesvaraya Technological University (VTU)
Topic : Pattern Discovery and Pattern Analysis in Web Usage Mining
 M.Tech. [Computer Science and Technology]
Year :2000
University of Mysore,
Mysore
 M.Sc. [Mathematics]
Year :1994
Kuvempu University
Shivamoga
Secured second rank in M.Sc.
Professor :
 From April 2021 - Till date
Associate Professor :
 From March 2011 – March 2021
Assistant Professor :
 From February 2006 – February 2011
Lecturer :
 December 2000 – January 2006
Department of Computer Science and Engineering
 Lecturer : From July 2000 – December 2000
Department of Mathematics
 Lecturer : From October 1994 – January 1999
 IQAC Coordinator (Since June 2021) / Member (Till May 2021)
 IT Cell Coordinator
 NBA Core Committee Member
 Admission Committee Member (Academic year 2020-2021)
 Cultural Committee Member
 IPR Cell Member
 SPOC for Students Information Management System (Till 2019)
 NBA Coordinator
 PAAC & DAB Committee Member
 PRC – Member
 Department Association (e-odyssey) Coordinator (from 2004 to 2017)
 Project Coordinator
To establish and develop the Institute as the centre of higher learning, ever
abreast with expanding horizon of knowledge in the field of Engineering and
Technology with entrepreneurial thinking, leadership excellence for life-long
success and solve societal problems
1: Provide high quality education in the Engineering disciplines from the
undergraduate through doctoral levels with creative academic and professional
programs.
2: Develop the Institute as a leader in Science, Engineering, Technology,
Management and Research and apply knowledge for the benefit of society.
3: Establish mutual beneficial partnerships with Industry, Alumni, Local, State and
Central Governments by Public Service Assistance and Collaborative Research.
4: Inculcate personality development through sports, cultural and extracurricular
activities and engage in the social, economic and professional challenges.
 To be among top 3 private engineering colleges in Karnataka and top 20 in India.
 To be the most preferred choice of students and faculty.
 To be the preferred partner of corporate.
 To provide knowledge through education and research in engineering.
 To develop in each student mastery of fundamentals, versatility of mind,
motivation for learning, intellectual discipline and self-reliance which provide the
best foundation for continuing professional achievement.
 To provide a liberal as well as a professional education so that each student
acquires a respect for moral values, a sense of their duties as a citizen, a feeling for
taste and style, and a better human understanding.
To be a center of excellence in computer engineering
education, empowering graduates as highly skilled
professionals.
1. To provide a platform for effective learning with emphasis on
technical excellence.
2. To train the students to meet current industrial standards and adapt
to emerging technologies.
3. To instil the drive for higher learning and research initiatives.
4. To inculcate the qualities of leadership and Entrepreneurship.
 Web Usage Mining
 Applying Machine Learning and Data Mining
Techniques to data sets and improving algorithms
 Number of Publications

International Journals – 14

International Conferences - 03

National Conferences - 02
 Data Science and Data Analytics for Business and
Finance
 Artificial Intelligence for Education
 Theoretical Foundation of Computer Science
 Data Structures and Applications
 Design and Analysis of Algorithms
 Operating Systems
 Machine Learning
 Data Mining and Advanced Data Mining
 Artificial Intelligence
 Compiler Design
 Operations Research
Vision
To be a center of excellence in Computer
Application Development
 To establish a research center in MCA department to
motivate staff and students to actively involve in research
and development activities.
 To improve the placement activities of MCA department
by introducing value added courses based on the industry
requirements and graduate attributes.
 To strive towards getting the autonomous status for the
department and college.
Synopsis – Advanced Compiler Design course
Phillips – Compiler techniques using Java
1. IT Cell Coordinator




Coordinated with Mr. Murali of IBM, to setup BIT Web server, VPN and getting domain name
bittechlearn.online.
Coordinating the College - Webex platform to conduct Workshops /Webinars/Induction Program at
the college level.
Coordinated with Science Department (Dr. Nagaraj, Prof. andnd Head Chemistry) to conduct Mock
CET Test 2020.
Coordinated with edX team (AICTE and edX) for Campus Digitization and Free Online
Certifications.
2. IQAC – Coordinator / Member (Institute level)
Recently assigned with the additional responsibility of Coordinating the IQAC events and
framing IQAC responsibilities and functions. ( in accordance with the nearby colleges like
BMSCE)
3. Admission Committee Member
 Contacted nearly 190 students/parents who have approached BIT for admission
 Coordinated with the college admission section and guided the students and parents in
the admission process (Weekly two days)
4. Coordinated and involved in all the NBA activities of the Computer Science
and Engineering department
The woods of education are
lovely, dark and deep,
But we have promises to keep,
And miles to go before we sleep,
And miles to go before we sleep.