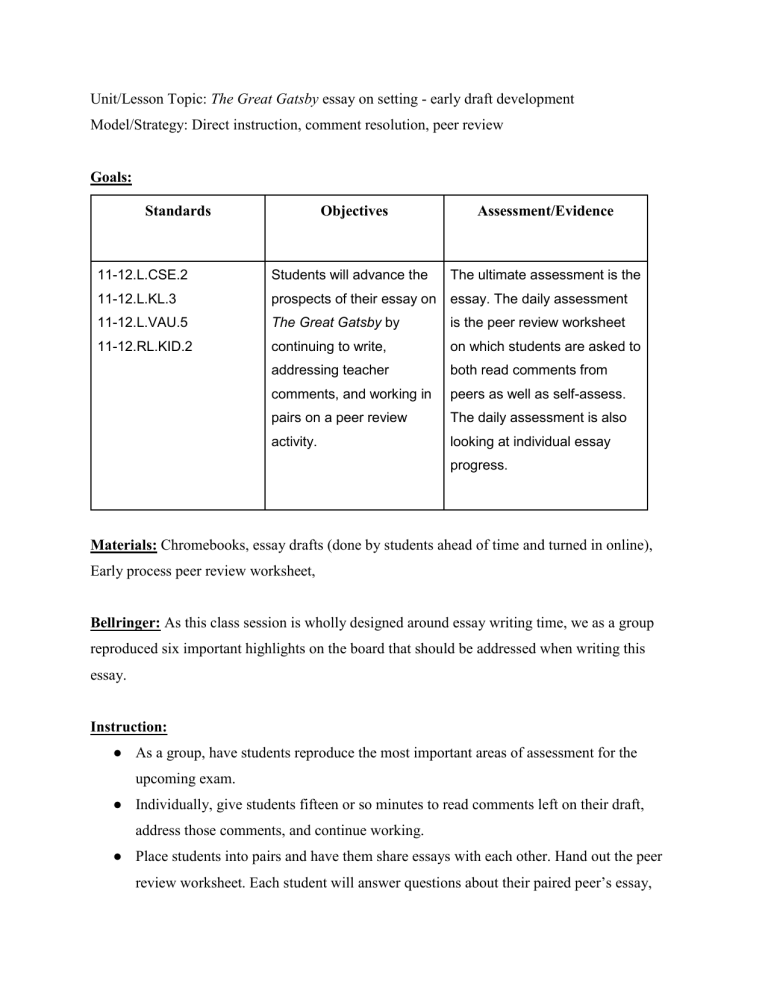 Unit/Lesson Topic: The Great Gatsby essay on setting - early draft development
Model/Strategy: Direct instruction, comment resolution, peer review
Goals:
Standards
Objectives
Assessment/Evidence
11-12.L.CSE.2
Students will advance the
The ultimate assessment is the
11-12.L.KL.3
prospects of their essay on
essay. The daily assessment
11-12.L.VAU.5
The Great Gatsby by
is the peer review worksheet
11-12.RL.KID.2
continuing to write,
on which students are asked to
addressing teacher
both read comments from
comments, and working in
peers as well as self-assess.
pairs on a peer review
The daily assessment is also
activity.
looking at individual essay
progress.
Materials: Chromebooks, essay drafts (done by students ahead of time and turned in online),
Early process peer review worksheet,
Bellringer: As this class session is wholly designed around essay writing time, we as a group
reproduced six important highlights on the board that should be addressed when writing this
essay.
Instruction:
● As a group, have students reproduce the most important areas of assessment for the
upcoming exam.
● Individually, give students fifteen or so minutes to read comments left on their draft,
address those comments, and continue working.
● Place students into pairs and have them share essays with each other. Hand out the peer
review worksheet. Each student will answer questions about their paired peer's essay,
trade worksheets, and then answer questions after reading peer comments. This produces
an actionable document for students going forward in the essay process.
Exit Ticket: The exit ticket is the fully filled in peer review worksheet which gives students a
subjective next step to take in their essay.
Homework: Continue working on the setting essay for The Great Gatsby which is due later this
week.