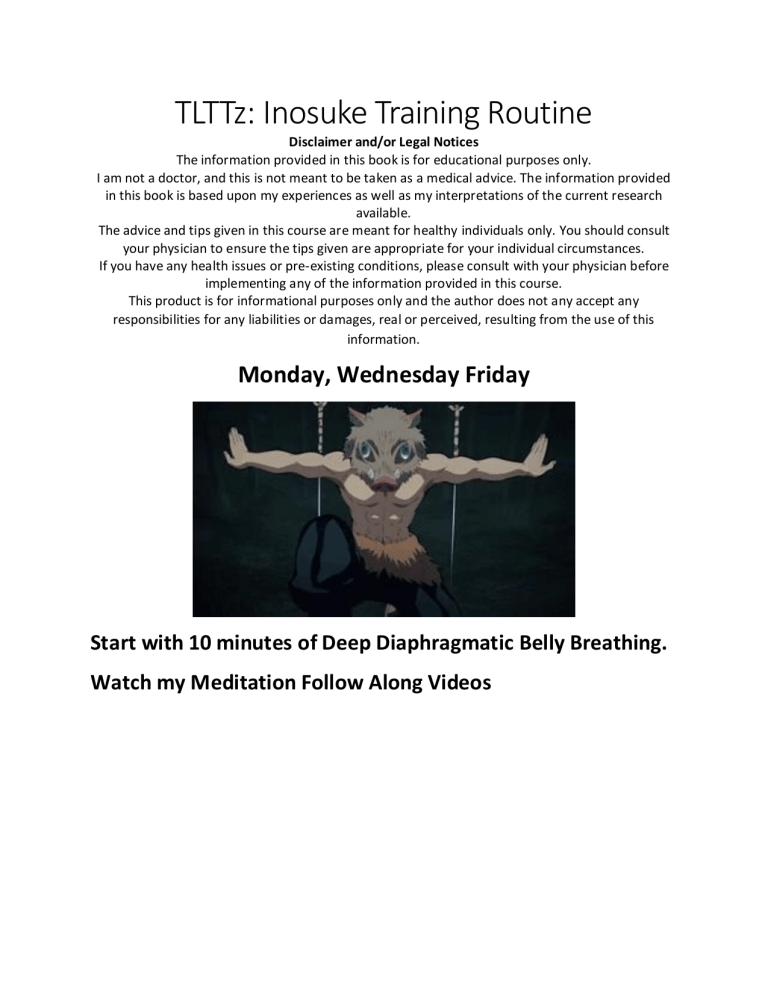 TLTTz: Inosuke Training Routine
Disclaimer and/or Legal Notices
The information provided in this book is for educational purposes only.
I am not a doctor, and this is not meant to be taken as a medical advice. The information provided
in this book is based upon my experiences as well as my interpretations of the current research
available.
The advice and tips given in this course are meant for healthy individuals only. You should consult
your physician to ensure the tips given are appropriate for your individual circumstances.
If you have any health issues or pre-existing conditions, please consult with your physician before
implementing any of the information provided in this course.
This product is for informational purposes only and the author does not any accept any
responsibilities for any liabilities or damages, real or perceived, resulting from the use of this
information.
Monday, Wednesday Friday
Start with 10 minutes of Deep Diaphragmatic Belly Breathing.
Watch my Meditation Follow Along Videos
Full Workout 3 Days a Week (Use Modifiers if you need to)
This Routine will help build athleticism, flexibility, strength and
make you leaner. BUT if You really want to add extra Size to
your frame & Muscles to Bulk up like Inosuke instead of doing
doing exercises for timed reps (EX: 3 x 40 seconds) Do Exercises
for Muscular Hypertrophy so aim to get 8-12 reps where you
can do NO MORE with Good form. This program will naturally
become easier as you lean out & your heart becomes more
conditioned so here are some variations to add in to Add
exercise to your frame. Get a Weighted Backpack/Weightvest
& you can switch out the timed exercises with these.
Weighted Diamond Pushups
Weighted Bodyweight Rows
Weighted Chinups (To Really Pump those Biceps)
AGAIN ONLY Do weight you can CONTROL for 8-12 reps with
good form, Don't go to heavy. Focus on the contraction of the
muscle and on the eccentric part of the motion (when you
lower the weight or yourself)
Think in your head
A- Slightly lower yourself/the weight
B- Midway lower yourself/the weight
C- Almost Fully lower yourself/the weight
D- Completely yourself/the weight
This little trick will make it burn in a good way and keep ya safe
but GO AT YOUR OWN PACE.
Also make you are eating enough and sleeping enough to see
results.
And On OFF Days Aim to get about 10k steps/5 miles of
walking. Not only is it great recovery but Melts the body fat off
without taxing your central nervous system.
LISTEN TO YOUR BODY AND DON'T OVERSTRAIN YOURSELF!! You got
this!!