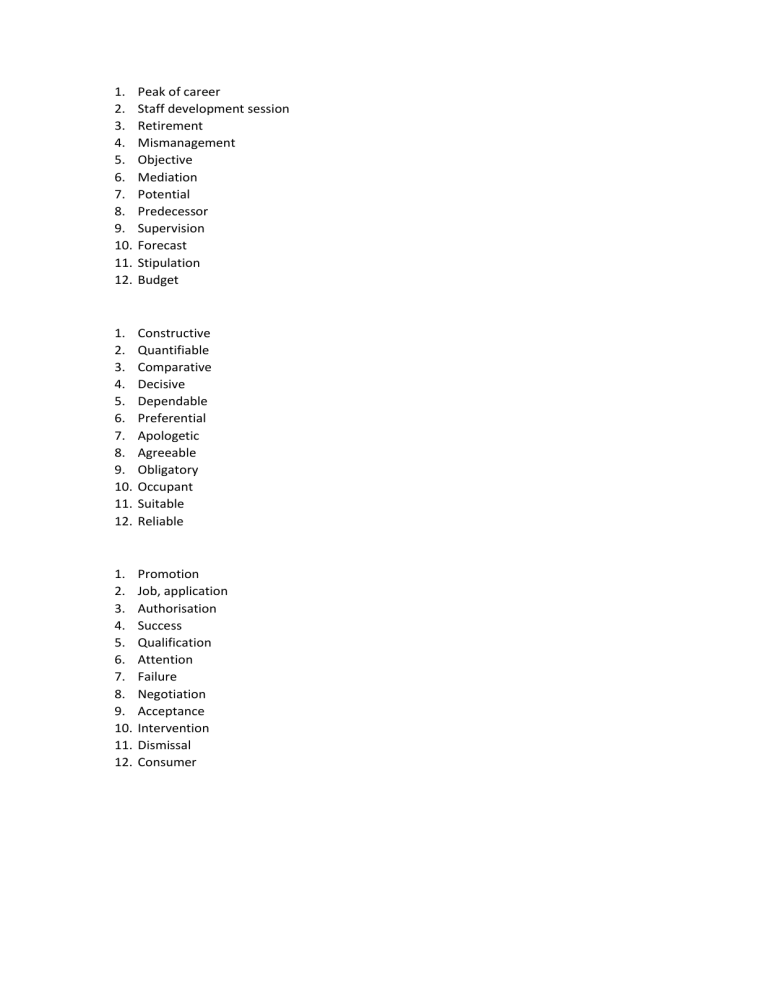 1.
2.
3.
4.
5.
6.
7.
8.
9.
10.
11.
12.
Peak of career
Staff development session
Retirement
Mismanagement
Objective
Mediation
Potential
Predecessor
Supervision
Forecast
Stipulation
Budget
1.
2.
3.
4.
5.
6.
7.
8.
9.
10.
11.
12.
Constructive
Quantifiable
Comparative
Decisive
Dependable
Preferential
Apologetic
Agreeable
Obligatory
Occupant
Suitable
Reliable
1.
2.
3.
4.
5.
6.
7.
8.
9.
10.
11.
12.
Promotion
Job, application
Authorisation
Success
Qualification
Attention
Failure
Negotiation
Acceptance
Intervention
Dismissal
Consumer
1. Advantages and disadvantages in teleconferencing:
+ saves time – possible to hold meetings on short notice, no time spent on travels
+ efficient record keeping – meeting can be recorded, keep logs and track every detail.
+ cuts costs – hiring equipment, a venue, buying food – teleconferencing removes all those costs
-
Technical issues
Leads to misjudgement and misunderstanding
Interruptions
2. Rewards and challenges for new entrepreneurs:
-
-
Income – there is a huge possibility of achieving significant financial rewards than working for
somebody else. Owning a successful business removes the income restraint that existing in
being someone else's employee.
Flexible hours – deciding what hours to work without having to explain or justify if you need
a day off
Independence – being your own boss, making decisions, deciding whom to do business with
and what work to do
Control – it enables being involved in total operation of the business. From concept to
creation, every department, every decision is in owner's hands.
Cons:
-
3.
Lack of demand – without understanding the market need and enough people willing to buy
the product or a service, the start up won't be a success
Knowledge and skill gaps – being a first-time entrepreneur it is unlikely to know everything
about running a business and in this fast changing world a lot of unexpected events can
happen which sometimes it is impossible to be prepared for
Financial management – poor financial planning can be the reason for failure. If the costs are
greater than the revenue coming in, the business won't succeed.
Hiring the right people and being a leader – it is crucial to find the right people to help with
the business. A negative employee can harm the start-up and damage team morale.