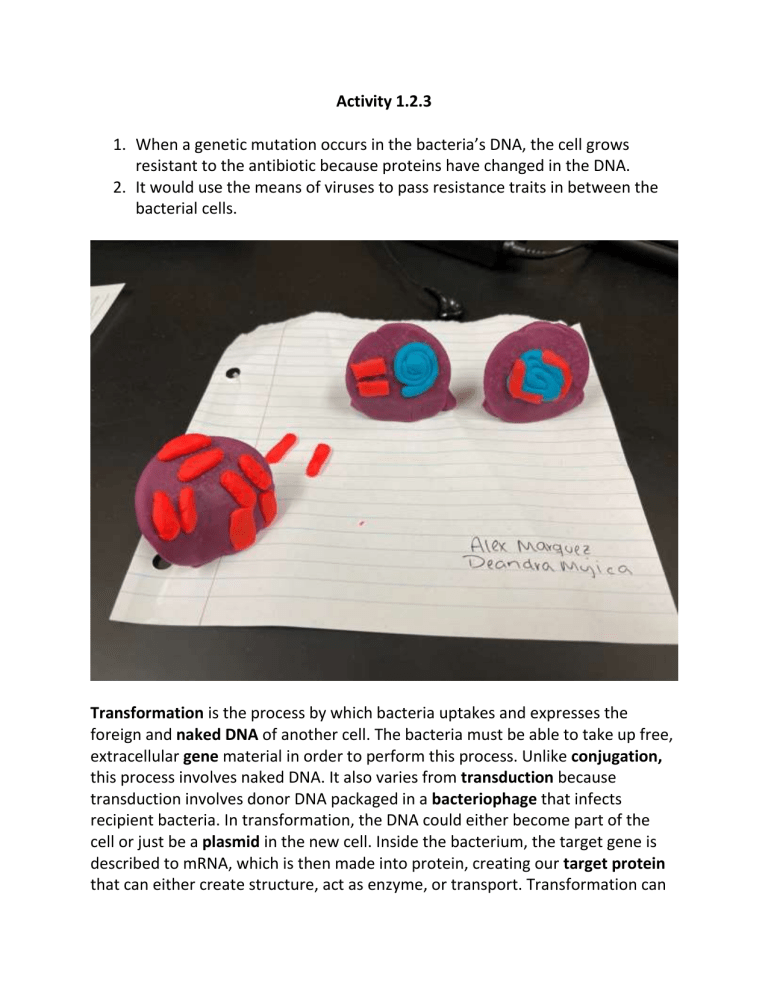 Activity 1.2.3
1. When a genetic mutation occurs in the bacteria's DNA, the cell grows
resistant to the antibiotic because proteins have changed in the DNA.
2. It would use the means of viruses to pass resistance traits in between the
bacterial cells.
Transformation is the process by which bacteria uptakes and expresses the
foreign and naked DNA of another cell. The bacteria must be able to take up free,
extracellular gene material in order to perform this process. Unlike conjugation,
this process involves naked DNA. It also varies from transduction because
transduction involves donor DNA packaged in a bacteriophage that infects
recipient bacteria. In transformation, the DNA could either become part of the
cell or just be a plasmid in the new cell. Inside the bacterium, the target gene is
described to mRNA, which is then made into protein, creating our target protein
that can either create structure, act as enzyme, or transport. Transformation can
also create an uptake of a wide range of DNA fragments, which leads to changes
or the creation of more resistance genes and can make bacteria more resistant to
antibiotics. In general, transformation can be considered a mutation of a cell
since it is a genetic alteration of a bacterium. Lastly, pilus also assist in this
process by promoting DNA uptake during the first step of transformation.