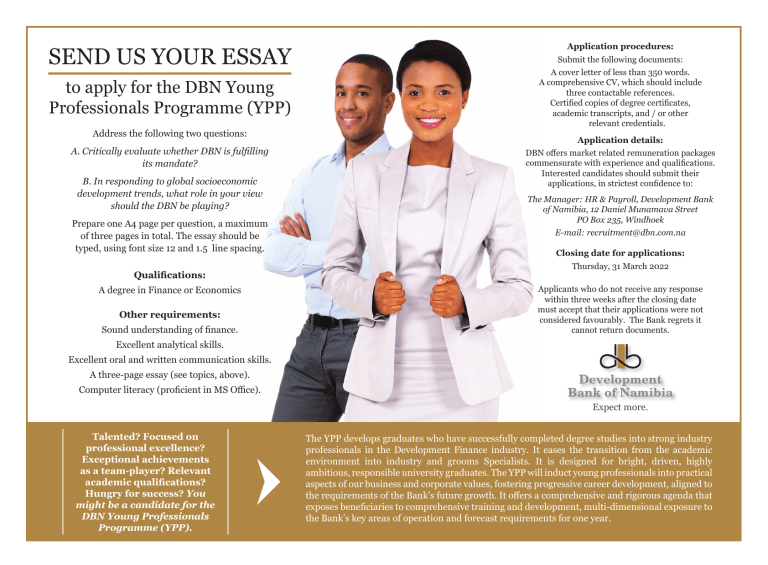 SEND US YOUR ESSAY
to apply for the DBN Young
Professionals Programme (YPP)
Address the following two questions:
A. Critically evaluate whether DBN is fulfilling
its mandate?
B. In responding to global socioeconomic
development trends, what role in your view
should the DBN be playing?
Prepare one A4 page per question, a maximum
of three pages in total. The essay should be
typed, using font size 12 and 1.5 line spacing.
Qualifications:
A degree in Finance or Economics
Other requirements:
Sound understanding of finance.
Application procedures:
Submit the following documents:
A cover letter of less than 350 words.
A comprehensive CV, which should include
three contactable references.
Certified copies of degree certificates,
academic transcripts, and / or other
relevant credentials.
Application details:
DBN offers market related remuneration packages
commensurate with experience and qualifications.
Interested candidates should submit their
applications, in strictest confidence to:
The Manager: HR & Payroll, Development Bank
of Namibia, 12 Daniel Munamava Street
PO Box 235, Windhoek
E-mail: recruitment@dbn.com.na
Closing date for applications:
Thursday, 31 March 2022
Applicants who do not receive any response
within three weeks after the closing date
must accept that their applications were not
considered favourably. The Bank regrets it
cannot return documents.
Excellent analytical skills.
Excellent oral and written communication skills.
A three-page essay (see topics, above).
Computer literacy (proficient in MS Office).
Expect more.
Talented? Focused on
professional excellence?
Exceptional achievements
as a team-player? Relevant
academic qualifications?
Hungry for success? You
might be a candidate for the
DBN Young Professionals
Programme (YPP).
www.dbn.com.na
The YPP develops graduates who have successfully completed degree studies
into strong industry
professionals in the Development Finance industry. It eases the transition from the academic
environment into industry and grooms Specialists. It is designed for bright, driven, highly
ambitious, responsible university graduates. The YPP will induct young professionals into practical
aspects of our business and corporate values, fostering progressive career development, aligned to
the requirements of the Bank's future growth. It offers a comprehensive and rigorous agenda that
exposes beneficiaries to comprehensive training and development, multi-dimensional exposure to
the Bank's key areas of operation and forecast requirements for one year.