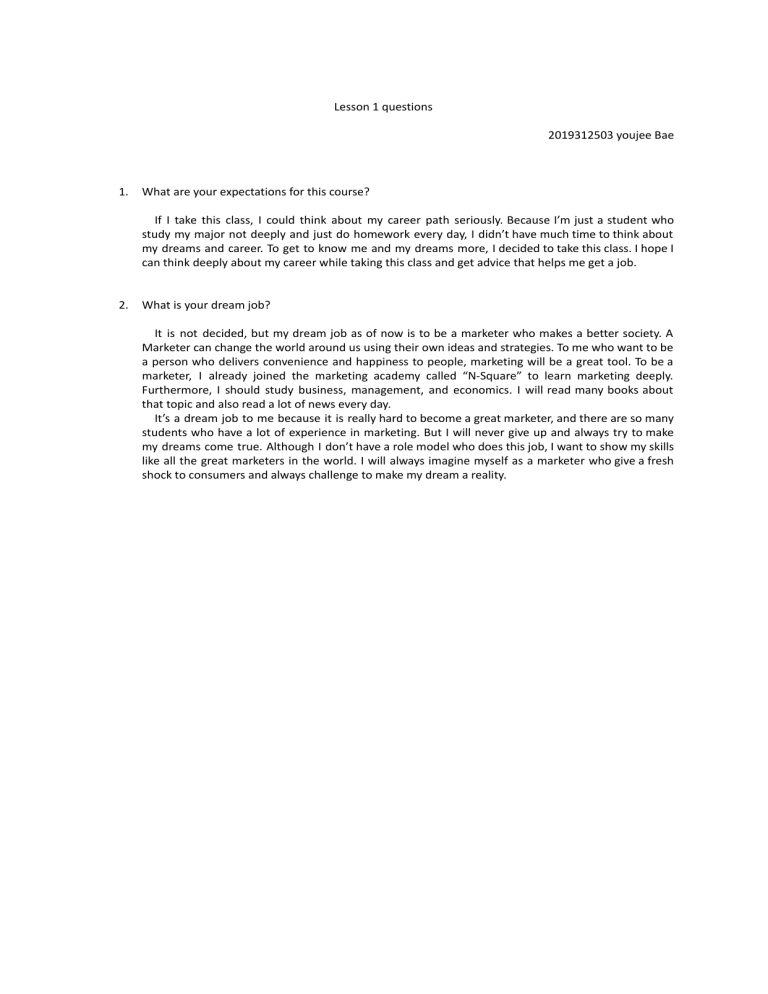 Lesson 1 questions
2019312503 youjee Bae
1.
What are your expectations for this course?
If I take this class, I could think about my career path seriously. Because I'm just a student who
study my major not deeply and just do homework every day, I didn't have much time to think about
my dreams and career. To get to know me and my dreams more, I decided to take this class. I hope I
can think deeply about my career while taking this class and get advice that helps me get a job.
2.
What is your dream job?
It is not decided, but my dream job as of now is to be a marketer who makes a better society. A
Marketer can change the world around us using their own ideas and strategies. To me who want to be
a person who delivers convenience and happiness to people, marketing will be a great tool. To be a
marketer, I already joined the marketing academy called "N-Square" to learn marketing deeply.
Furthermore, I should study business, management, and economics. I will read many books about
that topic and also read a lot of news every day.
It's a dream job to me because it is really hard to become a great marketer, and there are so many
students who have a lot of experience in marketing. But I will never give up and always try to make
my dreams come true. Although I don't have a role model who does this job, I want to show my skills
like all the great marketers in the world. I will always imagine myself as a marketer who give a fresh
shock to consumers and always challenge to make my dream a reality.