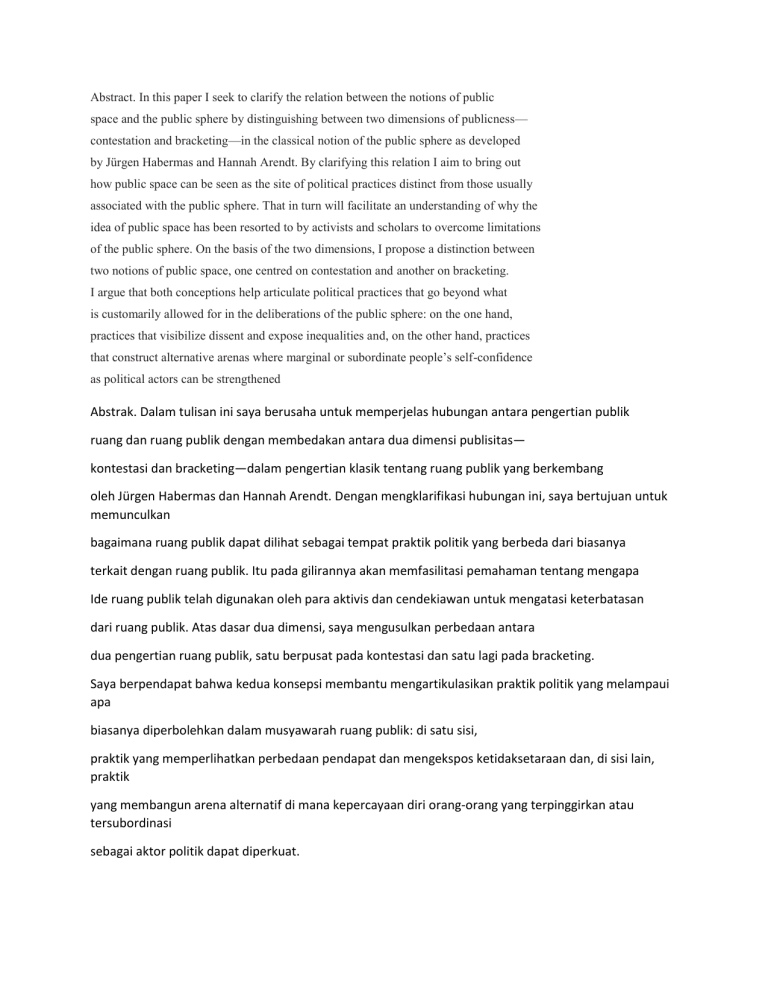 Abstract. In this paper I seek to clarify the relation between the notions of public
space and the public sphere by distinguishing between two dimensions of publicness—
contestation and bracketing—in the classical notion of the public sphere as developed
by Jürgen Habermas and Hannah Arendt. By clarifying this relation I aim to bring out
how public space can be seen as the site of political practices distinct from those usually
associated with the public sphere. That in turn will facilitate an understanding of why the
idea of public space has been resorted to by activists and scholars to overcome limitations
of the public sphere. On the basis of the two dimensions, I propose a distinction between
two notions of public space, one centred on contestation and another on bracketing.
I argue that both conceptions help articulate political practices that go beyond what
is customarily allowed for in the deliberations of the public sphere: on the one hand,
practices that visibilize dissent and expose inequalities and, on the other hand, practices
that construct alternative arenas where marginal or subordinate people's self-confidence
as political actors can be strengthened
Abstrak. Dalam tulisan ini saya berusaha untuk memperjelas hubungan antara pengertian publik
ruang dan ruang publik dengan membedakan antara dua dimensi publisitas—
kontestasi dan bracketing—dalam pengertian klasik tentang ruang publik yang berkembang
oleh Jürgen Habermas dan Hannah Arendt. Dengan mengklarifikasi hubungan ini, saya bertujuan untuk
memunculkan
bagaimana ruang publik dapat dilihat sebagai tempat praktik politik yang berbeda dari biasanya
terkait dengan ruang publik. Itu pada gilirannya akan memfasilitasi pemahaman tentang mengapa
Ide ruang publik telah digunakan oleh para aktivis dan cendekiawan untuk mengatasi keterbatasan
dari ruang publik. Atas dasar dua dimensi, saya mengusulkan perbedaan antara
dua pengertian ruang publik, satu berpusat pada kontestasi dan satu lagi pada bracketing.
Saya berpendapat bahwa kedua konsepsi membantu mengartikulasikan praktik politik yang melampaui
apa
biasanya diperbolehkan dalam musyawarah ruang publik: di satu sisi,
praktik yang memperlihatkan perbedaan pendapat dan mengekspos ketidaksetaraan dan, di sisi lain,
praktik
yang membangun arena alternatif di mana kepercayaan diri orang-orang yang terpinggirkan atau
tersubordinasi
sebagai aktor politik dapat diperkuat.