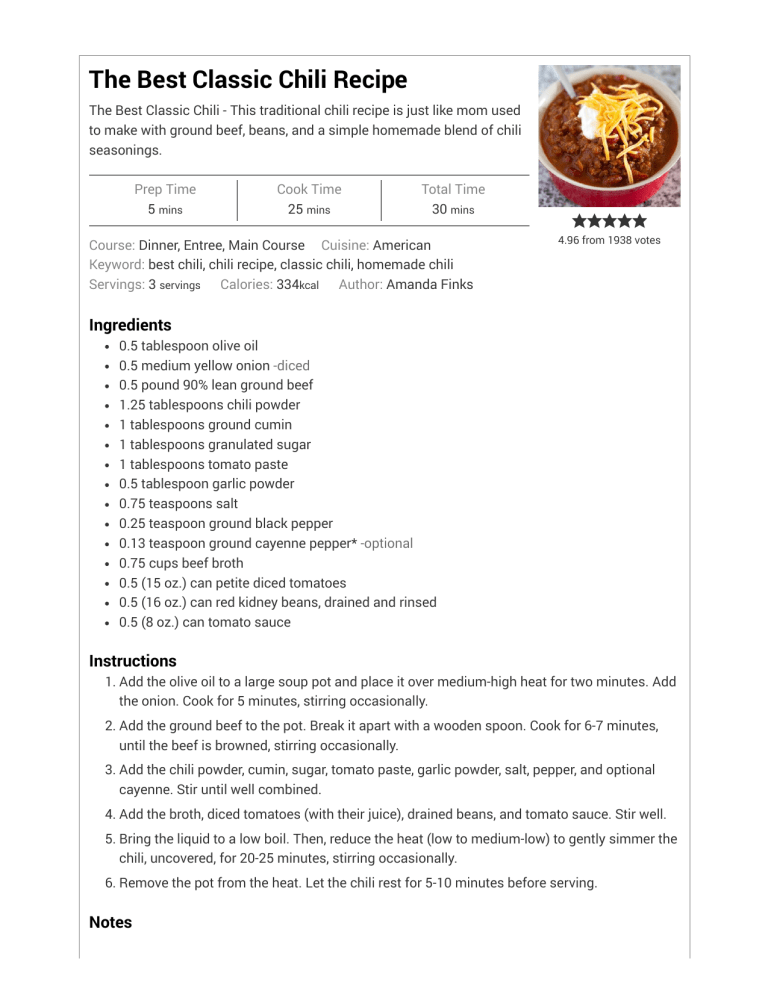 The Best Classic Chili Recipe
The Best Classic Chili - This traditional chili recipe is just like mom used
to make with ground beef, beans, and a simple homemade blend of chili
seasonings.
Prep Time
5 mins
Cook Time
25 mins
Total Time
30 mins
Course: Dinner, Entree, Main Course Cuisine: American
Keyword: best chili, chili recipe, classic chili, homemade chili
Servings: 3 servings Calories: 334kcal Author: Amanda Finks
4.96 from 1938 votes
Ingredients
0.5 tablespoon olive oil
0.5 medium yellow onion -diced
0.5 pound 90% lean ground beef
1.25 tablespoons chili powder
1 tablespoons ground cumin
1 tablespoons granulated sugar
1 tablespoons tomato paste
0.5 tablespoon garlic powder
0.75 teaspoons salt
0.25 teaspoon ground black pepper
0.13 teaspoon ground cayenne pepper* -optional
0.75 cups beef broth
0.5 (15 oz.) can petite diced tomatoes
0.5 (16 oz.) can red kidney beans, drained and rinsed
0.5 (8 oz.) can tomato sauce
Instructions
1. Add the olive oil to a large soup pot and place it over medium-high heat for two minutes. Add
the onion. Cook for 5 minutes, stirring occasionally.
2. Add the ground beef to the pot. Break it apart with a wooden spoon. Cook for 6-7 minutes,
until the beef is browned, stirring occasionally.
3. Add the chili powder, cumin, sugar, tomato paste, garlic powder, salt, pepper, and optional
cayenne. Stir until well combined.
4. Add the broth, diced tomatoes (with their juice), drained beans, and tomato sauce. Stir well.
5. Bring the liquid to a low boil. Then, reduce the heat (low to medium-low) to gently simmer the
chili, uncovered, for 20-25 minutes, stirring occasionally.
6. Remove the pot from the heat. Let the chili rest for 5-10 minutes before serving.
Notes
I typically skip the cayenne pepper because I have a young kiddo. Then, I put out some hot sauce
for those adults that want to add some spiciness to their chili.
Nutrition
Serving: 1/6th of the recipe | Calories: 334kcal | Carbohydrates: 34g | Protein: 25g | Fat: 11g |
Saturated Fat: 3g | Cholesterol: 49mg | Sodium: 1249mg | Potassium: 1110mg | Fiber: 9g | Sugar:
10g | Vitamin A: 1445IU | Vitamin C: 12.8mg | Calcium: 99mg | Iron: 7.5mg
Did you make this recipe? Don't forget to leave a review/star rating! Star ratings help everyone know how good a recipe is.