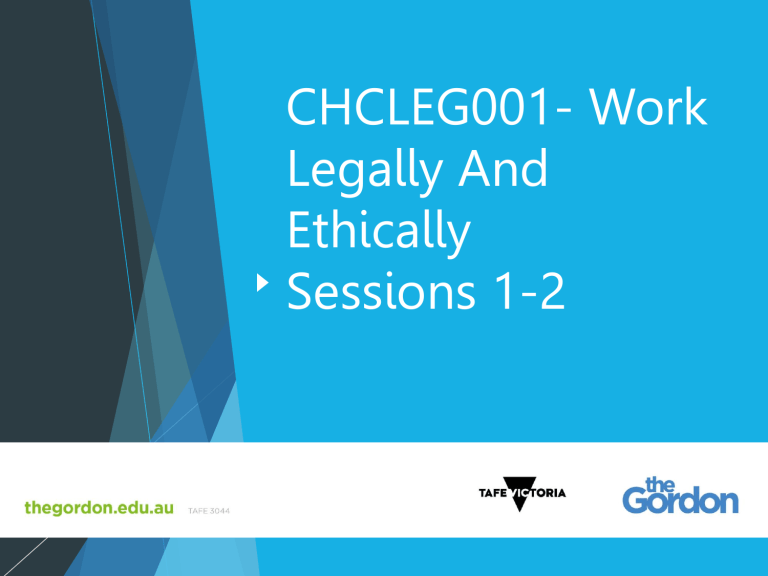 CHCLEG001- Work
Legally And
Ethically
Sessions 1-2
This unit……

This unit describes the skills and
knowledge required to identify and work
within the legal and ethical frameworks
that apply to an individual job role.

This unit applies to community services
and health workers who play a proactive
role in identifying and meeting their legal
and ethical responsibilities.
A competent person will….

Identify and respond to legal
requirements

Identify and meet ethical
responsibilities

Contribute to workplace
improvements
You will have …..
completed workplace activities in
accordance with legal and ethical
requirements in at least 3 different
situations
 developed appropriate responses to at
least 3 different legal or ethical issues
relevant to the work role
 identified and communicated at least 2
potential work practice improvements
designed to enhance workplace
responsiveness to legal and ethical
requirements

Legal Systems In Australia
Two major sources of law are:
Common law

Case law

Based on precedence – previous decisions made by
judges
Parliamentary law

Based on acts passed by government. Theses acts
state the main parts of the law, while regulations
state how the law must be followed.

Laws passed by parliament known as Statutory or
enacted law or legislation, try to clarify a set
areas of common law. for example, work health
and safety acts
Legislation ….
Is a form of government policy that

Provides a framework – a set of rules

Establishes the rights and responsibilities of individuals

You must have an understanding of this framework

Customary law recognises the customs & rights to land
of indigenous Australians
Some of the Legislations acts that relate to aged care and
disability sectors are:

Disability Act (2006)

Aged Care Act (1997)

Privacy Act (1998)

Occupational Health and Safety Act
(2004)

Sex Discrimination Act (1984)

Racial Discrimination Act (1975)

Aged Care Quality and Safety
Commission Act (2018)

Freedom of information Act (1989)

Fair Work Act (2009)
Freedom Of Information
All people being supported legally have the right
to access and read all of their personal files, they
also have the right to apply for any changes to be
made if they are not accurate.
Mental Health Laws
These acts set out the rights of people with mental
illness. Each state and territory has its own mental
health act.
They emphasise:
Community-based care
 Consumer rights
 Consent for treatment
 Guidelines
 A mental health tribunal to support
review
 Legal definitions

It is illegal to treat people differently or
unfairly:
Direct discrimination
AntiDiscrimination
Indirect discrimination
Australian Human Rights Commission
Refer to :
https://www.humanrights.gov.au/
Work Health & Safety

A safe place for
workers, visitors &
contractors

Duty of care – to take
care for the health and
safety of all others and
to abide by WHS policies
at all times.

Roles & responsibilities
of employers and
employees
Child Protection
Must follow child protection laws and any specific mandatory
reporting requirements
Child Safe Standards
Child abuse
Child welfare and education
Fair Work




A legislation that
protects employees
against unfair or
unlawful termination
of employment
Sets out rights and
responsibilities of the
employee and the
employer
Terms & conditions
of workers
Follow policy and
procedure
requirements
Are a civil wrong, tort laws protect
a persons personal property, security,
financial reputation and resources.
Some torts relevant to individual
support Industry are:
Legal Torts
• Negligence
• Consent
• Guardianship
• False imprisonment
• Abuse
• Assault & battery
• Defamation,libel & slander
• Confidentiality & privacy
Negligence
Reasonable person –
how a competent
person would act
Negligence is a
failure to complete
tasks that should
have been
completed.
Minimise hurt
Duty of care – 4 Ds :
Duty of care
Dereliction of duty
Damage &
Direct effect

Mira is a new carer. The
nurse asks her to shower
Joe who requires
supervision at all times

Mira takes Joe to the
shower and helps him into
the shower and
commences washing

She realises that she has
left items in the room and
leaves Joe in the shower
while she gets these.
Discussion
On her
return…
Mira finds Joe on the
shower floor
 Joe has a cut arm
 He is complaining of pain
in his arm
 The doctor has been
called. He reports that
Joe has sustained a
fracture of his arm and
bruising to his body and
face.
Has Mira been negligent in
her care?

Standard Of Care

This is based on what a person is
reasonably expected to provide

People have a right to make their own
decisions & act independently

Balance safety and individual choice
Risk
Rights
Duty Of Care Checklist…

Likelihood of harm

Seriousness of risk

Likelihood of benefit achieved

Values of benefit
Dignity Of Risk


The right to make own decisions
Even when those actions might involve
some risk to themselves.
Foreseeable injury
Managing
Risks
Seriousness of injury
Reaction to the
situation
Policies & procedures must…
Support duty of
care
Provide training to
staff and
volunteers
Provide
opportunities for
mentoring, debrief
and support
Provide guidance
on record keeping
Respect dignity of
risk
Support peoples
rights
Policies and
procedures relate
to all areas of the
organisation.
Verbal – the person tells you
what they want
Written – the person signs a
form
Consent
Implied – the person uses
body language
Sometimes consent is hard
to determine
Valid Consent
Voluntary
Informed
Specific
Legal
Protects the rights of people
Appointed by a board or tribunal
Guardianship
Legal body that oversees the rights of the
individual to be treated with dignity &
respect
Oversea the day to day decisions about life &
financial matters
Authority to make lifestyle & personal
decisions
Principles Of Guardianship
Protect the
welfare &
interests of the
person
Family
relationships
preserved
Support the living
of a normal life
Individual
preferences
respected
Protection from
abuse
The person has
the right to input
to management
of financials
Power Of Attorney
A legal Document that Appoints
someone to act on them on behalf
of matters of property & money
Enduring power of attorney in acts
when a person does not have
capacity to manage their affairs
False Imprisonment
When someone
purposefully uses any
kind of restraint in
order to restrict the
freedom of an
individual
Restraint
The forcible restriction
of movement of a
person against their
wishes
This is only a temporary
solution
Restraints can only be
used after
comprehensive
assessment and
extensive consultation
with:
the resident or legal
representative
the GP/ Medical officer
the clients
family/carer/or other
close associates
Relevant health
professionals
Physical
High Risk
Extreme
Chemical
Types Of
Restraint
Aversive treatment practices/punishment
Person to person
Environmental
Environmental
Physical
Alternatives
To Restraint
Alterations to care
Activities & care
Psycho-social programs

Mistreatment or neglect
Physical
Abuse
Emotional/psychological
Financial
Sexual
Accidents & incidents that are unexplained
Changes to physical appearance
Fearful or anxious behaviour
Signs Of
Abuse
Withdrawal, depression or other behaviours that
indicate depression or agitation
Unexplained changes to financial situation
Poor personal hygiene & minimal personal items
Inadequate nutrition
Inadequate medical & dental care
Potential
& Actual
Breaches
You have a responsibility to
inform a supervisor of any
breaches of law or policies
& procedures
You must document and
report observations to your
supervisor
Protects the rights & interests of clients
An opportunity for feedback
Must be fair and non- discriminatory
Complaints
External complaints must also be available
For more information understanding and
handling complaints refer to:
www.agedcarecomplaints.gov.au
The act of speaking up for oneself
or another person, or group of
people
Steps include:
Advocacy
• Listen to the person
• Identify the facts and key issues
• Determine what the person wants
• Clarify what outcome the person wants
• Discuss possible options
• Provide information & support to seek
resolution
• Refer person to support services
How to advocate…
Present the individual or group needs
Ensure you have a clear
understanding of their issues & needs
Have a plan of action to achieve
their goal
Be clear about the agreed plan
Advocacy is crucial to protecting
the rights of people.
Quality Framework In
Community Services












Framework containing policies, procedures and
standards
Codes of conduct can include: honesty,
professional behaviour, punctuality, confidentiality
Reporting systems to measure compliance
Record keeping to provide evidence of compliance
Monitoring & review, continuous improvement
User rights and responsibilities
Management systems
Safety considerations
Training and education
Health and personal care requirements
Strategies to manage complaints
Feedback
Accreditation…..
A way of measuring how health and
community facilities are performing
against a set of regulatory standards
 Regular audits against this are
conducted
Research and read industry standards
for aged care home and community
services and disability

Aged care quality and safety
commission
https://www.agedcarequality.gov.au/
Your role…
Monitor
Monitor own work
Provide
Provide feedback
Monitor
Monitor service outcomes
Evaluate
Evaluate own effectiveness
Report
Undertake
Report issue to supervisor
Undertake ongoing training
Keep
Keep pace with changes and update skills
Make
Make suggestions for improvement
Maintain
Maintain awareness of the quality system
Advocate
Advocate for clients.
Legislation that covers:
What are
you
accountable
for?
• Accreditation &
accountability
• Rights and responsibilities
• Certification & quality care
standards
• Operational policies and
procedures
• Compliance with equal
opportunity legislation
• Complaints & appeals
• WHS
• Privacy, confidentiality and
freedom of information
Ethics guide decisions and actions
Ethical practice is critical
Code of ethics/practice set out the
obligations & responsibilities of workers
Ethical
Conduct
Code of conduct
Practice standards
Personal values & attitudes
Conflict of interest
Job responsibilities
Role boundaries
Roles &
Responsibilities
Rights of workers
Professional development
Employment conditions
Boundaries
A support work must only
undertake activities for which
they are responsible for
You have a duty of care to work
within role boundaries and
provide care consistent within
role and level of responsibility
Professional development
supports ongoing improvement
of skills
Right to be treated fairly, with respect within
a safe environment
Worker rights are supported by legal and
ethical principles
Worker
Rights
Trade unions provide a collective voice to
represent workers and protect rights and
conditions
Volunteers are not employed and not covered
by employment conditions
Work in a workplace free from bullying and
harassment
Be
Treat
Be punctual
Treat others with respect
Attend Attend training
Comply Comply with policies and procedures
Worker
Responsibilities
Report Report workplace hazards
Be
Be competent in their role
Work
Work within their level of training
Work
Work within their job description
Comply Comply with duty of care
Work in Work in a safe manner
Clients Rights & Responsibilities
Some of the clients rights include:
The right to a safe environment
 The right to refuse care and treatment
 A right to be cared for by a competent person
 A right to be given nutritious meals
 A right to make decisions in their care
Some of the clients responsibilities include:
 To treat workers with respect
 To treat other residents with respect
 To respect the rights of staff to work in an
environment free from harassment
 To care for their own health as far as they are
capable

For more information refer to
www.myagedcare.gov.au for
information on accreditation,
rights & responsibility's,
elder abuse, standards, and
financial and legal issues.