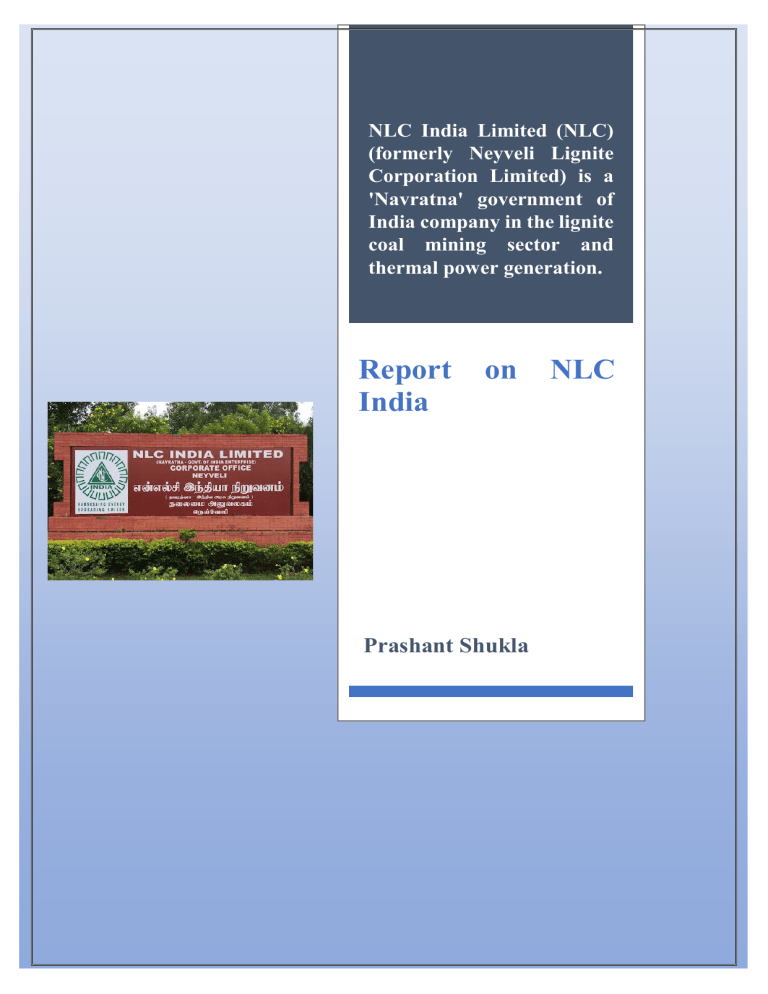 NLC India Limited (NLC)
(formerly Neyveli Lignite
Corporation Limited) is a
'Navratna' government of
India company in the lignite
coal mining sector and
thermal power generation.
Report
India
on
Prashant Shukla
NLC
NLC INDIA LTD.
About companyNLC India Limited (NLC) (previously Neyveli Lignite Corporation Limited) is a
Navratna Government partnership in the petroleum derivative mining area in
India and nuclear energy age under the responsibility for of Coal, Government of
India. It every year delivers around 30 million tons of Lignite from opencast
mines at Neyveli in the territory of Tamil Nadu in southern India and at
Barsingsar in Bikaner locale of Rajasthan state. The lignite is utilized at pithead
nuclear energy plants of 3640 MW introduced ability to deliver power. Its joint
endeavor has a 1000 MW nuclear energy plant utilizing coal. Recently, it has
enhanced into environmentally friendly power creation and introduced 1404 MW
sunlight-based power plant to deliver power from photovoltaic (PV) cells and 51
MW power from windmills.
It was joined in 1956 and was completely possessed by the Government of India.
A little piece of its stock was offered to general society to list its portions on stock
trades where its portions are exchanged. It is under the Administrative control of
Ministry of Coal.
NLC India Limited is a 10-rupee face value lignite coal company.
 NLC India Limited (NLC) (formerly Neyveli Lignite Corporation Limited) is a
'Navratna' government of India company in the lignite coal mining sector and thermal
power generation.
 Neyveli Lignite Corporation Limited annually produces about 30 million tonnes of
Lignite from opencast mines at Neyveli (Tamil Nadu) and at Barsingsar (Bikaner
Rajasthan).
 The lignite is used at pithead thermal power stations of 3640 MW installed capacity to
produce electricity. NLC India joint venture has a 1000 MW thermal power station
using coal. So, NLCIL has diversified into renewable energy production and installed
a 1404 MW solar power plant to produce electricity from photovoltaic cells and 51 MW
electricity from wind power mills.
 Book Value of NLC India Ltd is 97.90 so in book value term it is a value buy at CMP
59.10 (But do not buy it at CMP, please use STP method to buy.
 NLCIL has also forayed into the renewable energy sector with the commissioning of a
141 MW Solar Photo Voltaic Power Plant including a 1 MW Roof-top Project at
Neyveli and a 51 MW Wind Energy Plant at Kazhuneerkulam Village of Tirunelveli
district in Tamil Nadu. The Company is also setting up 1209 MW Solar Power Projects
at Tirunelveli, Virudhunagar, and Ramanathapuram districts of Tamil Nadu, of which,
300 MW have been commissioned. NLC is aiming to achieve a total Renewable energy
capacity of 4251 MW. NLCIL has big dreams to become a 20000+ MW company by
2025.
 Promoters Holding 79.20%, No any pledged stocks. Company has been maintaining a
healthy dividend pay-out of 45.33%
 Year High=80.10 Year Low=46.20 this ratio is below 2
 NLC India Ltd is a dividend-paying company last Dividend 3.06 rupees per share and
dividend yield 4.23 percent, which is very nice. Base Price =68.06
Technical Analysis
Relative Strength Index (RSI) =42.56 which shows buy call.
Moving Average Convergence Divergence (MACD) = Signal line is above MACD line
which shows we have to wait for the crossover.
So,the trendline also shows we have to wait for the breakout.
PEER COMPARISON
As seen in the picture as company is generating enough cash
from operating activities which is very beneficial for every
business and net cash flow is also increases rapidly as now
company is investing in production areas.
As company's sales are increasing from prior years by limiting
down their expenses which is god and operating profit is increases
and PBT is almost doubled from prior.
CONCLUSION
For the quarter ended 30-09-2021, the company has reported a Consolidated Total Income
of Rs 418.30 Crore, up 3.46 % from last quarter Total Income of Rs 404.31 Crore and up 19.66
% from last year same quarter Total Income of Rs 349.59 Crore. Company has reported net
profit after tax of Rs 30.74 Crore in latest quarter.
NCL is very good as per fundamental analysis but we should wait for some time for technical
indication.