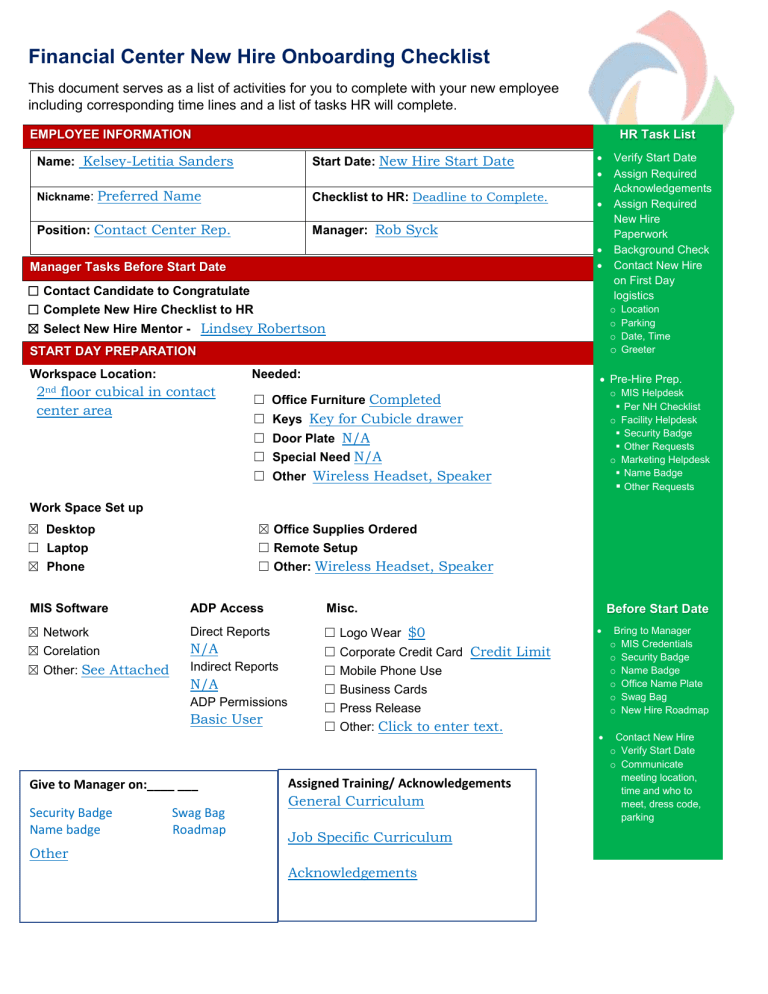 Financial Center New Hire Onboarding Checklist
This document serves as a list of activities for you to complete with your new employee
including corresponding time lines and a list of tasks HR will complete.
EMPLOYEE INFORMATION
HR Task List
Name: Kelsey-Letitia Sanders
Nickname:
Start Date: New Hire Start Date
Preferred Name
Checklist to HR: Deadline to Complete.
Position: Contact Center Rep.



Manager: Rob Syck


Manager Tasks Before Start Date
☐ Contact Candidate to Congratulate
☐ Complete New Hire Checklist to HR
o Location
o Parking
o Date, Time
o Greeter
☒ Select New Hire Mentor - Lindsey Robertson
START DAY PREPARATION
Workspace Location:
Needed:
2nd floor cubical in contact
center area
Verify Start Date
Assign Required
Acknowledgements
Assign Required
New Hire
Paperwork
Background Check
Contact New Hire
on First Day
logistics
 Pre-Hire Prep.
o MIS Helpdesk
 Per NH Checklist
o Facility Helpdesk
 Security Badge
 Other Requests
o Marketing Helpdesk
 Name Badge
 Other Requests
☐ Office Furniture Completed
☐ Keys Key for Cubicle drawer
☐ Door Plate N/A
☐ Special Need N/A
☐ Other Wireless Headset, Speaker
Work Space Set up
☒ Desktop
☐ Laptop
☒ Phone
☒ Office Supplies Ordered
☐ Remote Setup
☐ Other: Wireless Headset, Speaker
MIS Software
ADP Access
Misc.
☒ Network
☒ Corelation
Direct Reports
☐ Logo Wear $0
N/A
☒ Other: See Attached
Indirect Reports
☐ Corporate Credit Card Credit Limit
☐ Mobile Phone Use
N/A
ADP Permissions
Basic User
Give to Manager on:____ ___
Security Badge
Name badge
Swag Bag
Roadmap
Before Start Date

Bring to Manager
o MIS Credentials
o Security Badge
o Name Badge
o Office Name Plate
o Swag Bag
o New Hire Roadmap

Contact New Hire
o Verify Start Date
o Communicate
meeting location,
time and who to
meet, dress code,
parking
☐ Business Cards
☐ Press Release
☐ Other: Click to enter text.
Assigned Training/ Acknowledgements
General Curriculum
Job Specific Curriculum
Other
Acknowledgements
The first day for a new employee can be overwhelming, with a flood of new faces, introductions, and information to help them gain
familiarity with their new environment. To help ease the new hire into his/her role, it is important to focus the first day on the
employee's individual work space, navigating the office itself, modes of communication, use of equipment, as well as office
expectations.
FIRST DAY SCHEDULE
HR Task List

First Day Activities should include:
 Introduction to Mentor
 Meet the Team Gathering (Lunch, Breakfast,
Meeting)
 Send a Welcome to Team Email to your Staff
 NH sets up log in for CUNA.org, NAFCU.org
 Facility Tour
o Workspace
o Location of Printers
o Rest and Break Areas
o Emergency Evacuation and Safe Areas
One on One with Direct Supervisor Agenda Items












Show employee the workplace, their workstation and equipment.
o Their computer must be ready!
Introduce the new employee to key officials, fellow workers, and if applicable, to those whom they
will supervise.
Talk about pay and pay periods, time and attendance, types and accumulation of leave, and how
to request leave.
Goals And Objectives For The Role
Current Department Projects
VALUE Statements
Management Style, Communication Style
How the new hire prefers to receive feedback, How they can best work together
Answer any immediate questions the employee may have
Go over New Hire's First Week Schedule
Forward Meeting evites and other scheduled activities
Make copies of I-9 credentials and complete I-9 Form
Suggested First Day in Department Schedule
Meets with New Hire:
10:00
Greet New Hire and Introduce to Team
10:30
Facility Tour, End at New Hire work space
11:00
Assist New Hire with sign in set up, Network, Outlook, Intranet, Interaction Client, Other
11:30
Enter Activity
12:00
New Hire lunch w/Mentor, Boss, Others
12:30
Enter Activity
1:00
Enter Activity
1:30
Allow time for the employee to settle in and review all of the information provided to him/her
throughout the day.
2:00
Enter Activity
2:30
Enter Activity
3:00
Enter Activity
3:30
One on One with Direct Supervisor Meeting
4:00
Enter Activity
4:30
Enter Activity
Get I-9 Copies from
Manager
Providing structure for a new hire's first week tells them that you are ready for them and that their onboarding is a
priority. Creating an agenda ensures that your excited new employee doesn't get lost in the shuffle - a surefire way to
drain their initial enthusiasm. Keep in mind that the first week is all about making sure your new hire is invested in the
culture of the organization and reinforcing the value you see in them, for the long and short term.
Providing this structure can help a new hire feel informed and prepared for each next task or meeting, even when you
are busy completing your own tasks. Give your new hire clarity and in return you will have a new team member that
feels connected to the team and motivated to contribute.
FIRST WEEK SCHEDULE
HR Task List
Suggested First Week Activities
 Schedule with Key People
 Give the New Hire any initial assignments.
 Touch base each day to ensure they are settling in.
 Check equipment assigned to the employee is functioning and answer related questions.
 Ensure the employee has met with key colleagues.
 Invite the employee to connect with company social media accounts.
 Ensure the employee is on schedule with training.
 Set up their calendar and fill in all recurring meetings and events
 Schedule regular meetings to keep the employee engaged.
Thursday
Enter Activity
Friday
Enter Activity
Monday
Enter Activity
Tuesday
Enter Activity
Wednesday
Enter Activity
 Get I-9 Copies from
Manager
 Assign Curriculums to
NH
SYSTEM
RESPONSIBLE FOR SETUP
WHEN TO SETUP
Network
Keystone/Corelation
Interaction Client
TalentLMS
HR Service Center/ADP
AutoPilot
Client Central
E Form Requests
EServices Admin Tool
Image Point
WebExtender
Fast Docs
Penley
Partner Care
VISA Online
Department Verafin
Concen Virtual
HR – MIS Helpdesk
HR- MIS Helpdesk
HR – MIS Helpdesk
HR – Dawn McLeaster
HR – Kat Slauzis
Rob Syck
Rob Syck
Rob Syck
Rob Syck
Rob Syck
Rob Syck
Rob Syck
Adair Brier
Rob Syck
Self setup
Rob Syck
Rob Syck
Before Start Date
Before Start Date
Before Start Date
On Start Date
Before Start Date
After Start Date
After Start Date
After Start Date
After Start Date
After Start Date
After Start Date
After Start Date
After Start Date
After Start Date
After Start Date
After Start Date
After Start Date
EMAIL GROUPS
RESPONSIBLE FOR SETUP
WHEN TO SETUP
Dept.ccremote@fcfcu.com
olbsecured@fcfcu.com
Dept.telecom@fcfcu.com
cctr@fcfcu.com
HR
HR
HR
HR
Before
Before
Before
Before
–
–
–
–
MIS
MIS
MIS
MIS
Helpdesk
Helpdesk
Helpdesk
Helpdesk
Start
Start
Start
Start
Date
Date
Date
Date
NOTES
Outside direct line needed
Send email address and last 4 of Social Security #
NOTES
All new hires will be assigned the General Curriculum on their third day of employment. The General Curriculum includes the training that is required for all
staff regardless of their position or department. The curriculum covers compliance and regulatory training, as well as training on MIS systems used in the
Credit Union. They have 21 days to successfully complete all of the training topics.
Any additional training needed should be addressed in the Job Specific Curriculum section.
General Curriculum
Technology
Duration: 18 hours
Fraud / IT
Security
HR Policies
Succeeding In
Your New
Position
Deadline to Completion 21 days
Regulations
Other
LYNC Meeting Quick
Reference Guide
2021 Information Security
Policy (Through ADP)
2019 Employee Handbook
(through ADP)
Becoming More Professional
through Business Etiquette
Regulatory Alphabet Soup
Introduction to the World
of Credit Unions
ZOOM - Getting Started
with Zoom
The Goal of Information
Security
Preventing Workplace
Violence
Build Relationships in Your
First Days on the Job
Regulation Reggie Customer Identification
Program
Providing Effective Internal
Customer Service
ZOOM- How to Join a Zoom
Meeting - Video Requires
YouTube - Written Quick
Guide Available
What Is Fraud?
Sexual Harassment: A
Matter of Respect
Make a Strong Impression in
Your First Month
Regulation Reggie Regulation CC Expedited
Funds Availability Act
Build Patience as a
Customer Service Provider
Keystone Basics Training
The Importance of
Reporting Fraud
Professional Conduct:
Supporting an Environment
of Respect
Participate in Meetings as a
New Employee
So, You Know All About
BSA, Right?
Effective Internal Customer
Service
Interaction Client Guide
Spot the Red Flags of Fraud
2021 Code of Conduct All
staff Training
Start Things Off Right with
Your Manager
Regulation Reggie - Privacy
of Consumer's Financial
Information Act
Robbery and Security Policy
(through ADP)
Regulation Reggie - Truth in
Savings
Active Shooter Training
Code of Conduct (through
ADP)
Employee Handbook
(through ADP)
The Job Specific Curriculum should contain all of the training and resources available for a new hire to succeed in their new position. Training can include:





Instructor Led Training/ Classroom
Online Training
Job Shadowing
On-the-job Training
Written Procedures/ Policies
JOB SPECIFIC TRAINING
In addition to General Curriculum
Corelation &
Systems Training
Procedures
Member Service
Soft Skills
Regulations
Other
30-60-90 Plan
Priorities
Learning Goals
Performance Goals
1.
1.
1.
2.
2.
2.
3.
3.
3.
4.
4.
4.
1.
1.
1.
2.
2.
2.
3.
3.
3.
4.
4.
4.
1.
1.
1.
2.
2.
2.
3.
3.
3.
4.
4.
4.
1.
2.
Personal Goals
3.
4.
1.
2.
3.
4.
1.
2.
3.
4.