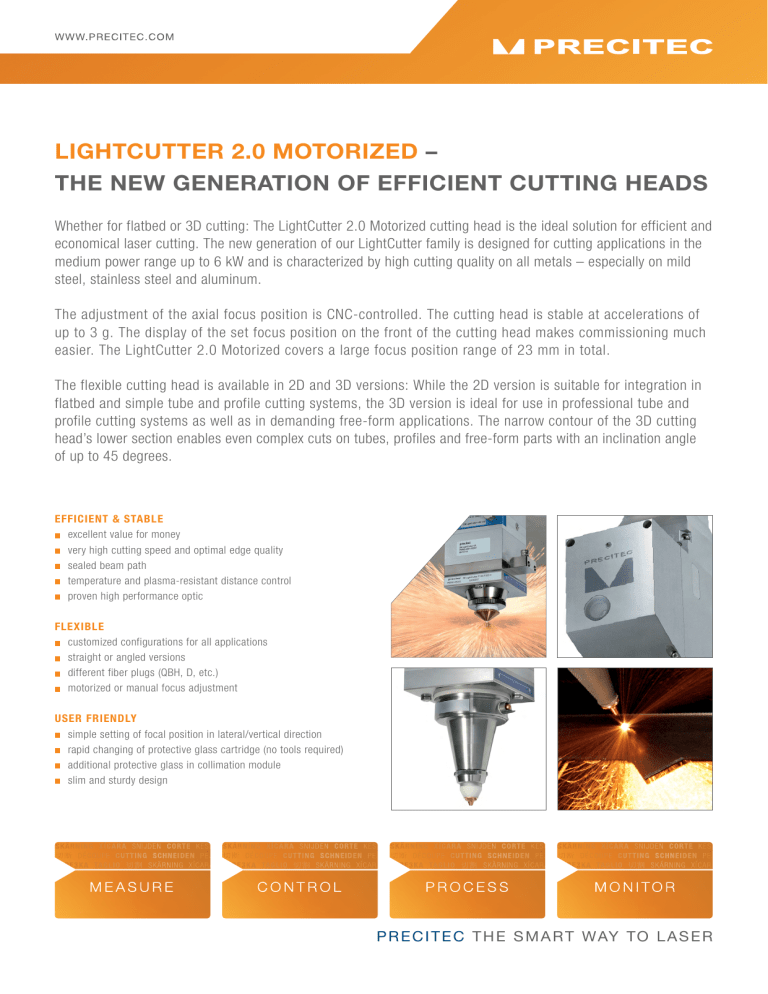 LightCutter 2.0 Motorized –
the new generation of efficient cutting heads
Whether for flatbed or 3D cutting: The LightCutter 2.0 Motorized cutting head is the ideal solution for efficient and
economical laser cutting. The new generation of our LightCutter family is designed for cutting applications in the
medium power range up to 6 kW and is characterized by high cutting quality on all metals – especially on mild
steel, stainless steel and aluminum.
The adjustment of the axial focus position is CNC-controlled. The cutting head is stable at accelerations of
up to 3 g. The display of the set focus position on the front of the cutting head makes commissioning much
easier. The LightCutter 2.0 Motorized covers a large focus position range of 23 mm in total.
The flexible cutting head is available in 2D and 3D versions: While the 2D version is suitable for integration in
flatbed and simple tube and profile cutting systems, the 3D version is ideal for use in professional tube and
profile cutting systems as well as in demanding free-form applications. The narrow contour of the 3D cutting
head's lower section enables even complex cuts on tubes, profiles and free-form parts with an inclination angle
of up to 45 degrees.
Efficient & Stable
excellent value for money
very high cutting speed and optimal edge quality
sealed beam path
temperature and plasma-resistant distance control
proven high performance optic
Flexible
customized configurations for all applications
straight or angled versions
different fiber plugs (QBH, D, etc.)
motorized or manual focus adjustment
User friendly
simple setting of focal position in lateral/vertical direction
rapid changing of protective glass cartridge (no tools required)
additional protective glass in collimation module
slim and sturdy design
P R E C I T E C T H E S M A R T W AY TO L A S E R
Flatbed cutting (2D)
D
3D cutting
applications
QBH
D
QBH
fiber socket
LightCutter
LightCutter 2.0 Motorized
up to 3 kW
up to 6 kW
laser power
75 mm
100 mm
100 mm
focal lengths
(collimation)
100 mm
100 mm
100
125
150
200
125 mm
150 mm
200 mm
focal lengths
150 mm
150 mm
0.16 at FC75,
0.12 at FC100
0.12 at FC100
NAmax
0.12 at FC100
0.12 at FC100
75 x 69 mm
130 x 69 mm
dimensions
75 x 69 mm
130 x 69 mm
from 3.3 kg
from 4.0 kg
weight
from 3.3 kg
from 4.0 kg
+3 mm / - 5 mm
23 mm
promised,
guaranteed
+11 mm / -8 mm
vertical adjustment
range
+3 mm / - 5 mm
23 mm
promised,
guaranteed
+11 mm / -8 mm
25 bar
25 bar
max. cutting gas
pressure
25 bar
25 bar
mm
mm
mm
mm
LightCutter 3D
LightCutter 2.0 Motorized 3D
up to 3 kW
up to 6 kW
The given data was generated for a typical application and may be different given other circumstances. Furthermore misprints, changes and/or innovations may lead to differences in
the listed measurements, technical data and features. Therefore all information is non-binding and technical data, measurements as well as features are not guaranteed by information
in this product information.
Precitec GmbH & Co. KG | Draisstr. 1 | 76571 Gaggenau | Germany
phone: +49 (0)7225 684 0 | fax: +49 (0)7225 684 900 | mail: precitec@precitec.de | web: www.precitec.com
02/Bg/17.06.2020
The PRECITEC GROUP provides intelligent and reliable solutions for material processing with lasers and optical measuring technology. We are not just a system
and component supplier, but also your professional partner for smooth processing.