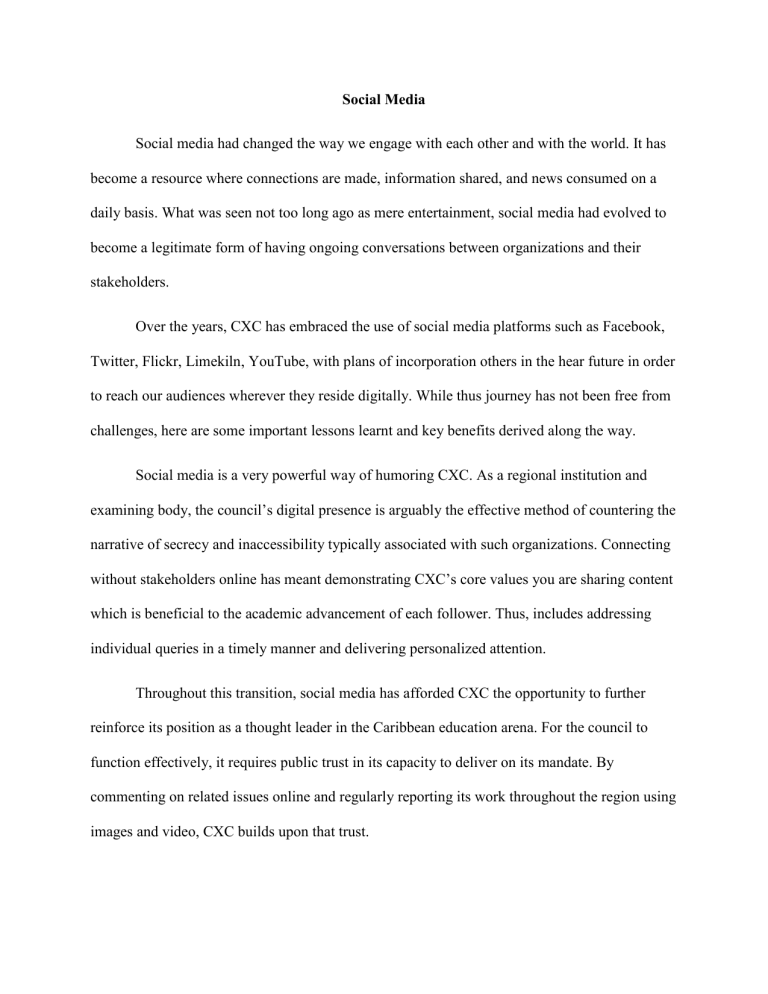 Social Media
Social media had changed the way we engage with each other and with the world. It has
become a resource where connections are made, information shared, and news consumed on a
daily basis. What was seen not too long ago as mere entertainment, social media had evolved to
become a legitimate form of having ongoing conversations between organizations and their
stakeholders.
Over the years, CXC has embraced the use of social media platforms such as Facebook,
Twitter, Flickr, Limekiln, YouTube, with plans of incorporation others in the hear future in order
to reach our audiences wherever they reside digitally. While thus journey has not been free from
challenges, here are some important lessons learnt and key benefits derived along the way.
Social media is a very powerful way of humoring CXC. As a regional institution and
examining body, the council's digital presence is arguably the effective method of countering the
narrative of secrecy and inaccessibility typically associated with such organizations. Connecting
without stakeholders online has meant demonstrating CXC's core values you are sharing content
which is beneficial to the academic advancement of each follower. Thus, includes addressing
individual queries in a timely manner and delivering personalized attention.
Throughout this transition, social media has afforded CXC the opportunity to further
reinforce its position as a thought leader in the Caribbean education arena. For the council to
function effectively, it requires public trust in its capacity to deliver on its mandate. By
commenting on related issues online and regularly reporting its work throughout the region using
images and video, CXC builds upon that trust.
Posts on social media have proven to be effective ways of driving traffic to CXC's
corporate website. Similarly, sharing relevant content from CXC's blog via our social channels is
a great strategy to engage readers and expose potential candidates to the suite pf products that the
council offers. Hence, social media had become a leading ways of lead generation and customer
acquisition for the council.
Another crucial lesson learnt is the extent to which our stakeholders have come to expect
institutions like CXC to be available on social media as an avenue for customer service.
Research published in the Harvard Business Review demonstrates that brands which don't meet
these expectations online risk damaging their reputations. CXC therefore implemented a
sophisticated customer relationship management system known as Freshdesk which collates all
social media feeds and online customer queries into a central repository which offers the council
the capacity to respond to queries in an efficient manner.