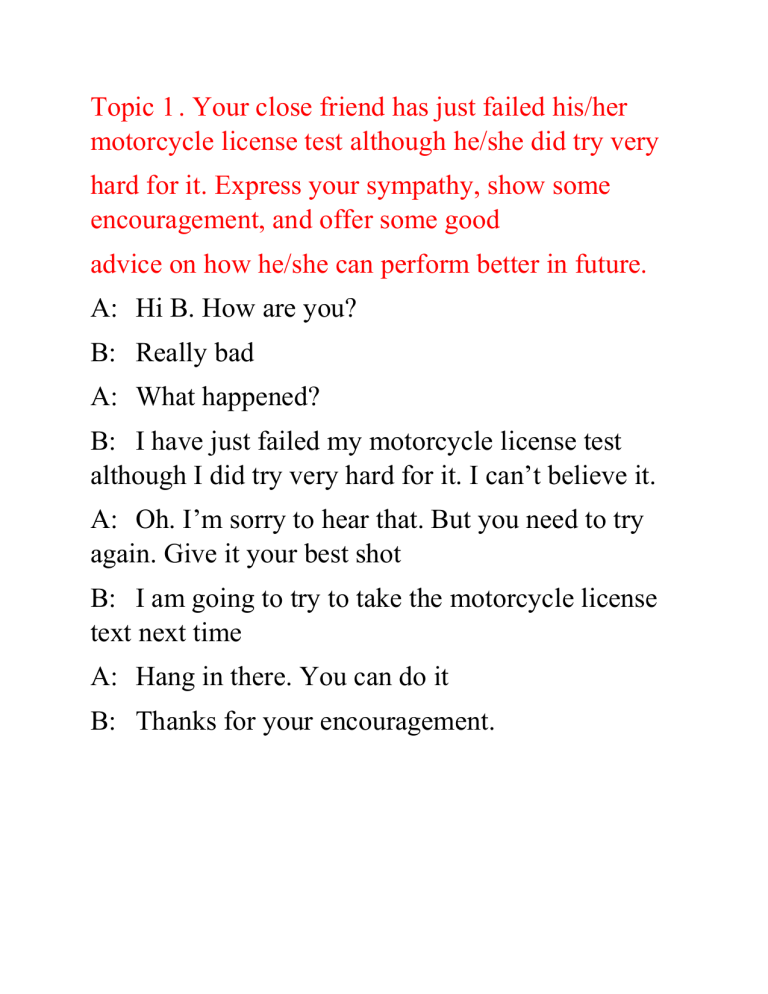 Topic 1 . Your close friend has just failed his/her
motorcycle license test although he/she did try very
hard for it. Express your sympathy, show some
encouragement, and offer some good
advice on how he/she can perform better in future.
A: Hi B. How are you?
B: Really bad
A: What happened?
B: I have just failed my motorcycle license test
although I did try very hard for it. I can't believe it.
A: Oh. I'm sorry to hear that. But you need to try
again. Give it your best shot
B: I am going to try to take the motorcycle license
text next time
A: Hang in there. You can do it
B: Thanks for your encouragement.
Topic 2 . Your classmate's beloved pet dog has gone
missing for three days. Without a doubt, he/she
is very sad and worried about it. Express your
concerns and sympathy, then say something
to cheer your classmate up.
A: Hi B. How is it going?
B: Not so well
A: What's up?
B: When I went to the park, I have lost my beloved
pet dog for three days. I looked for it around the part
but I don't see it
A: Don't worry. I believe you will find it soon
B: I know. But I'm still very worried about it
A: Oh. If I were you, I would look for another pet
dog
B: Yeah. That sounds great. Thanks for advice to
me.
Topic 3. You have been so stressed with school work this week
that you lost your temper and got in
an argument with your roommate yesterday. Make an apology,
explain the situation, and
offer to do something to make up for it.
A: I know. I'm really sorry about that.
B: Well, I know you didn't mean it. Don't worry about it. So tell
me what happened withyou….?
A: Nah, it's about my school work. I have no idea about it. Just
because this lesson is too difficult for me to understand.
B: Oh gosh. Have you asked your lecturer for more suggestions?
A: Yes, I did it. But she told me that she couldn't help me and I
should look for many books and newspapers to read to find
more information.
B: Mmm I think I can help you.
A: Really?
B: Come on, don't worry too much. I will help you if necessary.
A: Thank you so much. You're such a good friend. I'm so sorry
about what happened yesterday.
B: Apology accepted. Let's forget about this. I just hope you'll
keep your temper from now on.
A: Do you want go to coffe store with me
B: let's go
Topic 4 . Yesterday was your younger sibling's birthday and you
completely forgot about it, which
makes him/her very upset. Make an apology and come to a
conclusion about how you will
make up for it.
A: Oh dear, I didn't want to upset you. You know I didn't mean
to come home late. Just because I have a lot of work to do. I'm
so sorry.
B: No, you make me feel so sad. I've waited for you to start the
party for 3 hours.
A: Oh my god, I know it's my fault. Don't cry, pls
B: You break your promise to me. I won't play with you
anymore.
A: Really? You truly do that!?
B: Yes
A: Are you sure? You don't want to eat some marshmallows
before going to bed tonight?
B: No, I won't eat any candy today.
A: No chips?
B: No chips.
A: No Fruit Jelly?
B: (trả lời do dự)....Noooo
A: Soooo, I will go to the zoo…, eat cotton candy…., drink
bubble tea and cakes alone tomorrow.
B: We should go to bed early.
A: Oh I thought you were still sulky with me.
B: No, I will forgive you.
A: Aren't you mad at me anymore?
B: Just a little bit when you're not at home.
.A: Don't worry about that. Now, it's time to go to bed. We
should sleep early to get more energy to go outside tomorrow.
B: Goodnight
Topic 5 . Five days ago, you made an online order to
buy a watch from a luxury store. The order had
been accepted, and you were told that the item
would be sent to you in 2 days. However,
you have been waiting for 5 days and haven't heard
anything about the delivery. Make a
complaint to the store and negotiate how the issue
can be fixed.
A: Excuse me, is this a watch store?
B: yes, what do you need?
A: My order is 3 days late, can you check it for me?
B: Sorry for the inconvenience, I will check with the
delivery man now.
A: ok!! Please solve it quickly because I have been
waiting for 3 days.
B: ok. We're really sorry, I'll give you a 20% off
code for your next order.
A: ok
B: goodbye
Topic 6. Tell a waiter at a well-known restaurant that
your meal isn't like how you ordered it. Let
him/her know what the issue is and come to a
solution about how it can be resolved.
A: Excuse me! Are you out of vegetables today?
B: I'm sorry, Sir. I don't understand...
A: I ordered a Creamy Vegetable Soup and there
aren't many vegetables in it. It's mainly just broth.
B: I really apologize for that. Allow me to replace it
with a better one.
A; No. That's alright now. I'll just fill up on the main
course.
B: I assure you it won't happen again. As a token of
our, we won't charge you for the soup.
A: That's good. I hope we won't be disappointed
with the food quality.
B: You won't, sir
Topic 7. Reassure your worried mother that you will be okay to
move away from home for
university life. Listen to her concerns and explain why she
doesn't have to worry
A: The bus is coming, have you brought all your things?
B: I've brought everything, I'm ready for college.
A: It's good to hear you say that. When you get there, remember to call
back, take care of your health, eat well. Well, I remember to be friends
with everyone, if I go out, I have to leave early, and...
B: Don't worry, my dear mother. You know I'm very open to people, I'm
ready for living alone. The bus is here, I'll call you when I get there. i
love you mom
A: Goodbye, my son. I love you too
A: The bus is coming, have you brought all your things?
B: I've brought everything, I'm ready for college.
A: It's good to hear you say that. When you get there, remember to call
back, take care of your health, eat well. Well, I remember to be friends
with everyone, if I go out, I have to leave early, and...
B: Don't worry, my dear mother. You know I'm very open to people, I'm
ready for living alone. The bus is here, I'll call you when I get there. i
love you mom
A: Goodbye, my son. I love you too
Topic 8 . As a freshman, you haven't been studying
very well at university. Tell your close friend
about the situation and ask him/her for some advice
on the problem.:
Me (M), Friend (F)
M: Hello Cuong, it's nice to see you again, are you
fine?
F: Hi Quynh, I'm good, how about you? How is your
university life?
M: As a freshman. I find everything new and
interesting. I made a lot of new friends and toured
the whole school. It's very wonderful.
F: Ya, I'm so glad to hear this. University will be a
good environment for you to develop yourself and
learn a lot of things.
M: Ya. I think so. I have jearned a lot of good things
from my friends and teachers, everything here is
great.
F: Oh! It sounds good, I'm so happy for you and how
about your study? Is it good?
M: This is my problem, it made me very sad and
worried.
F: Oh, really? Can you tell me why?
M: Yes, I feel the subjects are difficult and can't
seem to get used to them. This makes me feel
overwhelmed, I feel confused. Some subjects I do
well but some I don't.
F: What kind of subject is that?
M: It's accounting principles. Did you learm ir?
F:I studied it and got an A point.
M: Oh my goodness, excellent, can you give me
sonie advice to study well at this?
F: I think you need to listen carefully to your
teacher's lecture and do a lot of homework to master
it. In addition, you should also be very careful in
your calculations.
M: Ya, I will remember and do it. Thank you so
mich.
F: You're welcome, Good luck to you.
Topic 9. You and your friend have arranged for a
get-together this weekend. Call him/her to confirm
the plan and come to an agreement about making a
slight change to the plan.
*RING RING*
L: Hi Anh ! How are you doing today?
A: I'm doing good. What about you?
L: Not too bad.Just calling to remind you of our gettogether this weekend in Vung Tau.
A: I still remember. What kind of accommodations
do you prefer?
L: I think we should stay in a hotel. However, I
prefer resorts. They are generally clean, comfortable,
and offer better views.
A: I'll try to find a good deal, many resorts are
offering discounts now.
L: That's a good idea. Do you want to change
anything?
A: Oh dear. I'm afraid I won't be able to go there by
motorbike. Because I prepared a lot of clothes. I'm
very sorry about that.
•
L: Why don't you tell me sooner ?
A:I'm real Lý đi ooiiiopppsorry. Can we change by
car?
L:Don't worry. I will borrow a car from my parents.
A: I'll buy you seafood to make up for it.
L: Sounds great! Apology accepted.And yes, you
can buy seafood for me.
A: We decide like that.
L: ok, see you this weekend.
A: gudbye, see you then.
Topic 10. You have recruited a third-year student for a part-time
job at your company. Explain what
his/her job is and how to perform it. Check to make sure that
he/she understands the
instructions.
Me (M), Tralnee (T)
M: Hello, are yon Cuong?
T: Hi, who are you?
M I am Quynlh aud I come from ABC company,
Congratulatious on becoming an intern of the
company in the near funure. You can go to work
next week.
T: Oh, thank you so much.
M. Fm calling to tell you more about how the job is
done and what you have to do
T: Yes, I'm ready to listen.
M: Good. You will be the perwon in charge of
tranferring information to the head of the deporiment
and receiving guests when the manager has a job:
T: Irs like a receptionist, right?
M: The sime thing, but when there is important
infornation you need to take notes and immedintely
send it to the directer, when there are guests coming
you need to lead them to the waiting room and get
them water
T: Water includes coffee, tea, and mineral water,
right?
M: Ya, nice. Do you understand your job?
T: Yes, of course. 1 will be the one to transmit
information and receive guests to the head of the
department. I took notes of all
M: That's so kind of you. Try your best. See you
next week If you have any questions, call me at this
number.
T: Okay, I will, thank you so much. Goodbye.