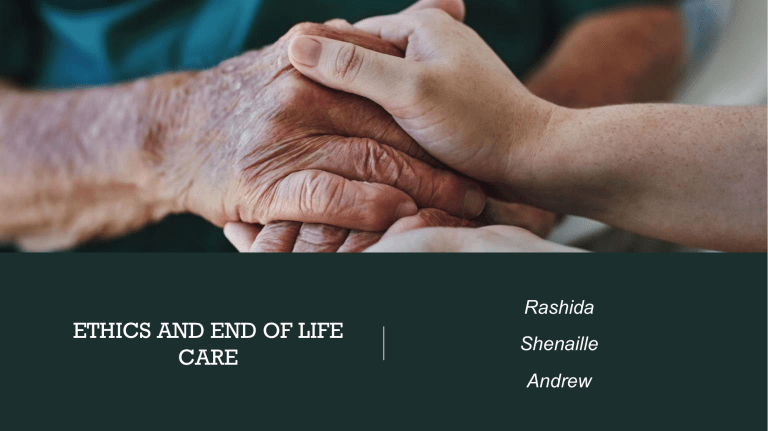 ETHICS AND END OF LIFE
CARE
Rashida
Shenaille
Andrew
Mr. Miller is a 60 year old African American Nursing home
patient.
Diagnosed with colon cancer.
CASE SUMMARY
"MISTRUST, RACISM, AND END-
Oncologist withholds chemotherapy due to functional status.
Family resists constructing advance directive.
OF-LIFE TREATMENT"
BY: ERIC L. KRAKAUER AND
ROBERT D. TRUOG
Mr. Miller presents to the E.R. with pneumonia, bed sores, and a
bladder infection.
Although, no advance directive the ER staff decided to withhold
treatment from Mr. Miller citing its futility.
The oncologist takes control of Mr. Miller's care and respects the
wishes of Mr. Miller's son in giving him treatment.
ETHICS OF JUSTICE
· There are multiple issues
surrounding this case:
ETHICAL ISSUES
· 1. Racism
· 2. Medical Mistrust
· 3. Denial of Dignity
· 4. Socioeconomic status
Was Dr. Schuler's refusal to
respect the son's request for
life support justifiable?
ETHICAL QUESTIONS
Was Dr. Bonhom's concern
about the issue of mistrust an
appropriate con- sideration in
his treatment decision.
To what extent can racism and
other societal injustices be
addressed in the care of
individuals?
JOHN STUART MILL'S DIGNITY VS
UTILITARIANISM
·
"All systems of morals agree in prescribing to do that, and only that, which
accords with self-respect. it. In the best, with the sympathy of those they
respect and a just regard for the good of all" (Mills, 1854 Diary Entry)
·
In this sense Mr. Miller was robbed of his dignity and his family by proxy.
·
In essence the ER doctors acted in an unethical way by denying the self
respect and dignity of Mr. Miller. They did not respect his dignity to change the
course of his treatment.
·
Similar to Rawl's Veil of Ignorance. The doctors should have dispensed the
care with the idea that they themselves or someone they know may one day
be in that situation.
·
Utilitarianist perspective supports the actions of the doctors in that withholding
care reserves medical resources which may provide wider benefit within
society. What works to service the majority is just.
"The only purpose for which power can be rightfully exercised
over any member of a civilized community, against his will, is to
prevent harm to others. His own good, either physical or moral,
is not a sufficient warrant. He cannot rightfully be compelled to
do or forbear because it will be better for him to do so, because
it will make him happier, because, in the opinions of others, to
do so would be wise, or even right" (Mills, 1863)
MILLS & THE RIGHT
TO A DNR
Central Question: If dignity can be used to establish a right to
refuse medical treatment for the individual, why can't the same
principle be used to establish a right to receive medical
treatment?
ETHICS OF CARE
Why didn't Dr. Bonhom ask for
the family's reasoning for
refusing to prepare an advance
directive initially?
ETHICAL QUESTIONS
Why did the emergency room
resident and Dr. Schuler
discuss Mr. Miller's treatment in
front of the family?
Why didn't Dr. Schuler answer
Mr. Miller's son questions
concerning his father's condition
and the purpose of the machinery
in the emergency room?
Hammington's Social Readiness
·
·
·
Empathetic Ideation
Example from Text: Dr. Bonhom recommended to not provide the patient with extensive
treatment after diagnosing him with metastatic colon cancer. Dr. Bonhom told the patient's
family who "appeared" to agree with the treatment and disagreed with preparing an advance
directive each time Dr. Bonhom brought up the topic.
Willingness to learn
Example from Text: Dr. Bonhom learned of Mr. Miller's family's mistrust in the medical care
system, which is why the family did not want to consider advance directive initially.
Willingness to take action
Example from Text: Dr. Bonhom moved forward with the son's request to begin aggressive life
support despite the emergency resident and Dr. Schuler's recommendation not to "intubate,
conduct CPR, and transfer Mr. Miller to ICU".
"However, when someone takes the time and effort to learn
more about someone and actively listen to their circumstances,
opportunities for deeper care may emerge. That depth of care
is correlated to the time and amount of effort devoted to
learning about the other. Such efforts are choices that
individuals can decide to make."(Hammington, 2017, p. 241)
Ethics of Care
Recommendation
The hospital should create a program that designates
representatives to each family after the first diagnoses. The
representative will explain medical treatments and medical
terms to the families who are in similar situations. This
representative can serve as the liaison between the family and
the doctors/medical staff.
ETHICS OF CRITIQUE
Shapiro & Stefkovich (2016)
"Ethics of critique at its heart is based on critical theory which seeks to analyze social class and it's inequities."
DuBois (1919)
"How may we justly distribute the world's' goods to satisfy the necessary wants of the mass of men?"
Freire (Ghosh, 2019)
"Creating opportunities for oppressed people to have agency and voice, reflecting on their experiences and
realities of exploitation is a means of liberation."
Nuridden, et. al (2020)
·
·
"The history of medicine and health care in the USA is marked by racial injustice and myriad forms of violence."
This includes: equal access to healthcare, segregation of medical facilities, exclusion of African Americans from
medical education, use of bodies of color as "anatomical material"
These are all forms of structural violence which seeks to explain how the organization of a society puts certain
individuals and populations in harm's way.
Was structural violence upheld
by the actors with power in this
case?
ETHICAL QUESTIONS
Was medical care given justly
and satisfactorily?
Were the voices of the actors
with less power/agency
elevated?
"Creating opportunities for oppressed people to have agency
and voice, reflecting on their experiences and realities of
exploitation is a means of liberation."
(Ghosh, 2019)
Ethics of Critique
Recommendations
Hunt for & gather data on patterns of discriminatory practices noticed by
hospital staff and patients of color
Implement a new policy in the emergency room – All patients requiring end of
life care conversations are presented with an option to meet in a private meeting
room or schedule an appointment for a longer, more focused conversation
Hospital training of scenarios where when the medical opinion of a doctor and
the wishes of a patient conflict, nuances of marginalization must be elevated
and added to the doctor-patient discourse (With patient volunteers sharing their
stories of effective discussions)
Thank You!
·
Du Bois, W.E.B. (1919). Of Work and Wealth. Darkwater: Voices from within the Veil. (pp. 27-29). New York.
·
Ghosh, R. (2019). Juxtaposing the Educational Ideas of Gandhi and Freire. (pp.275-282).Hoboken, NJ: John Wiley & Sons.
·
]Hamington, M. (2017). Social readiness: Care ethics and Migration. In S. W. Bender & W. F. Arrocha (Eds.),
Compassionate Migration and Regional Policy in the Americas (pp. 237– 252). https://doi.org/10.1057/978-1-137-55074-3
·
Nuriddin, A., Mooney, G., & White, A. I. (2020). Reckoning with histories of medical racism and violence in the USA. The
Lancet, 396(10256), 949–951. https://doi.org/10.1016/s0140-6736(20)32032-8
·
Shapiro, J. P., & Stefkovich, J. A. (2016). Ethical leadership and decision making in education: Applying theoretical
perspectives to complex dilemmas. New York: Routledge.