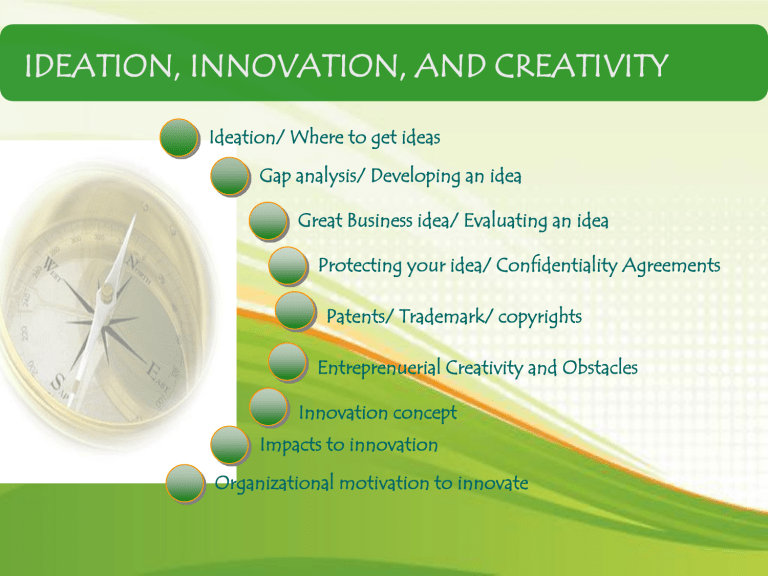 IDEATION, INNOVATION, AND CREATIVITY
Ideation/ Where to get ideas
Gap analysis/ Developing an idea
Great Business idea/ Evaluating an idea
Protecting your idea/ Confidentiality Agreements
Patents/ Trademark/ copyrights
Entreprenuerial Creativity and Obstacles
Innovation concept
Impacts to innovation
Organizational motivation to innovate
What is ideation?
• Ideation represents the creative
process of generating,
developing, and
communicating new ideas,
where an idea is understood as a
basic element of thought that
can be either visual, concrete, or
abstract[1]. As such, it is an
essential part of the design
process, both in education and
practice[2].
• Business begins with
IDEATION.
• IDEATION should be the
first investment of anybody
who seeks to be an
entrepreneur.
• The single most important
activity or any entrepreneur
or small business manager is
to generate business ideas.
Ideas are the
fuel of any
enduring
brand
WHERE TO GET IDEAS?
• SOOOOOOOOO
MANY AVENUES!!!
Another means of
finding business ideas
GAP ANALYSIS
WHAT IS AN IDEA THAT IS
WORTH A BUSINESS?
One that has market
now and in the
future
Totally Stupid Online Business Ideas That Made
Someone Rich
• Million Dollar Homepage
• 1000000 pixels, charge a dollar per pixel –
that's perhaps the dumbest idea for online
business anyone could have possible come up
with. Still, Alex Tew, a 21-year-old who came
up with the idea, is now a millionaire.
Totally Stupid Online Business Ideas That Made
Someone Rich
• LaserMonks
• LaserMonks.com is a for-profit subsidiary of
the Cistercian Abbey of Our Lady of Spring
Bank, an eight-monk monastery in the hills of
Monroe County, 90 miles northwest of
Madison. Yeah, real monks refilling your
cartridges. Hallelujah! Their 2005 sales were
$2.5 million! Praise the Lord.
Totally Stupid Online Business Ideas That Made
Someone Rich
• PositivesDating.Com
• How would you like to go on a date with an
HIV positive person? Paul Graves and Brandon
Koechlin thought that someone would, so
they created a dating site for HIV positive
folks last year. Projected 2006 sales are
$110,000, and the two hope to have 50,000
members by their two-year mark.
Totally Stupid Online Business Ideas That Made
Someone Rich
• SantaMail
• Ok, how's that for a brilliant idea. Get a postal
address at North Pole, Alaska, pretend you are
Santa Claus and charge parents 10 bucks for
every letter you send to their kids? Well,
Byron Reese sent over 200000 letters since
the start of the business in 2001, which makes
him a couple million dollars richer.
DEVELOPING AN IDEA
•
•
•
•
•
•
Recognizing a need
Improving an existing product
Recognizing trend
Be aware of everything
Questioning assumptions
Identifying or naming it first, then develop it
EVALUATING
AN
IDEA
Is Your Great Idea A Real Business?
Christopher Steiner, 06.11.10, 06:30 PM
• Twelve questions to help you separate the merely
clever from the ideas that stand a true chance of
succeeding.
• To sift out true business opportunities from the
sand of merely bright ideas, would-be
entrepreneurs can ask a series of questions.
Twelve Questions To Test If It's A Real
Business
1. Are you filling a void?
A clever idea is nothing more than a science
project if nobody actually needs the resultant
product. "You have to determine that there's
something actually missing to a specific market-something you're going to supply," says Tom
Lane, founder of Propertyroom.com, an auction
site for recovered and seized items sitting in
backrooms of police departments.
2. Does the idea pass a live-fire test?
Many ideas lend themselves to an easy litmus test to
determine if they'd be needed or popular. A
newfangled baked good, for instance, could be tested
at a farmer's market before being pitched to retailers.
If the sweet concoction doesn't sell at all to the
market crowd, the product may need to be
reexamined before getting pushed in bigger ponds.
3. Do industry experts hate
your idea? Good.
Just because so-called experts hate an idea doesn't mean it's
bad. It can often prove to be a good thing. Entrenched
players often don't see the harbingers of change until it's
too late. "Industry experts, by definition, are often
steeped in the orthodoxies of the industry; therefore they
are also more likely to underestimate the importance of a
novel business model or innovation coming from outside
their industry," says Eric Noyes, a professor at the Arthur
M. Blank Center for Entrepreneurship at Babson College.
4. Does the idea have shelf life?
Are there pending, sweeping changes in technology that
could render your idea moot? Companies not on guard
for changes in technology can be swept away while
competitors move ahead, says Matthew Ammirati,
president of Ammirati, a Manhattan advertising agency.
Advertising agencies that didn't embrace social media as it
emerged several years ago, for instance, are still struggling
to catch up.
5. High barrier to entry?
The best ideas have high barriers to entry, says
Kanchana Raman, CEO of Avion Systems, a
telecommunications company. If an idea is good
but not patentable, bigger competition could
overrun you overnight.
6. Is the idea scalable?
The best business ideas incorporate plans that can be
replicated and easily taught so they don't require
the founder to be the business all on his or her
own, says Susan Wilson Solovic, CEO of
SBTV.com, a St. Louis-based online network
focusing on small business. "If you are the
business all alone, then you really haven't started a
business, you've just created a job for yourself."
7. Can the idea be priced attractively?
Many daydreamers with good ideas don't run the
numbers to determine if their bright insight can
be offered to the market at a price the market is
willing to pay. "There may be a reason why
nobody else is already doing what you're thinking
about--they can't make any money doing it,"
explains Solovic.
8. How much funding will the
idea need?
Financing has rarely been easy for entrepreneurs; today's
tight market makes things even worse. Many business
ideas initially get backed by the founder's own money
with contributions from family and friends. When it
comes to specific ideas, entrepreneurs have to ask
themselves, "How much money do you truly need to
get the business off the ground?" says Solovic. If the idea
will take colossal VC funding, it may be more expedient
to examine business ideas with lower budgets.
9. How large is the market for the
idea?
If a business plan requires that you sell to 60%
of a potential market in order to make a
profit, then the idea isn't realistic. Better
business ideas can achieve profits by attaining
a smaller market share of 5% to 10%.
10. Is the idea truly a stand-alone business, or
is it an add-on feature?
It's easy for an entrepreneur to mistake a feature for a
solid company idea. Many good ideas can be useful
to businesses that already exist--for instance, a
feature addition for a program such as Windows or
Photoshop, but don't make for a business by
themselves. "A cupholder for minivans does not
beget a company," says Dave Kellogg, CEO of Mark
Logic, a Sequoia Capital-backed database software
company in San Carlos, Calif.
11. If it weren't your idea,
would you put money into it?
This is a simple question and an important
litmus test, says Michael Bechara, managing
director of Granite Consulting Group, which
advises its clients on corporate governance
and risk. "If a stranger pitched this idea to
you, how likely would it be that you'd buy
in?"
12. Can you pitch your idea as a
business in 20 seconds or less?
James W. Klingler, a professor at Villanova's Center
for Innovation, Creativity and Entrepreneurship,
makes students hone their ideas and explain their
pitches again and again. Many entrepreneurs, he
says, never reach an elite level of clarity in
explaining why their idea is a great business. "If
there isn't a good elevator pitch, there isn't a real
opportunity," Klingler says.
PROTECTING YOUR IDEA
PROTECTING YOUR IDEA
COPYRIGHT LAW
FULL IMPLEMENTATION OF IP
Other means of protecting an idea
• Record ideas, taking notes, diary
• Secure notes (safety place)
• Take note of phone calls, record conversations,
including date and time, keep copy of the bill &
journal
• Send data thru certified couriers
CONFIDENTIALITY AGREEMENT
When is this necessary?
• While initial research and
evaluation is going on
• When you are manufacturing
it or presenting to companies
to get it licensed
• When it has reached the point
of dealing with an investor
PATENTS
• A patent is a right granted for any device,
substance, method, process which is new
inventive and useful. Patents are legally
enforceable and gives the owner the exclusive
right to commercially exploit the invention
for the life of the patent. The innovation
patent is a protection option which is
designed to protect inventions that are not
sufficiently inventive.
PATENT
Example: The Ipod range is protected under a patent.
The value of patenting and licensing
• The principal reason is not to protect your
idea or product from being ripped off,
though that's the nice side benefits
•The real reason is that no
company is going to pay you
royalty on idea that is not
legally protected.
Patent pending
• Status of patent application
• Review stage at the patent office
• Product already sold in the market
marked as patent pending
TRADEMARKS
• A trademark can be a letter, number, word, phrase, sounds,
smell, slogan, logo, picture, aspect of packaging or any
combination of these.
• Trademarks are used to distinguish goods and services of
one trade from those of another. You don't have to register
your trade mark to use it, however registration is advisable
because it can be an expensive and time consuming exercise
to take action under common law.
• A registered trade mark gives you exclusive legal rights to
use, license or sell it within your country (laws vary within
countries) for the goods and services for which it is
registered.
TRADEMARK
Example: Cadbury Schweppes have a trademark on their specific
purple color
Registered Design
• refers to the
configuration, pattern,
or ornamentation
which when applied to
a product gives the
product a unique
appearance. You can
register a design but it
must be new and
distinctive.
Example: The Coca Cola bottle,
even without any text or branding
was recently registered in Japan
being the first of its kind.
COPYRIGHTS
• Protects the creative work of composers,
authors, writers, artists, filmmakers, and
others.
• Endures during the lifetime of the creator
and for 50 yrs after his death
COPYRIGHT
Example: The
specific
character, and
material
relating to
Batman is
protected
under
copyright
ENTREPRENUERIAL CREATIVITY
technical,
procedural &
intellectual
knowledge
COMPONENTS OF CREATIVITY
Creative
Thinking
Skills
Expertise
IT IS ABOUT
COMING UP
WITH
INNOVATIVE
IDEAS AND
CONVERTING
THEM INTO
VALUECREATING
PROFITABLE
BUSINESS
ACTIVITIES
how flexibly and
more
imaginatively
people approach
problems
Creativity
Motivation
intrinsic is more
effective than
extrinsic
Environmental stimulants to creativity
•
•
•
•
•
•
•
•
•
•
Freedom
Good project management
Sufficient resources
Encouragement
Various organizational characteristics
Recognition
Sufficient time
Challenge
Pressure
Outside organization
Environmental obstacles to creativity
•
•
•
•
•
•
•
•
•
Various organizational characteristics
Constraint
Organizational disinterest
Poor project management
Evaluation
Insufficient resources
Time pressure
Overemphasis on status quo
Competition
The concept of
INNOVATION
Doing something
different
Innovation is a
process of taking
new ideas to satisfied
customers.
• Effecting a new
policy
• Finding new
opportunities
• Designing a new
structure
• Devising a fresh
method
Lamp-Proxima-Futuristic-Car
New-Innovative-ArchitecturalBalenciaga-Shoes.jpg
dutchess-county-guest-housewooden-matrials
Modern Loft
Notebook-Acer-Aspire-AS8940G6865
coffee-machine-design-technology
Organizational motivation
to innovate
Innovation Lessons
THANK YOU!!!