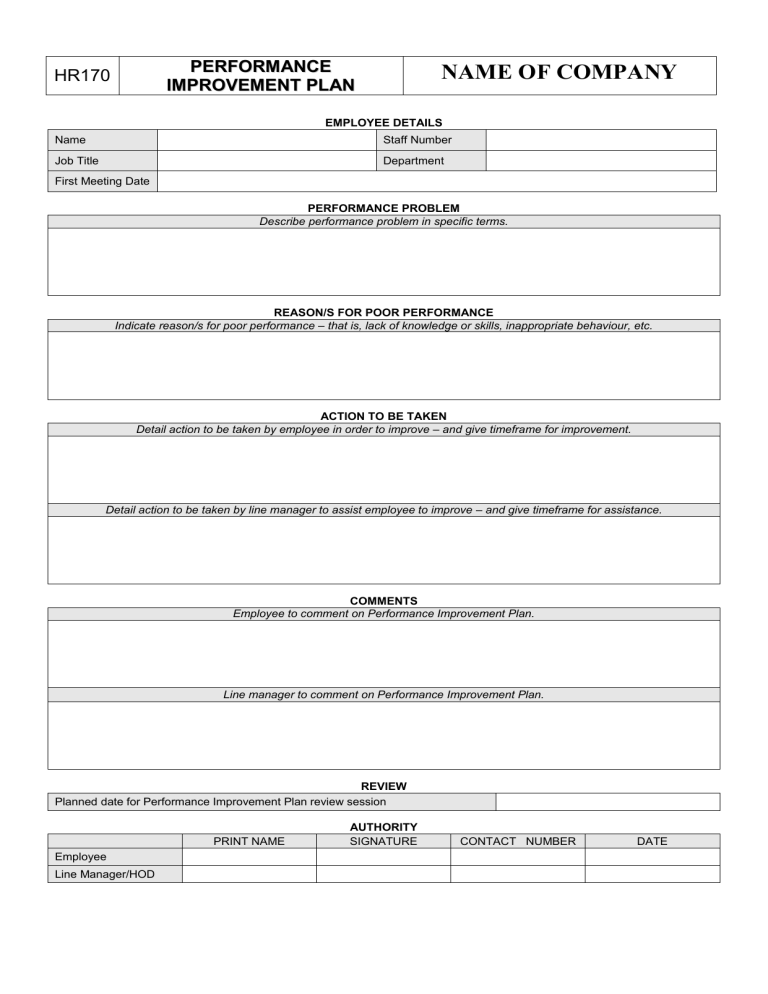 PERFORMANCE
IMPROVEMENT PLAN
HR170
NAME OF COMPANY
EMPLOYEE DETAILS
Name
Staff Number
Job Title
Department
First Meeting Date
PERFORMANCE PROBLEM
Describe performance problem in specific terms.
REASON/S FOR POOR PERFORMANCE
Indicate reason/s for poor performance – that is, lack of knowledge or skills, inappropriate behaviour, etc.
ACTION TO BE TAKEN
Detail action to be taken by employee in order to improve – and give timeframe for improvement.
Detail action to be taken by line manager to assist employee to improve – and give timeframe for assistance.
COMMENTS
Employee to comment on Performance Improvement Plan.
Line manager to comment on Performance Improvement Plan.
REVIEW
Planned date for Performance Improvement Plan review session
PRINT NAME
Employee
Line Manager/HOD
AUTHORITY
SIGNATURE
CONTACT NUMBER
DATE
COMPLETING A PERFORMANCE IMPROVEMENT PLAN
HR170
When do I complete this form?
This form is completed by line management when an employee fails to maintain the standards of performance laid
down in his/her employment contract and corrective action becomes necessary.
Effectively, a Performance Improvement Plan represents a contract between the line manager and
employee. It requires commitment from both parties.
Where do I send this form?
The original of the form should be handed to

the employee
and further copies should be sent to



the line manager
the Employee Relations Office in the Bremner Building and
the employee's personal file in the Bremner Registry.
When do I submit this form?
The formal step of completing a Performance Improvement Plan is normally preceded by informal action such as
counselling, training or a verbal warning.
What other forms do I need to complete?
No other forms.