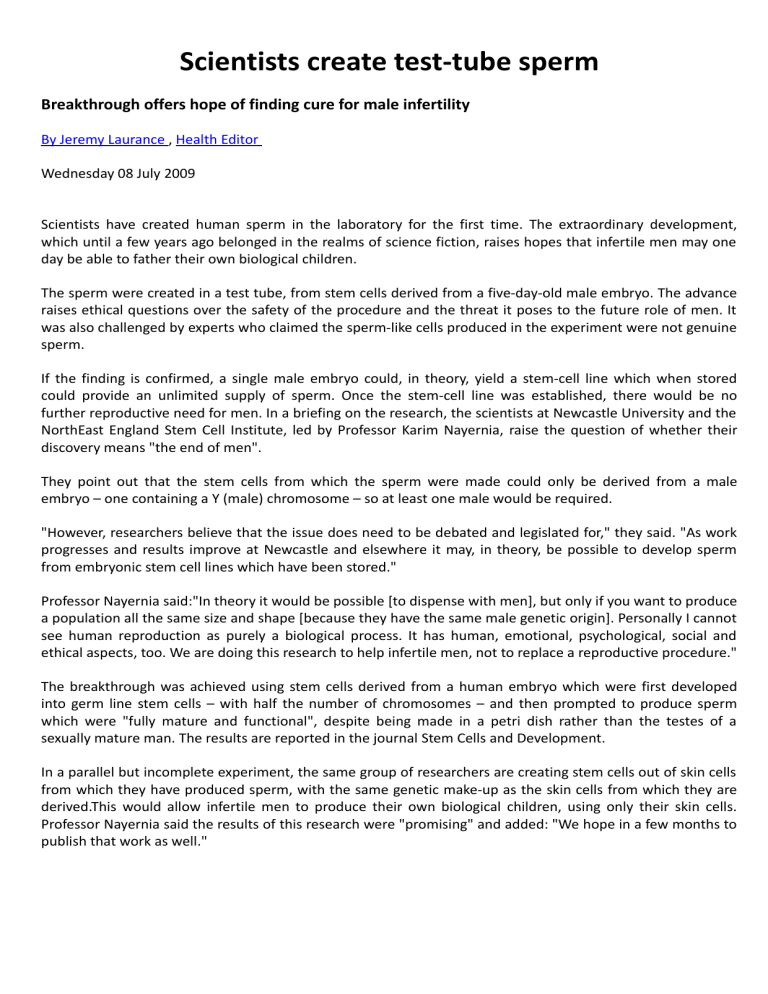 Scientists create test-tube sperm
Breakthrough offers hope of finding cure for male infertility
By Jeremy Laurance , Health Editor
Wednesday 08 July 2009
Scientists have created human sperm in the laboratory for the first time. The extraordinary development,
which until a few years ago belonged in the realms of science fiction, raises hopes that infertile men may one
day be able to father their own biological children.
The sperm were created in a test tube, from stem cells derived from a five-day-old male embryo. The advance
raises ethical questions over the safety of the procedure and the threat it poses to the future role of men. It
was also challenged by experts who claimed the sperm-like cells produced in the experiment were not genuine
sperm.
If the finding is confirmed, a single male embryo could, in theory, yield a stem-cell line which when stored
could provide an unlimited supply of sperm. Once the stem-cell line was established, there would be no
further reproductive need for men. In a briefing on the research, the scientists at Newcastle University and the
NorthEast England Stem Cell Institute, led by Professor Karim Nayernia, raise the question of whether their
discovery means "the end of men".
They point out that the stem cells from which the sperm were made could only be derived from a male
embryo – one containing a Y (male) chromosome – so at least one male would be required.
"However, researchers believe that the issue does need to be debated and legislated for," they said. "As work
progresses and results improve at Newcastle and elsewhere it may, in theory, be possible to develop sperm
from embryonic stem cell lines which have been stored."
Professor Nayernia said:"In theory it would be possible [to dispense with men], but only if you want to produce
a population all the same size and shape [because they have the same male genetic origin]. Personally I cannot
see human reproduction as purely a biological process. It has human, emotional, psychological, social and
ethical aspects, too. We are doing this research to help infertile men, not to replace a reproductive procedure."
The breakthrough was achieved using stem cells derived from a human embryo which were first developed
into germ line stem cells – with half the number of chromosomes – and then prompted to produce sperm
which were "fully mature and functional", despite being made in a petri dish rather than the testes of a
sexually mature man. The results are reported in the journal Stem Cells and Development.
In a parallel but incomplete experiment, the same group of researchers are creating stem cells out of skin cells
from which they have produced sperm, with the same genetic make-up as the skin cells from which they are
derived.This would allow infertile men to produce their own biological children, using only their skin cells.
Professor Nayernia said the results of this research were "promising" and added: "We hope in a few months to
publish that work as well."
However, efforts to produce sperm from female stem cells failed. It had been thought the technique might
allow lesbian couples to have their own biological children but the researchers say the genes on the Y (male)
chromosome are essential to sperm maturation.
Three years ago, Professor Nayernia led scientists at the University of Gottingen in Germany who became the
first to produce viable sperm from mouse embryonic stem cells which were used to produce seven live
offspring. However, the baby mice died shortly after birth.
The latest discovery is a further step on the way to finding a cure for male infertility. Under current legislation,
researchers are banned from using sperm (or eggs) produced in the laboratory – known as in-vitro derived
(IVD) sperm – to treat patients. But it is permitted for research purposes.
"Sperm production takes 15 years in a human and there are thousands of factors that could affect it," said
Professor Nayernia. "We can investigate these factors in the laboratory in a matter of months with this
technique."
Experts yesterday challenged the Newcastle researchers' claims to have created genuine sperm.
Dr Allan Pacey, senior lecturer in andrology at the University of Sheffield, said: "As a sperm biologist of 20
years' experience, I am unconvinced from the data presented in this paper that the cells produced ... can be
accurately called 'Spermatozoa'."
Azim Surani, a professor of physiology and reproduction at the University of Cambridge, said: "These spermlike cells made in a dish from embryonic stem cells are a long way from being authentic sperm cells." Professor
Robin Lovell Badge, from the National Institute for Medical Research, echoed the academic criticisms, but said:
"Despite these drawbacks, it may be that the authors have made some progress in obtaining sperm from
human embryonic stem cells in vitro.
"This will be very important for research and ultimately, although definitely not yet, for fertility treatments."
Professor Nayernia said his research was submitted as "proof of principle" which needed confirmation by
further studies. "Our intention was to open up new avenues of research," he said. "It seems unreasonable to
criticise our work on the basis that we have not done more."
The Human Fertilisation and Embryology Authority, which regulates research, has estimated that it will be at
least five or 10 years before eggs of sperm could be produced which could potentially be used in treatment.
Before laboratory-produced sperm could be used to make babies for couples who are infertile, the 2008
Human Fertilisation and Embryology Act would have to be changed.
Sperm: The facts
* It takes 10 weeks to make a sperm in the testes.
* Once produced they are stored for about a fortnight.
* If they are not ejaculated they are broken down and reabsorbed.
* A healthy male can produce 70 to 150 million sperm a day.
* A teaspoon can hold 200 to 500 million sperm.