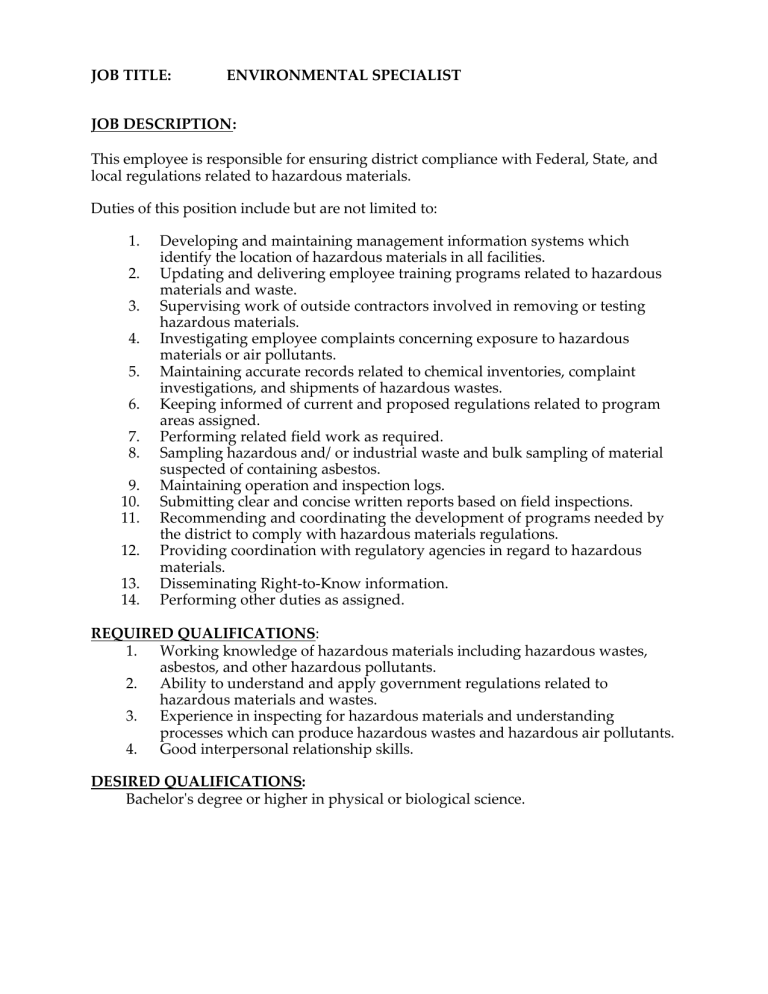 JOB TITLE:
ENVIRONMENTAL SPECIALIST
JOB DESCRIPTION:
This employee is responsible for ensuring district compliance with Federal, State, and
local regulations related to hazardous materials.
Duties of this position include but are not limited to:
1.
2.
3.
4.
5.
6.
7.
8.
9.
10.
11.
12.
13.
14.
Developing and maintaining management information systems which
identify the location of hazardous materials in all facilities.
Updating and delivering employee training programs related to hazardous
materials and waste.
Supervising work of outside contractors involved in removing or testing
hazardous materials.
Investigating employee complaints concerning exposure to hazardous
materials or air pollutants.
Maintaining accurate records related to chemical inventories, complaint
investigations, and shipments of hazardous wastes.
Keeping informed of current and proposed regulations related to program
areas assigned.
Performing related field work as required.
Sampling hazardous and/or industrial waste and bulk sampling of material
suspected of containing asbestos.
Maintaining operation and inspection logs.
Submitting clear and concise written reports based on field inspections.
Recommending and coordinating the development of programs needed by
the district to comply with hazardous materials regulations.
Providing coordination with regulatory agencies in regard to hazardous
materials.
Disseminating Right-to-Know information.
Performing other duties as assigned.
REQUIRED QUALIFICATIONS:
1.
Working knowledge of hazardous materials including hazardous wastes,
asbestos, and other hazardous pollutants.
2.
Ability to understand and apply government regulations related to
hazardous materials and wastes.
3.
Experience in inspecting for hazardous materials and understanding
processes which can produce hazardous wastes and hazardous air pollutants.
4.
Good interpersonal relationship skills.
DESIRED QUALIFICATIONS:
Bachelor's degree or higher in physical or biological science.