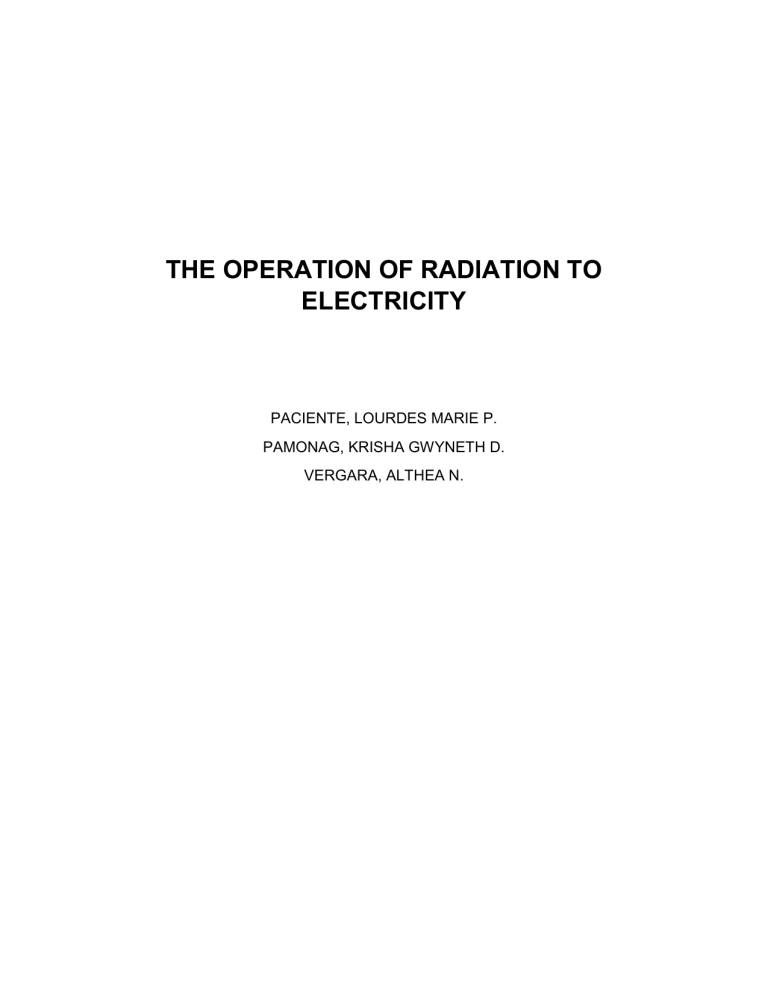 THE OPERATION OF RADIATION TO
ELECTRICITY
PACIENTE, LOURDES MARIE P.
PAMONAG, KRISHA GWYNETH D.
VERGARA, ALTHEA N.
INTRODUCTION:
Solar panels are comprised of several Individual solar cells which are themselves
composed of layers of silicon, phosphorous, and boron. Solar panels absorbs the
protons and in doing so initiate a solar panels are those devices which are used to
absorb the sun's rays and convert them into electricity or heat. The solar power systems
derive energy from the sun it reduces what you pay for electricity. It has a low
maintenance cost and is also a renewable energy. Solar power is pollution-free and
causes no greenhouse gases to emitted after installation it also reduces dependence on
foreign oil and foreign oil and fossil fuels. Solar panels generate clean, emission free
electricity to power your home all year round, while their long life span of more than 25
years makes them a long term good investment. Solar power is a sustainable and
supply. It doesn't only help lessen your electricity bills; it also has enormous benefits for
our environment. Solar energy is infinite and is free. Harnessing all the energy from it for
an hour can use the energy to power the entire world for a whole year. The use of solar
power has so many advantages for our planet, especially when it comes to our
environment. Looking at the Regional and Provincial level, the Autonomous Region for
Muslim Mindanao (ARMM) has the lowest electrification rate of 70.35% having 725
barangays yet to be electrified. Electricity is the source of our light at night, it gives us
the warm home we want. The benefits of our prototype is it helps the places the places
with no electricity.
REVIEW OF PREVIOUS PROTOTYPE:
WHY DO WE NEED SOLAR ENERGY?
Solar energy is a clean source. No greenhouse gas emission are release into the
atmosphere when you use solar panels to create electricity. The sun provides more
energy that we'll ever need, electricity from solar power is a very important energy
source in the move to clean energy production.
HOW MUCH MONEY WILL I SAVE WITH SOLAR PANEL?
Solar panels make use of the sun, a renewable energy source, so it doesn't go to
waste. With this model, if enough solar panels are installed to cover the average
electricity consumption per month, a household could save about Php 66,471.44 per
year, or you don't have to pay for the electric bill.
HOW TO IMPROVE THE BATTERY OF THE SOLAR PANELS?
Lithium nickel manganese cobalt oxide (abbreviated Li-NMC,LNMC,NMC or NCM) are
mixed metal oxides or lithium, nickel manganese and cobalt. NMCs are among the most
important storage materials for lithium Ions in lithium ion batteries.
PROTOTYPE:
Our prototype is a solar panel with a long lasting battery. As we all know solar panel has
a very short battery usage. To achieve this long lasting battery we will have a Lithium
nickel manganese cobalt oxide battery, it delivers strong overall performance, excellent
specific energy, and the lowest self-heating rate of all mainstream cathode powders,
which makes it the preferred option for automotive batteries.
These qualities are extremely important in the use in modern applications like electrical
and hybrid vehicles and most importantly energy storage systems which are used in the
renewable energy applications. The lithium ion batteries chemistry is the same across
the different lithium-ion battery types; during discharge, Lithium-ions move to the
positive cathode from the negative anode through the organic electrolyte. The anodes in
all various technologies of lithium ion are all made from graphite. The differences are
the cathode which contains changing cobalt, nickel or manganese concentrations. All
various cathode types allow high lithium insertion and intercalation levels which result in
large energy storage quantities. The name Lithium-ion is after the active materials; it
can be either expressed by words or shortened by the chemical symbols.
Advantages of the NMC batteries
The main advantages of the NMC batteries are:
NMC cells provide longer life cycle
Lower cost
Higher energy density
NMC cathodes contain the most energy amount by weight and volume.
SUMMARY:
Our Prototype is a long lasting solar panel. That will gives electricity to the houses that
has none. It saves much more money, it uses a renewable resources and it can prevent
pollution to the place. Solar radiation, often called the solar resource or just sunlight, is a
general term for the electromagnetic radiation emitted by the sun. Solar radiation can be
captured and turned into useful forms of energy, such as heat and electricity, using a
variety of technologies. Solar panels converts them into electricity.