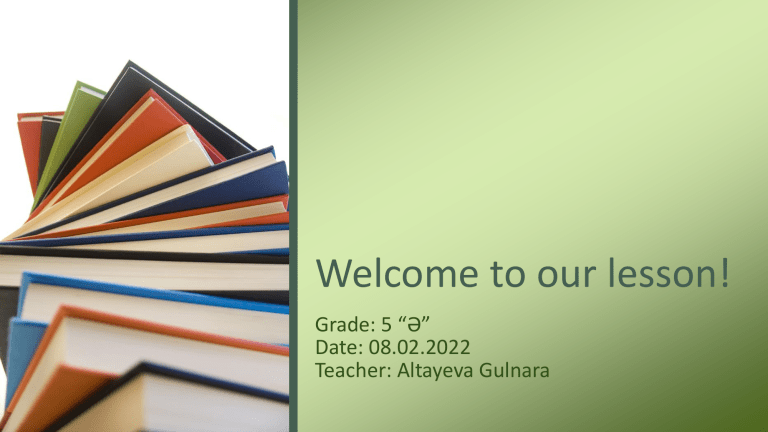 Welcome to our lesson!
Grade: 5 "Ә"
Date: 08.02.2022
Teacher: Altayeva Gulnara
Guess the
sound
Theme: Making music
In today's lesson:
• answer the questions about music
• read an article about music in Kazakhstan
• answer comprehension questions about article
Do you know Kazakh traditional instruments?
Pupils book p.63
Look at the photos and answer the questions:
• What do you see on the photos?
• What are they doing?
• Who are they?
• What instrument are they playing?
• What do you know about dombra?
• Can you play the dombra?
• Would you like to play the dombra?
Descriptor:
-read and translate questions
-answer the questions
Vocabulary
• traditional-[trəˈdɪʃnəl]-дəстүрлі
• folk- [fəʊk]-халық
• national- [ˈnæʃnəl]-ұлттық
• popular- [ˈpɒpjʊlə]-танымал
• young people- [jʌŋ piːpl]-жастар
• train- [treɪn]-жаттығу
• professional- [prəˈfeʃnəl]-кəсіби
• Practise - [ˈpræktɪs] - жаттығу
• perform-[pəˈfɔːm]-орындау
• competitions- [kɒmpɪˈtɪʃn]-жарыстар
Pair work
Descriptor:
-read and translate questions
-answer the questions
-check
Сводка
• Обсудите рассмотренные темы.
• Повторите приветствие.
• Завершите встречу.
Team work check
'Dombra' team
1.
In Kazakhstan people don't love listening to music. F
2.
Traditional folk music is very popular in Kazakhstan. T
3.
The national musical instrument in Kazakhstan is violin. F
4.
Young people have dombra parties in the streets and parks. T
'Kobyz' team
1.
People in Europe don't know dombra. F
2.
Some Kazakhs people don't train to become akyns.
3.
Akyns are very good dancers. F
4.
There are some famous akyns in Kazakhstan. T
'Zhetygen' team
1.
Professional akyns train only on Sunday. F
2.
Akyns tell stories about fashion. F
3.
They often perform in London. F
4.
There are also singing competition on TV every Sunday. T
F
Reflection of the lesson
All is clear.
I have some
little problems.
I don't understand.
I need one's help.