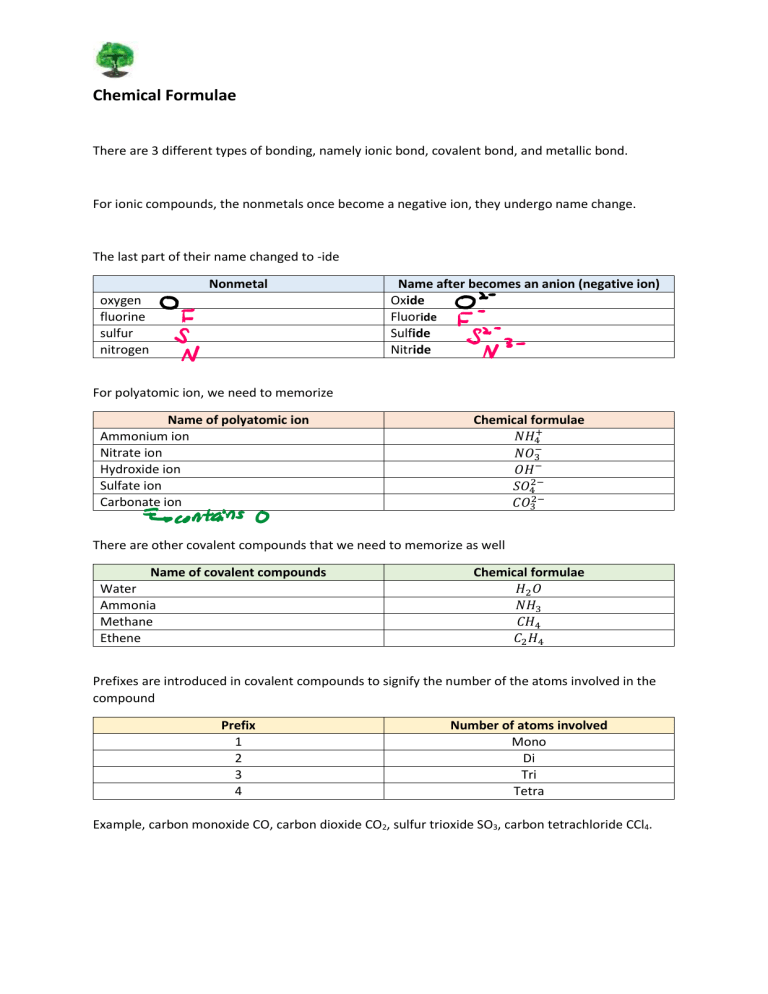 Chemical Formulae
There are 3 different types of bonding, namely ionic bond, covalent bond, and metallic bond.
For ionic compounds, the nonmetals once become a negative ion, they undergo name change.
The last part of their name changed to -ide
Nonmetal
oxygen
fluorine
sulfur
nitrogen
Name after becomes an anion (negative ion)
Oxide
Fluoride
Sulfide
Nitride
For polyatomic ion, we need to memorize
Name of polyatomic ion
Ammonium ion
Nitrate ion
Hydroxide ion
Sulfate ion
Carbonate ion
Chemical formulae
𝑁𝐻4+
𝑁𝑂3−
𝑂𝐻 −
𝑆𝑂42−
𝐶𝑂32−
There are other covalent compounds that we need to memorize as well
Name of covalent compounds
Water
Ammonia
Methane
Ethene
Chemical formulae
𝐻2 𝑂
𝑁𝐻3
𝐶𝐻4
𝐶2 𝐻4
Prefixes are introduced in covalent compounds to signify the number of the atoms involved in the
compound
Prefix
1
2
3
4
Number of atoms involved
Mono
Di
Tri
Tetra
Example, carbon monoxide CO, carbon dioxide CO2, sulfur trioxide SO3, carbon tetrachloride CCl4.