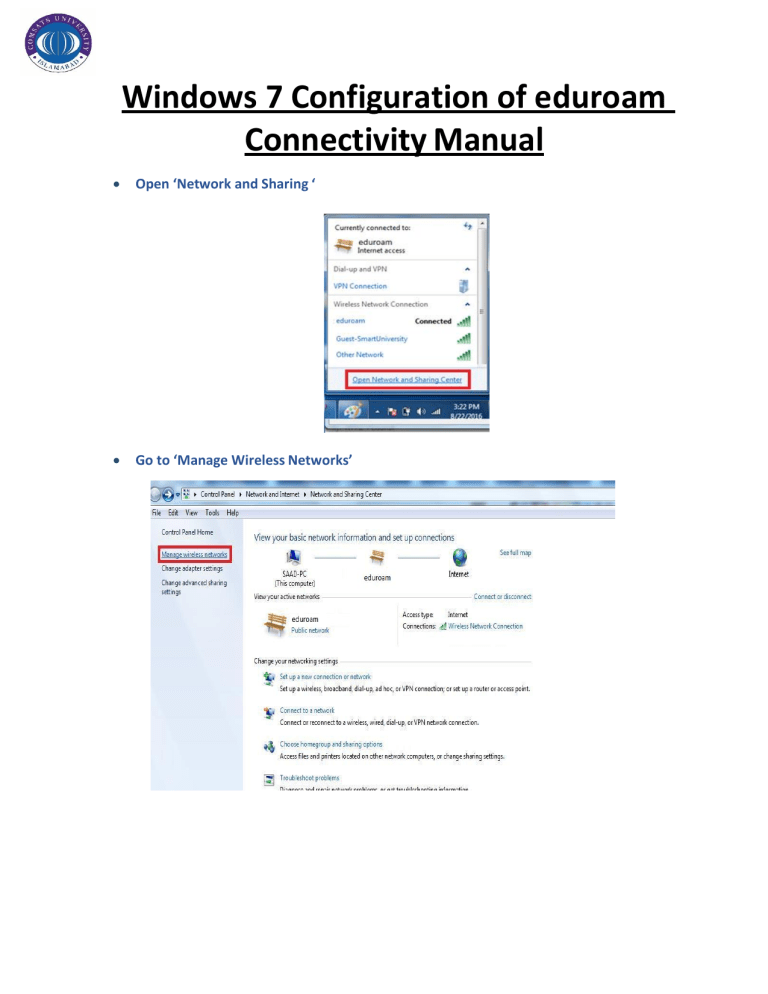 Windows 7 Configuration of eduroam
Connectivity Manual
•
Open 'Network and Sharing '
•
Go to 'Manage Wireless Networks'
•
Click on 'Add'
•
Choose 'Manually Create a network profile'
On network name write "Eduroam"
• Security type 'WPA2-Enterprise'
• Encryption Type 'AES'
• Leave Security Key 'Blank'
• Click on 'Next'
•
Go to 'Change Connection Setting'
Select Security Type 'WPA2-Enterprise'
• Encryption Type 'AES'
• Network Authentication Method: Microsoft: Protected EAP (PEAP) and then click
setting
•
Go to 'Security' Tab
• Uncheck 'Validate server certificate'
• Click on 'Configure'
• Uncheck Automatically use my windows logon name and password (and domain if
any) press OK
•
•
Press 'Ok'
Click the 'Advanced Settings' button
• On the 802.1X settings tab check the 'Specify authentication mode' and set the mode to 'User Authentication'
• Click OK and OK again.
•You should see a bubble like below popup if you are in range of the eduroam network. Click the bubble.
•
Type your domain username and password,
•
Enter your Institute ID and Password. Your user ID must be appended with
@cuilahore.edu.pk (e.g. ahmad.tauqeer@cuilahore.edu.pk).