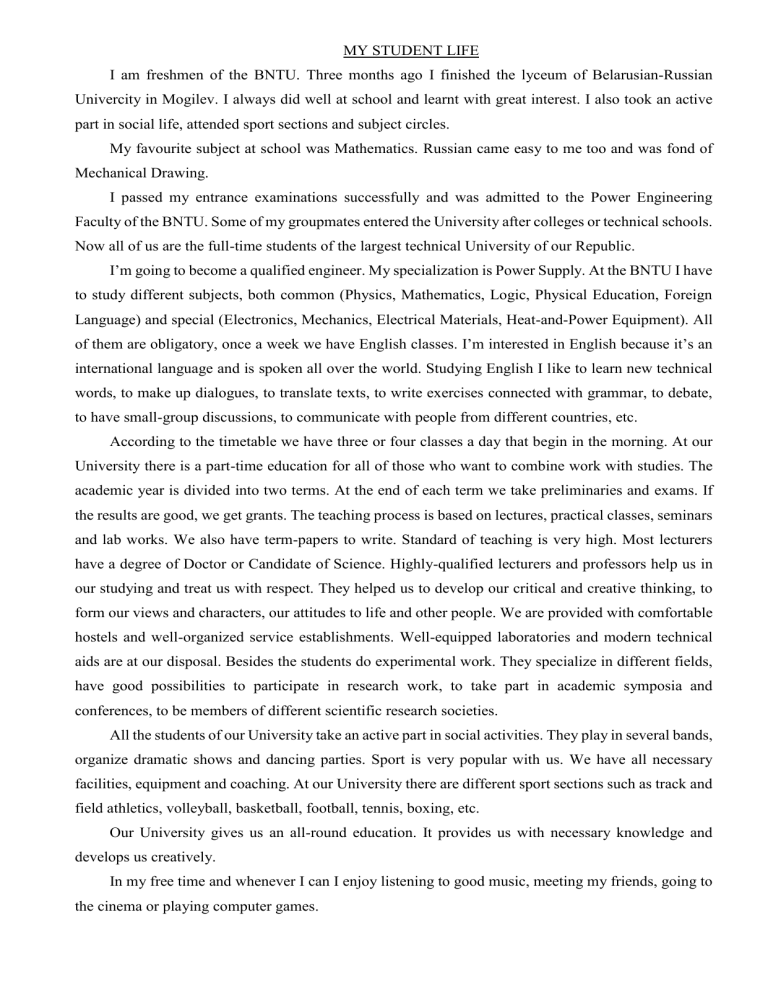 MY STUDENT LIFE
I am freshmen of the BNTU. Three months ago I finished the lyceum of Belarusian-Russian
Univercity in Mogilev. I always did well at school and learnt with great interest. I also took an active
part in social life, attended sport sections and subject circles.
My favourite subject at school was Mathematics. Russian came easy to me too and was fond of
Mechanical Drawing.
I passed my entrance examinations successfully and was admitted to the Power Engineering
Faculty of the BNTU. Some of my groupmates entered the University after colleges or technical schools.
Now all of us are the full-time students of the largest technical University of our Republic.
I'm going to become a qualified engineer. My specialization is Power Supply. At the BNTU I have
to study different subjects, both common (Physics, Mathematics, Logic, Physical Education, Foreign
Language) and special (Electronics, Mechanics, Electrical Materials, Heat-and-Power Equipment). All
of them are obligatory, once a week we have English classes. I'm interested in English because it's an
international language and is spoken all over the world. Studying English I like to learn new technical
words, to make up dialogues, to translate texts, to write exercises connected with grammar, to debate,
to have small-group discussions, to communicate with people from different countries, etc.
According to the timetable we have three or four classes a day that begin in the morning. At our
University there is a part-time education for all of those who want to combine work with studies. The
academic year is divided into two terms. At the end of each term we take preliminaries and exams. If
the results are good, we get grants. The teaching process is based on lectures, practical classes, seminars
and lab works. We also have term-papers to write. Standard of teaching is very high. Most lecturers
have a degree of Doctor or Candidate of Science. Highly-qualified lecturers and professors help us in
our studying and treat us with respect. They helped us to develop our critical and creative thinking, to
form our views and characters, our attitudes to life and other people. We are provided with comfortable
hostels and well-organized service establishments. Well-equipped laboratories and modern technical
aids are at our disposal. Besides the students do experimental work. They specialize in different fields,
have good possibilities to participate in research work, to take part in academic symposia and
conferences, to be members of different scientific research societies.
All the students of our University take an active part in social activities. They play in several bands,
organize dramatic shows and dancing parties. Sport is very popular with us. We have all necessary
facilities, equipment and coaching. At our University there are different sport sections such as track and
field athletics, volleyball, basketball, football, tennis, boxing, etc.
Our University gives us an all-round education. It provides us with necessary knowledge and
develops us creatively.
In my free time and whenever I can I enjoy listening to good music, meeting my friends, going to
the cinema or playing computer games.
Choosing a Career
My name is Sergey. I'm from Mogilev. Two years ago I finished the lyceum of BelarusianRussian Univercity in Mogilev. I think finishing school is the beginning of an independent life for millions
of school-leavers. They have to choose their future profession and enter vocational or technical schools,
institutes or universities to get education. Actually, it is very difficult to make up one's mind and choose
one of hundreds of jobs. Choosing an occupation takes time and you shouldn't be in a hurry. The majority
of people spend a greater part of their lives at work. For that reason you should do a lot of thinking about
the things you like and the things you can do well. It means that when choosing a future career you must
be realistic about your interests and abilities. There are lucky people who choose their profession in
childhood but they are few. While at school I changed my mind a lot of times and couldn't decide which
science or field of industry to specialize in.
Some young people choose their future professions under the influence of their parents or friends.
Many young people keep their family tradition and continue careers of their parents or grandparents. It goes
without saying that when choosing career we should also analyze job prospects. In my opinion, you should
take into account future employment, well-paid and steady wages, good working conditions, opportunity to
promotion. To my mind, the final choice should depend on what you are interested in. I'd like to enjoy my
job and find satisfaction in it.
At school I was good at many subjects but my favorite ones were Physics and Mathematics.
That's why I made up my mind to become an engineer and enter the Belarusian National Technical
University. I passed the entrance examinations successfully and now I'm a second-year student of the
Automobile and Tractor Faculty.
Our faculty trains specialists in different fields such as Optical machines, Nano- and micro
technologies, Technical Security Support and others.
But I chose the speciality of Biotechnics and medicine.
To my mind, nowadays the profession of an engineer is of great need and importance for
country. To be a well-prepared specialist I should have some important qualities such as great
persistence, knowledge of science, and, of course, knowledge of foreign languages. I think this is
my vocation. I hope that my personal qualities combined with the knowledge would be quite
enough to succeed in my work. I believe that after graduating from University I will become a welleducated person, useful for the progress of the society I live in.