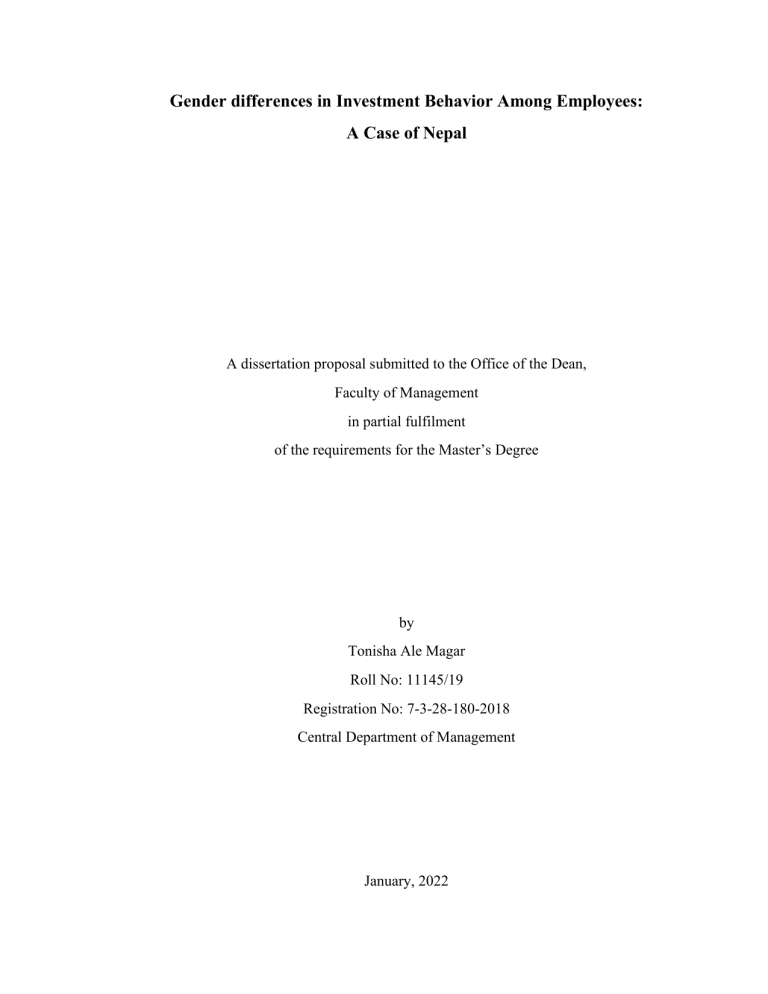 Gender differences in Investment Behavior Among Employees:
A Case of Nepal
A dissertation proposal submitted to the Office of the Dean,
Faculty of Management
in partial fulfilment
of the requirements for the Master's Degree
by
Tonisha Ale Magar
Roll No: 11145/19
Registration No: 7-3-28-180-2018
Central Department of Management
January, 2022
Table of Contents
1. Background of the Study…………………………………………………………….1
2. Problem Statements and Research Questions……………………………………..2
2.1. Statement of the Problem…………………………………………………………2
2.2. Research Questions……………………………………………………………….3
3. Objectives of the Study………………………………………………………………3
4. Conceptual Framework……………………………………………………………...4
4.1. Hypothesis………………………………………………………………………...4
4.2. Operational definition of variables……………………………………………….5
5. Significance of the Study…………………………………………………………….9
6. Limitations of the Study……………………………………………………………..9
7. Literature Review…………………………………………………………………..10
7.1. Theoretical Review……………………………………………………………...10
7.2. Empirical Review………………………………………………………………..10
8. Research Methodology……………………………………………………………..11
8.1. Research Design…………………………………………………………………11
8.2. Population and Sample………………………………………………………….12
8.3. Source of Data…………………………………………………………………...12
8.4. Data Collections and Processing Procedures……………………………………12
8.5. Data Analysis Tools and Techniques……………………………………………13
9. Chapter Plan………………………………………………………………………...13
10. References…………………………………………………………………………...14
1
1. Background of the Study
An investment is essentially an asset that is created with the intentions of allowing money
to grow. The wealth created can be used for the variety of objectives such as meetings
shortages in income, saving up for retirement, or fulfilling certain specific obligations such
as repayments of loans, payments of tuitions fees or purchase of other assets.
Gender differences are variance between male and females that are based on biological
adaptations that are the same for both the sexes. This differs from sex differences in that
sex differences are driven by actual biological gender disparity rather than by differing
environmental factors affect our cognation and behavior. Gender differences therefore refer
only to those differences that can be attributed solely to biological differences.
Although gender differences in education, income and wealth have been narrowing over
time, women are generally still placed lower than men when it comes to measures of longterm financial security (Hira & Loibl. 2006). Researchers and financial practitioners have
posited that women invest their financial resources more conservatively and, in general
accept less financial risk than men (Lemaster & Strough, 2013).
The disparity in long-term financial security between men and women is more pronounced
in developing countries where gender equality across many spheres has not been realized
and requires affirmative action through progressive legislation. This disparity in
developing countries is compounded by cultural practices which promote a patriarchal
system with Kenya being no exception (Suda, 2002). Roszkowski and Grable (2010)
describe risk in investment as the probability that an investment could result in a loss. They
further describe risk tolerance as the degree of one's preparedness to accept higher
investment risk in anticipation of relatively higher returns.
Bhushan and Medury (2013) state that an individual who is willing to invest should first
conduct a market study and thereafter depending on his needs and circumstances, has to
make a choice as to which investment option best fits him. Individuals will portray different
behavior while investing, because such behavior is dependent upon the amount of risk one
is willing to take and what the expectations are in terms of returns generated from such
investments.
2
Eckel and Grossman (2008) identify the increasing interest in studies on gender and
investment behavior. They however point out that these studies have mainly concentrated
on data from developing countries especially the U.S. where triennial survey of consumer
finances data is collected. It is broadly recognized that people in developed countries differ
significantly in various aspects, such as beliefs, life styles, behaviors, habits, personal
characteristics, from those in emerging and developing countries. As a result, therefore, it
would be expected that findings on gender and investment behavior for developed
countries may differ from those of emerging and developing countries, such as Kenya.
Finally, the present research is related with the gender differences between investment
behavior of employees. The study area is wide for the research that will cover all the
different places and locations of Nepal where people are working as an employee in
different sectors of various companies and institutions.
2. Problem Statement and Research Questions
2.1. Statement of the Problem
It is common practice for investment managers to make use of individual demographics
such as gender in classifying investors into risk tolerance clusters. Such risk tolerance
categorization forms the basis of establishing investment management standards,
controlling purchases and sales of investments, and managing overall client resources
(Roszkowski & Grable, 2010). Whereas this could be valuable information in certain
circumstances, it has been revealed that relying on a set of demographics factors for
investors with different exposure levels to classify and determine investor risk tolerance
could be misleading and may not necessarily improve investment outcome.
In some cases, use of such demographics as the indicator for risk tolerance has actually
ended up in financial losses for investors (Bayyurt, Karışık, & Coşkun, 2013). In addition,
there is general consensus among researchers and investment managers that more research
concerning the efficacy of certain demographics in categorizing someone into a risktolerance cluster is needed (Roszkowski & Grable, 2010; Hira & Loibl, 2006; Lemaster &
Strough, 2013). Developing an approach that looks at demographic factors for groups with
3
similar exposure to both differentiate among levels of investor risk tolerance and classify
individuals into risk categories could help improve investment outcome.
This research study therefore aspired to investigate demographic differences in investment
behavior among employees of the same organization who were assumed to have relatively
similar exposure and were expected to behave rationally.
2.2. Research Questions
In this regard, following will be the specific research questions.
i. What are the investment preferences of
employees for different investment
behavior?
ii. How investing decisions differ according to gender?
iii. Does investment decisions really matter due to the gender differences in investment
behavior among employees?
iv. Who are the agents of financial socialization?
3. Objectives of the study
The main objective of the study is to determine that if there is any differences in investment
behavior among employees in the context of Nepal.
Accordingly, the specific objects will be as followed:
i. To examine the investment preferences of employees for different investment
behavior.
ii. To study the investing decisions according to the gender.
iii. To evaluate the investment decisions really matters due to gender differences in
investment behavior among employees.
iv. To find out the agents of financial socialization.
4
4. Conceptual Framework
Source: Researcher's construct using the idea of Ricciardi & Simon (2000).
4.1. Hypothesis
Following are the hypothesis set to test for the study.
H1: There is a significant relationship between investment decisions and gender differences
investment decisions.
5
H2: There is a significant relationship between investment decisions and financial
socializations & its contributions in determining gender financial behavior.
H3: There is a significant relationship between investment decisions and gender differences
in financial literacy.
4.2.Operational definition of Variables
Gender differences in Investing decisions
According to Ricciardi and Simon (2000), research into behavioral finance has gained
prominence over the last decade with attempts to understand the investment decisions of
individuals. They further state that behavioral finance can be broken down into the three
disciplines of psychology, sociology and finance. These three disciplines are then
responsible for shaping the choices and investment behavior of individuals.
Sociology
Psychology
Behavioral
Finance
Finance
Source: Ricciardi & Simon (2000).
Fama and French (1992) in their efficient market hypothesis postulate that individuals are
expected to take decisions and act in a manner that will allow them to maximize their
utility; that is potray rational investment behavior. However, certain risk-taking behavior
points to the contrary (Eckel & Grossman, 2008). Individuals deviate from rational
behavior when they feel overconfident, act on gut feeling, act out of personal preferences
or put too much weight on past experiences (Willows & West, 2012).
6
a. Investment Preferences and risk differences: The empirical study conducted by
Jianakoplos and Bernasek (1998) is among the earliest studies that attempted to use
the Survey of Consumer Finances to establish gender differences in investment
behavior. Basing their study on the 1989 Survey of Consumer Finances in the
United States they established that 57% of women were not willing to take any
financial risks as compared to 41% of men.
Charness and Gneezy (2007) conducted research on the same topic and classified
stocks and personal businesses as more risky investments while, certificates of
deposits, government bonds and real estate were viewed as relatively low-risk and
lower return investments. Consequently, it was revealed that women choose to
invest in stocks and personal businesses less often and in low amounts than men
but they choose to invest more often and in high amounts in low-risk, lower return
assets, the certificates of deposit and homes.
b. Influence of overconfidence in investment decisions : Overconfidence has been
well-defined as the tendency for people to overestimate their knowledge, cognitive
abilities and the precision of their information and thereby overestimate their own
chances of success (Deaves, Luders, & Schröder, 2010). In his study, Benos (1998)
concluded that overconfidence emanated from individual's overestimates of the
accuracy of their own information. Individuals even when presented with evidence
that they are overestimating the accuracy of their information will still proceed to
overestimate the accuracy but to a lower degree (Weinstein, 1980).
Barber & Odean (2001) carried out research using data for over 35,000 households
and found that men are more prone to overconfidence than women, especially in
male-dominated fields such as finance. Rational investors trade only if the expected
gains exceed transactions costs. Overconfident investors on the other hand
overestimate the level of accuracy of their information and as a result the expected
gains of trading are also overestimated. Such confident investors may even trade
when the true expected net gains are negative (Barber & Odean, 2001).
7
Financial socialization & its contribution
a. Social learning and finance social theory : Social learning has been defined as
the process of learning behavior from the environment through the process of
observation (Bandura, 1977). Financial social learning on the other hand as
described by Danes (1994) is much more inclusive than learning to effectively
function in the marketplace. It is the process of acquiring and developing values,
attitudes, standards, norms, knowledge, and behaviors that contribute to the
financial viability and individual well-being. Socialization begins in childhood in
our society and continues, to some extent, throughout life. Parents may expect their
older children to be financially independent but Danes and Hira (1987) found that
they have little financial knowledge to draw upon.
b. Agents of financial socialization : The key agents of financial socialization as
conceived by Ward (1974) were; family, peer group and mass media. Researchers
have in the recent past however included two other agents that have been noticed
to greatly influence socialization; these are culture and institutions (Beutler &
Dickson, 2008; Gudmunson & Danes, 2011).
Keranne & Hogg (2010) posited that the family is the principal socializing agent
and contributes the most influence on values, attitudes and practices throughout
life as children transit into young adults and finally into adults. According to Allen
(2008) parents directly or indirectly affect financial socialization of their children.
The financial socialization process constitutes of modelling consumer behavior,
coming up with dos and don'ts on children's consumer behavior and having candid
conversations concerning buying choices, finances, credit and savings (Allen,
2008).
Financial Literacy
a. Gender & Financial literacy : Hung and Brown (2012) define financial literacy
in line with the OECD/INFE definition as a combination of awareness, knowledge,
skill, attitude and behavior necessary to make sound financial decisions and
ultimately achieve individual financial wellbeing. Primarily, financial literacy
8
would be impacted by individual traits such as cognitive ability, personality type,
and preferences (OECD, 2013).
Empirical evidence indicates a positive impact of financial literacy on financial
behavior and financial status in a number of behavioral areas with financiallyliterate individuals found to be better at budgeting, saving money, and controlling
spending (Perry and Morris, 2005); handling mortgage and other debt (Lusardi and
Tufano, 2009); participating in financial markets (Van Rooij, Lusardi et al., 2011);
planning for retirement (Lusardi and Mitchell, 2008); and finally, successfully
accumulating wealth (Stango and Zinman, 2009). Yoong (2010) found out that the
typical consumer has limited objective as well as perceived subjective
understanding of financial issues, and many consumers express lack of ability and
or motivation to gain and understand financial information and knowledge.
b. Gender differences in financial behavior & strategy : Hung and Brown (2012)
contend that in addition to gender differences in financial knowledge and attitudes,
men and women also display a set of different financial behaviors and strategies.
Women are not always outperformed by men in all domains: for instance, they are
more likely than men to have a budget and to keep track of their finances.
Nevertheless, in several countries there are areas where women show
vulnerabilities, including in making ends meet and saving, as well as in choosing
and holding financial products (Hung and Brown, 2012). The existing evidence,
albeit limited to a small number of countries, suggests that gender differences in
the ability to make ends meet and in saving are partially related to differences in
socio-economic differences across men and women.
5. Significance of the Study
The main purpose of the study is to provide an understanding of the effect of gender on
investment behavior of employees in context of Nepal. It is expected that this study will
make a good contribution to the existing literature in the academia. It will also help to
extend the current literature. In addition, this study is about the subject of financial matters
9
and related with the psychological behaviors and there awareness of the financial
investments areas to the Nepalese employees. Therefore, the significance of the study can
be shown by the following points.
i. Students are one of the important sections of the society. It is expected that this
report gives good insights to them, specially to the students of business
managements and economics.
ii. There are different preferences areas of investments. The investment choices can
differ according to the gender differences. So, this study can provide the reliable
information about the preferences of the investments according to gender
differences.
iii. The study shows the development of a new approach to the investment educations
for gender based employed investors.
6. Limitation of the study
As every study is conducted within certain limitations, the present study is not an
exceptional. The study is based on the investment behaviors of gender differences of
employees of Nepal. Some of the limitations are listed as below:
i. Only main three factors are used as independent variable and one factor as the
dependent variable, the potential moderating variables, if any are not taken as
consideration.
ii. The number of samples will be taken from the Nepal only and it is very small.
So, this may not give the exact or same results as research performed in other
countries.
iii. The results in the research may not support the studies from other researchers
and author.
iv. There are not much of the study performed on the related subjects. So, the report
may lack some of the literature reviews.
10
7. Literature Review
7.1. Theoretical Review
Bruce and Johnson (1994), and Al-Ajmi (2008) found that the women take less investment
risk as compared to the men. According to Flynn, Slovic and Mertz (1994), Jianakoplos
and Bernasek (1998), and Masters (1989) women are more risk averse than men and they
engage in less risky activities. Venter, Michayluk and Davey (2012) argued that gender
represents a stabile factor that does not traditionally change during the individual's life in
contrary to age, income, education or mental condition. According to traditional financial
theory, investors want to maximize their wealth according to basic financial principles and
rely solely on risk-return consideration for their investment strategies. In fact, however, the
degree of risk that they are willing to take is not the same for all investors. This relies
primarily on their personal attitudes towards risk.
In recent years, behavioral finance research has progressed rapidly and provides evidence
that the financial decisions of investors are often influenced by internal and external
behavioral factors (Shefrin, 1999). Nagpal and Bodla (2009) studied the lifestyle
characteristics of the respondents and their influence on investment preferences. The study
concludes that investors' lifestyle predominantly decides the risk-taking capacity of
investors. The study found that in spite of the phenomenal growth in the security market,
the individual investors prefer less risky investments, viz., life insurance policies, fixed
deposits with banks and post office, PPF and NSC. It is however generally believed that
investment decisions are a function of several factors such as market characteristics and
individual risk profiles, in addition to accounting information (Clark-Murphy & Soutar,
2013). The disposition error shows that regardless of accounting information, investors are
influenced by sunk cost considerations and asymmetrical risk preferences for gain/loss
situations (Iyer & Bhaskar, 2012).
7.2.Empirical Review
Okech and Mukoba (2016) described in there article analyzing Kenya's listed companies
by the analysis of the respondents of sixty percent of male respondents and forty percent
were female. In terms of work experience, half of the respondents, indicated to have served
in their current work organization for a period of 1 to 5 years with 27 percent, 17 percent
11
and 5 percent indicating having served in their current position for between 5 to 10 years,
over 10 years, and less than a year, respectively. This implies that majority of the
respondents had worked for a considerable period of time and therefore they were in a
position to give credible information relating to this study. With regard to management
level, 53 percent of were in the middle management level, 37 percent in the top
management level, while the remaining 10 percent were support staff. Their results showed
that majority of the respondents represented by 67 percent indicated that gender differences
contribute in determining gender financial behavior to a great extent, 21.0 percent of the
respondents indicated to a very great extent, whereas 12 percent of the respondents
indicated to a moderate extent. The finding shows existence of traces of gender differences
in contributing in the determination of gender financial behavior.
The study also revealed that men and women espouse success and failures differently and
that men perceive that their initial knowledge of an assignment is much higher than women
thereby impacting positively on their decision to invest. Adjusted R squared was 0.651 at
95 percent confidence level. This shows that 65.1 percent changes in investing decision
could be accounted for by gender differences.
8.Research Methodology
Research methodology is a way to solve the research problem systematically and to fulfill
the research objectives accordingly. The study plans the follows the methodological
aspects. The methods of data collection will follow questionnaires for this research.
Correlation matrix and regression methods will be used for the study.
8.1. Research Design
Research design is the basic plan that indicates an overview of the activities that are
necessary to execute the research project. A descriptive research design was used to study
this research problem. Cooper and Schindler (2003) define a descriptive study as one that
is concerned with finding out the what, where and how of a phenomenon. This method was
concerned with intense investigation of problem-solving situations in which problems are
relevant to the research problem.
12
This study follows correlational research design for the study of impact of gender
differences in investment behavior of employees. Population for the research will be totally
different sector companies located in Nepal. Purposive and convenience sampling
techniques will be used and the research strategy will be a survey which allows quantitative
data, analysis in form. To achieve the objectives of the study, questionnaire will be
prepared and distributed to the employees who work to different sector of companies of
Nepal.
8.2. Population and Sample
According to census December 2018, there are 7,086,000 employees in different sector of
companies in Nepal. All the totally different sector of companies will be total population
for the study. Out of total population, 150 of the employees will be selected as sample, may
be from different sector.
8.3. Sources of data
To fulfill the research objectives, most of the data will be collected from the primary
sources. The required data, as demanded by the study, will be collected through the
different people who are involved as employee in different sectors. On the other hand, some
supporting information has been collected from the websites concerning different articles
and their authors.
8.4. Data collection and Processing Procedure
Primary data will be collecting from survey method. The method of data collection is
questionnaires. A structured questionnaires will be prepared and distributed to the
respondents where, simple (Yes/No) questions, demographic questions and five-point
Likert scale will be used to measure the opinions of the respondents with regard to
determining if there is any gender differences in investment behavior among employees in
context of Nepal. The study made use of survey questionnaires administered to earn
participants of the sample population.
13
8.5. Data Analysis Tools and Techniques
Completed questionnaires were edited for completeness, accuracy and consistency before
any processing of the responses was done. To test the hypothesis, correlation matrix and
regression mode analysis will be used. Microsoft word, Excel and SPSS (Statistical
Packages for the Social Sciences) will be used to process and extract the result from the
available information. This was done by filling up responses, computing percentage of
variations in response as well as describing and interpretating the data in line with the study
objectives and assumptions to communicate research findings.
9. Chapter Plan
Chapter I: it will include introduction, statement of the problem, objective of the study,
significance of the study, limitation of the study and organization of the study.
Chapter II: This chapter is about review of related literature. It includes what is the existing
status of gender differences in investment behavior among employees in context of Nepal.
It helps to understand how gender differences impact in employees for investing decisions,
financial socialization and its contributions and in financial literacy.
Chapter III: This chapter is about research methodology. It includes introduction, research
design, study site description and rationale behind selection of study area, study population
and sampling, nature and sources of data and methods of data organization, processing and
analysis.
Chapter IV: This chapter gives the brief introduction about characteristics of the study
population. It deals with the findings in accordance objectives.
Chapter V: This is the last chapter of the study. It will contain wrapped up the study with
summery of findings, conclusion and suggestion.
14
10. References
Allen, M. W. (2008). Consumer Finance and Parent-Child Communication. In J. J. Xiao,
Handbook of Consumer Finance Research (pp. 351-361). New York: Springer.
Al-Ajmi, J. Y. (2008). Risk tolerance of individual investors in an emerging market,
International Research Journal of Finance and Economics, 17, 15-26.
Bandura, A. (1977). Social Learning Theory. Englewood Cliffs, NJ: Prentice Hall.
Bayyurt, Karışık, & Coşkun, (2013). Gender Differences in Investment Preferences.
European Journal of Economic and Political Studies. Vol. 1. Issue 1, 71-83.
Benos, A. V. (1998). Aggressiveness and Survival of Overconfident Traders. Journal of
Financial Markets, Vol 1 Issue 4, 353-382.
Bhushan and Medury (2013). Financial Literacy and its Determinants. International
Journal of Engineering, Business and Enterprise Applications. Vol. 13. Issue 145,
155-160.
Barber, B. M., & Odean, T. (2001). Boys Will Be Boys: Gender, Overconfidence, And
Common Stock Investment. The Quarterly Journal of Economics, 261-292.
Bruce, A., & Johnson, J. (1994). Male and female betting behavior: new perspectives.
Journal of Gambling Studies, 10, 183-198.
Charness, G., & Gneezy, U. (2007). Strong Evidence for Gender Differences. California:
Department of Economics, University of California at Santa Barbara.
Clark-Murphy, M., & Soutar, G.N. (2013). What individual investors' value: some
Australian evidence? Journal of Economic Psychology, 25(4): 539-55.
Cooper, D.R. and Schindler, P.S. (2003) Business Research Methods. 8th Edition
McGraw-Hill Irwin, Boston.
Danes, S. M. (1994). Parental Perceptions of Children's Financial Socialization. Journal
of Financial Counselling and Planning, Vol 5, 127-149.
Danes, S. M., & Hira, T. (1987). Money Management Knowledge of College Students.
Journal of Student Financial Aid, Vol 17 Issue 1, 4-16.
Deaves, R., Luders, E., & Schröder, M. (2010). The Dynamics of Over-Confidence:
Evidence from Stock Market Forecasters. Journal of Economic Behavior and
Organization, Vol 17, 402-412.
Eckel, C. C., & Grossman, P. J. (2008). Forecasting Risk Attitudes: An experimental Study
15
using Actual and Forecast Gamble Choices. Journal of Economic Behavior and
Organization, Vol. 68 Issue 1, 1-17.
Fama, Eugene F., and Kenneth French, 1992, The cross-section in expected stock returns,
Journal of Finance. 47, 427-466.
Flynn, J., Slovic, P. & Mertz, C. (1994). Gender, race, and perception of environmental
health risk. Risk Analysis, 14, 1101-1108.
Gudmunson, C., & Danes, S. (2011). Family financial socialization: Theory and Critical
Review. Journal of Family Economic Issues, Vol 1 Issue 32, 644-667.
Hira, T., & Loibl, C. (2006). Gender Differences in Investment Behavior. Ohio: NASD
Investor Education Foundation.
Hung, A., Yoong, J., & Brown, E. (2012). Empowering Women Through Financial
Awareness and Education. Paris: OECD Publishing.
Iyer, S.B., & Bhaskar, R.K. (2012). Investor's psychology: a study of investor behavior in
the Indian Capital Market. Finance India, 4(3): 47-84.
Jianakoplos, N., & Bernasek, A. (1998). Are women more risk averse? Economic Inquiry,
36, 620-630.
Lemaster, P., & Strough, J. (2013). Beyond Mars and Venus: Understanding Gender
Differences in Financial Risk Tolerance. Journal of Economic Psychology, Vol. 42,
Issue 1, 148-160.
Lusardi, A., & Mitchell, O. (2008). Planning and Financial Literacy: How do Women
Fare? Washington: NBER Publishing
Lusardi, A., & Tufano, P. (2009). Debt Literacy, Financial Experiences, and Over
indebtedness. Cambridge, MA: National Bureau of Economic Research.
Masters, R. (1989). Study examines investors' risk-taking propensities. Journal of
Financial Planning, 36, 151-155.
Nagpal, S & Bodla, B. S. (2009). Impact of Investors' lifestyle on Their Investment Pattern:
An Empitical Study. The Icfai University Journal of Behavioral Finance. 6(2): 2851.
Ngechu, M. (2004). Understanding the Research Process and Methods. An Introduction to
Research Methods. Acts Press, Nairobi.
OECD. (2013). Women and Financial Literacy: OECD/INFE Evidence, Survey and Policy
16
Responses. Paris: OECD Publishing.
Okech, T.C., & Mukoba M.T. (2016). Analysis of Gender Differences in Investment
Behavior Among Employees in Kenya's Listed Companies. International Journal
of Economics, commerce and Management, Vol 4 Issue 5, 707-723.
Perry, V. G., & Morris, M. D. (2005). The Role of Self-Perception, Knowledge, and
Income in Explaining Consumer Financial Behavior. The Journal of Consumer
Affairs, Vol 39 Issue 2, 299-313.
Ricciardi, V., & Simon, H. K. (2000). What is Behavioral Finance? The Business
Education and Technology Journal, Vol 2 Issue 2, 26-34.
Roszkowski, M. J., & Grable, J. E. (2010). Gender Differences in Personal Income and
Financial Risk Tolerance: How Much of a Connection? The Career Development
Quarterly, Vol 58, 270-275.
Shefrin, H. (1999). Beyond Greed and Fear. Boston: Harvard Business School Press.
Stango. V, & Zinman. J. (2009). Exponential Growth Bias and Household Finance. The
Journal of Finance. Vol. 64 Issue 6 2807-2849.
Suda. C. (2002). Gender Disparities in The Kenyan Labour Market: Implications for
Poverty Reduction. Nordic Journal of African Studies, Vol. 11. Issue 3, 301-321.
Van Rooij, M., Lusardi, A., & Alessie, R. (2011). Financial Literacy and Stock Market
Participation . Journal of Financial Economics, Vol 101 Issue 2, 449-472.
Venter, G. Van de., Michayluk, D., & Davey, G. (2012). A longitudinal study of financial
risk tolerance. Journal of Economic Psychology, 33, 795-796.
Ward, S. (1974). Consumer Socialization. Journal of Consumer Research, Vol 1 Issue 1,
1- 14.
Willows, G., & West, D. (2012). Differential Investment Performance Based on Gender A Review of Literature. In SAAA Western Cape Regional Conference, pp. 72.
Yoong, J., "Financial Illiteracy and Stock Market Participation: Evidence from the RAND
American Life Panel," Pension Research Council Working Paper: The Wharton
School of the University of Pennsylvania, Philadelphia, PA, 2010.