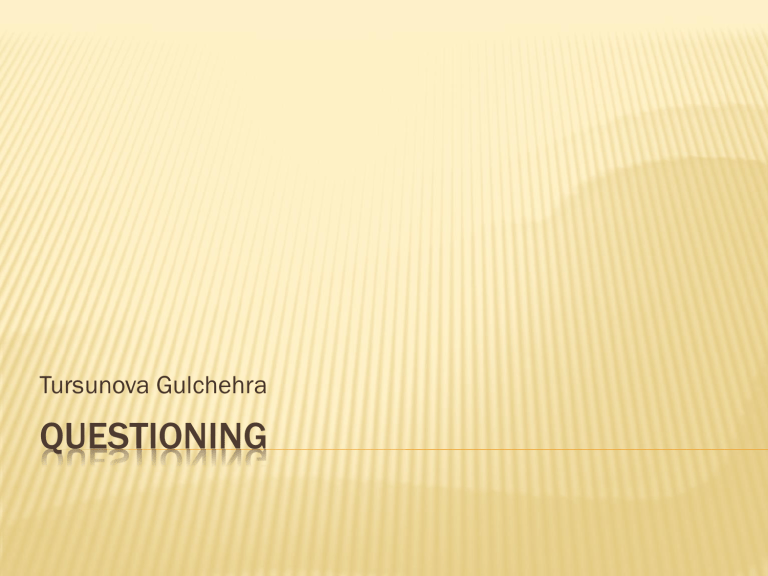 Tursunova Gulchehra
QUESTIONING
'In the middle of difficulty lies opportunity.
The important thing is not to stop questioning.'
Albert Einstein
IT'S A FACT THAT




An average teacher asks 400 questions in a day
That's 70,000 a year!
One-third of all teaching time is spent asking
questions
Most questions are answered in less than a
second
Steven Hastings
TES 4 July 2003
WHY ASK QUESTIONS?
TEACHERS ASK QUESTIONS FOR A VARIETY OF
PURPOSES, INCLUDING:
To actively involve students in the lesson
 To increase motivation or interest
 To evaluate students' preparation
 To check on completion of work
 To develop critical thinking skills
 To review previous lessons
 To nurture insights
 To assess achievement or mastery of goals and
objectives
 To stimulate independent learning

TYPES OF QUESTIONS
EDUCATORS HAVE TRADITIONALLY CLASSIFIED QUESTIONS
ACCORDING TO BLOOM'S TAXONOMY, A HIERARCHY OF
INCREASINGLY COMPLEX INTELLECTUAL SKILLS. BLOOM'S
TAXONOMY INCLUDES SIX CATEGORIES:






Knowledge – recall data or information
Comprehension – understand meaning
Application – use a concept in a new situation
Analysis – separate concepts into parts; distinguish
between facts and inferences
Synthesis – combine parts to form new meaning
Evaluation – make judgments about the value of ideas
or products
DALTON'S QUESTIONS







Quantity questions
Change questions
Prediction questions
Points of view questions
Personal involvement questions
Comparative association questions
Valuing questions
TIPS OF EFFECTIVE QUESTIONING
Questions have been classified according to
various different criteria:
 What kind of thinking they try to elicit(plain recall:
analysis or evaluation)
 Whether they are "genuine" or "display" questions
(does the teacher really want to know the answer,
or is he simply checking if the student does?)
 Whether they are closed- or open-ended (do they
have a single right answer or many?)

CRITERIA FOR EFFECTIVE QUESTIONING
ANALYSIS: LEARN THE TABLE BELOW AND GIVE
COMMENTS
COMPARE YOUR COMMENTS WITH THE
EXPERTS':
COMPARE YOUR COMMENTS WITH THE
EXPERTS':
THANK YOU!

That is all!