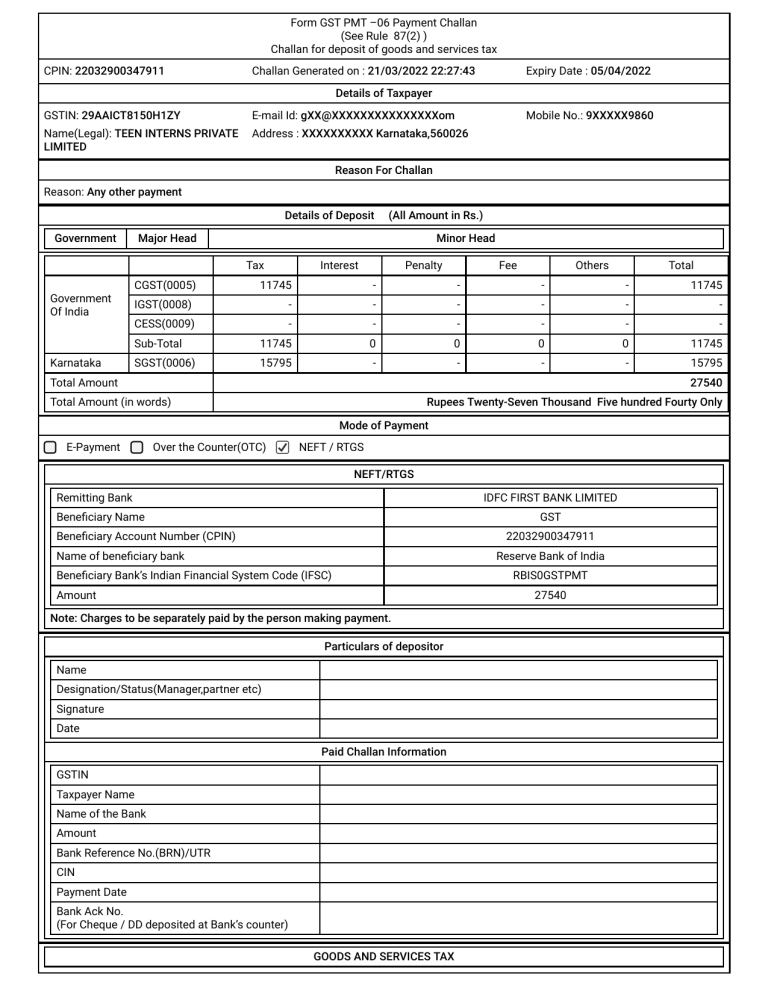 Form GST PMT –06 Payment Challan
(See Rule 87(2) )
Challan for deposit of goods and services tax
CPIN: 22032900347911
Challan Generated on : 21/03/2022 22:27:43
Expiry Date : 05/04/2022
Details of Taxpayer
GSTIN: 29AAICT8150H1ZY
E-mail Id: gXX@XXXXXXXXXXXXXXXom
Mobile No.: 9XXXXX9860
Name(Legal): TEEN INTERNS PRIVATE
LIMITED
Address : XXXXXXXXXX Karnataka,560026
Reason For Challan
Reason: Any other payment
Details of Deposit
Government
Major Head
Minor Head
Tax
Government
Of India
Karnataka
(All Amount in Rs.)
CGST(0005)
Interest
Penalty
Fee
Others
Total
11745
-
-
-
-
11745
IGST(0008)
-
-
-
-
-
-
CESS(0009)
-
-
-
-
-
-
Sub-Total
11745
0
0
0
0
11745
SGST(0006)
15795
-
-
-
-
15795
Total Amount
27540
Total Amount (in words)
Rupees Twenty-Seven Thousand Five hundred Fourty Only
Mode of Payment
E-Payment
Over the Counter(OTC)
NEFT / RTGS
NEFT/RTGS
Remitting Bank
IDFC FIRST BANK LIMITED
Beneficiary Name
GST
Beneficiary Account Number (CPIN)
22032900347911
Name of beneficiary bank
Reserve Bank of India
Beneficiary Bank's Indian Financial System Code (IFSC)
Amount
RBIS0GSTPMT
27540
Note: Charges to be separately paid by the person making payment.
Particulars of depositor
Name
Designation/Status(Manager,partner etc)
Signature
Date
Paid Challan Information
GSTIN
Taxpayer Name
Name of the Bank
Amount
Bank Reference No.(BRN)/UTR
CIN
Payment Date
Bank Ack No.
(For Cheque / DD deposited at Bank's counter)
GOODS AND SERVICES TAX
Mandate Form for making GST Payment through NEFT/ RTGS Mode
(See Rule -----)
(Valid Till Date : 05/04/2022)
I hereby authorize IDFC FIRST BANK LIMITED to remit an Amount of Rs 27540 (Rupees in words )Rupees Twenty-Seven Thousand
Five hundred Fourty Only through [ ] NEFT [ ] RTGS as per details given below :
[ ] Cheque [ ] Debit my/our Account
DETAILS OF APPLICANT(REMITTER)
Name of the Remitter
TEEN INTERNS PRIVATE LIMITED
Account Number
Cheque Number
Cheque Date
Address
XXXXXXXXXX Karnataka,560026
Contact No.
9XXXXX9860
DETAILS OF BENEFICIARY
Beneficiary Name
GST
Beneficiary Account No.(CPIN)
22032900347911
Beneficiary Bank Name
Reserve Bank of India
Beneficiary IFSC Code(11-digit)
RBIS0GSTPMT
Amount
27540
(……………………………………………….)
Signature
Date:
FOR BANK's USAGE
Date and time of receipt of NEFT/RTGS request
Transaction Amount
NEFT/RTGS Charges
Total Debit to Customer
NEFT /RTGS initiation date & time
NEFT/RTGS unique transaction number (UTR No.)
Instruction for Banks/Customer :
1. No change is allowed in the NEFT/RTGS details by the customer or the originating bank. The transaction is liable to be rejected in
case of any change in the NEFT/RTGS details
2. This NEFT/RTGS transaction should reach the destination bank before expiry of challan period. In case of any delay, the NEFT /
RTGS transaction would be returned to the originating account. It would be the responsibility of the customer and the originating
bank to ensure that the NEFT /RTGS remittance reaches the beneficiary account well before the expiry period and neither the GST
Authorities nor Reserve Bank of India would be responsible for any delay.