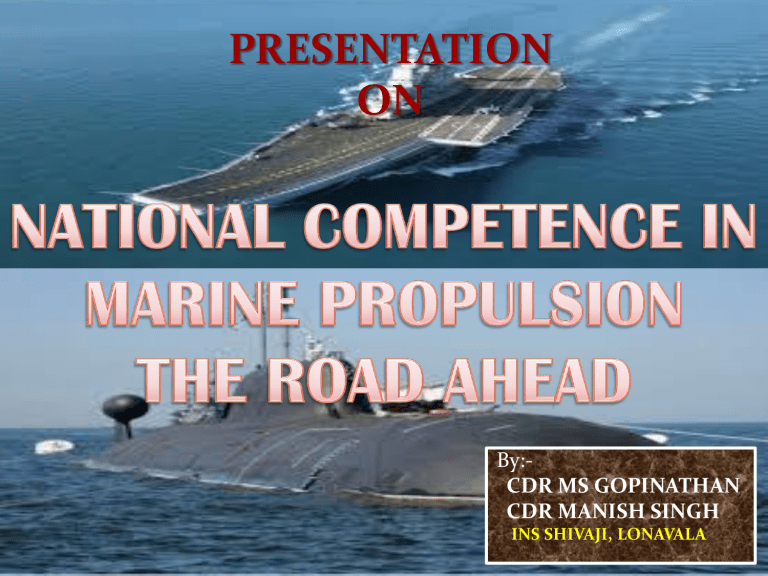 PRESENTATION
ON
By:CDR MS GOPINATHAN
CDR MANISH SINGH
INS SHIVAJI, LONAVALA
From time immemorial the people of India have
had very intimate connections with the sea.
They had trade with other countries and they
had also built ships.
In the bygone era Indian Shipbuilders with their
skill and proficiency, ardour and exertions etched an
indelible mark in the field of shipbuilding in India.
The vessels built at Bombay at that time were
superior to those built elsewhere; a reality exploited by
all, realised by many, accepted by few but
acknowledged by none....
 Aim
 Introduction
 Overall Need for "Make in India" Paradigm in
Defence Manufacturing
 The Road Ahead for "Make in India" in Marine
Propulsion
 'Make in India' Initiative in the Conventional
Propulsion Domain
 Upcoming Areas of Interest in Marine Propulsion
 Conclusion
 Way Ahead
4
 To
dwell on existing indigenised
capabilities with respect to Naval Marine
Propulsion and underline scope for its
further strengthening in consonance with
focus on 'Make in India'
 Recommend steps for building foreign
collaboration
to
develop
Marine
Propulsion technology, with consideration
for 'cost of doing business in India'
6
1612
• History of the Indian Navy
• Captain Best encountered and defeated the
Portuguese
1686
• British commerce shifted to Bombay, the force
was called Bombay Marine
• Involved in combat against the Marathas and the
Sidis
1892
 Consisted of over 50 vessels
 Participated in action with a fleet of
minesweepers, patrol vessels and troop carriers
during the First World War
1934
•During Second World War, the Royal Indian
Navy consisted of eight warships
•Strength had risen to 117 combat vessels and
30,000 personnel by end of war
1947
• 32 ageing vessels suitable only for coastal patrol,
along with 11,000 officers and men
• Five decades back Indian Navy's foray into
indigenisation began
2016
• Forty eight state-of-the-art ships/submarines under
construction in Indian shipyards both public and private
• Time
for launching into phase of self-reliance by
manufacturing technologically advanced equipment
within India
9
2001 - Defence manufacturing came out of stranglehold of
Public Sector Undertakings-Ordnance Factories monopoly
with major liberalisation
Defence industry is a subset of a nation's concern to ramp up
manufacturing capability
Defence Procurement Policy 2013 have created a level playing
field for private sector
Capability of our defence industry in terms of value addition,
self reliance in critical technology and policy initiatives so far
and their impact needs to be examined
Possible synergy between "Make in India" policy and defence
industry capability needs to be brought about
Defence
services
A/c for 2.5
% of the
GDP
Some
Indigenous
developments
by the DRDO
CHALLENGES
IN
SELF
RELIANCE
Technology
through licence
agreements from
Russia & some
from Western
countries
Capital
acquisition
budget has
grown
around 20
% per year
Self Reliance
Index has
remained
stagnant
at around
30 %
12
 Indian Navy is gradually transforming from a "buyer's
navy" to a "builder's navy"
Float
Classification
of shipboard
systems based
on their role
Move
Fight
Materials, equipment
& systems associated
with the hull
structures & fittings
Propulsion /Power
generation/Ship
system
Ship borne weapons
& sensor systems
 Status of Indigenization
90% Indigenization
Float
Classification
of shipboard
systems based
on their role
Move
50-60%
Indigenization
Fight
30%
Indigenization
US
Models of
Indigenization
Available
Govt. Model
Indian
PPP Model
Chinese
Fixed time based contracts is need of the hour to salvage
shipbuilding industry from inordinate delays
Shortest delivery period & contract implementation period
should carry due weightage in award of contracts
PPP model for indigenisation is best suited in Indian environ
JV is provided with necessary Govt. policy assistance to
participating private firms, both Indian and Foreign
 Potential Partnership for Building National Competence
in Marine Propulsion
 International Industry possesses requisite technology
for building infrastructure in the country for
undertaking production in the field of Marine
Propulsion
 May be willing to invest/ share the cost
 Development contracts based on collaborative
approach between Indian Navy / Developing agency
and Industry both as equal partners aiming at
optimum results
 Industrial houses like Tatas, Mahindras, Reliance,
Kirloskar, L&T, Godrej have collaboration with
foreign vendors for production of defence equipment
within the country yielding great success
 Success of Arihant, with intensive participation of
numerous large and small private players has given lot
of confidence to IN
 Successful indigenous development in hydraulic
system /Stabilisers/ Steering gears indicates willingness
and ability of Private players to partner with IN in
'Make in India' developmental efforts in Marine
Propulsion
19
Propulsion modes
used in India
Steam
Plants
Indigenous
manufacture of
steam turbines by
M/s BHEL
Diesel
Engines
Indigenous
manufacture by
M/s KOEL
Gas
Turbines
Foreign
Origin
 Main Areas of 'Move' Where India is Facing Capability Gaps
Move
Gas
Turbines
(11-15 MW
and 20-25
MW)
High Power
Main
Propulsion
Diesel
Engines
Marine
Gearboxes
(1-50
MW)
 Indigenization initiatives includes development
of Kaveri Marine Gas Turbine at GTRE,
Bangalore, tested to a sustained output of 12
megawatt with considerable amount of success
 Kaveri engine has potential to replace the
Russian GTs in the foreseeable future
 India has bought foreign vessels largely from
Britain and former Soviet Union with integral
foreign engines
 Need for "Make in India" initiatives in gas turbines in
the range of 11-15 MW and 20-25 MW for fitment on
future ships
 Inter-cooled Recuperated WR 21 Gas turbine developed
by Rolls Royce and Northrop Grumman offers a 30%
reduction in fuel consumption
 These GTs combine best of diesel and Gas turbines, i.e.,
low Specific Fuel Consumption (SFC) at part loads and
high power density and fulfils the role of both Cruise
and Boost Gas turbines
 Gas Turbines, with reduced IR signatures due to their
low exhaust temperature have to be developed view
stealth consideration
 Development of gas turbines with enhanced aerothermo-dynamics
 Developments in the field of advanced materials for
combustion chamber and turbine blades
 Primary requirement for diesel engines
with low noise levels and high
availability and reliability
 Self-reliance in lower power range has
been achieved, however high power
diesel engines are largely imported or
assembled in India
 Thrust areas wherein diesel engine manufacturing
under the 'Make in India' model can be explored
 Diesel engines meeting stringent environmental
regulations , multi-fuel operation and long service life
 Reduced emissions and improved combustion efficiency
 Development of technology for Rheological smart fluids
for torsional damping to achieve better power to weight
ratios
 South Korean major Hyundai Heavy Industries (HHI)
and public sector Hindustan Shipyard Limited,
Visakhapatnam, joining hands to build warships
 Hyundai has designed and developed the HiMSEN
engine which is part of Hyundai's ongoing efforts to
provide the most practical and highest quality engines
 Samsung, will be collaborating with Kochi Shipyard
to make liquefied natural gas (LNG) tankers. This can be
further extended towards developing Marine Diesel
Propulsion aggregates in India
 Warship gearbox require consideration for noise
and vibration with features viz.



Higher hardness of pinion and gear materials
to cater higher gear tooth loadings
High efficiency by ensuring lower transmission
losses and reliability
Long life
 Gearboxes with greater indigenous content in
range of 1-50 MW
 Development of techniques to design compact and
silent gearboxes
 Advanced manufacturing techniques, metallurgical
processes and materials
 Develop technology to manufacture silent marine
propulsion gearbox
 Presently some gearboxes of ships are being
manufactured in India by M/s Elecon, under joint
ventures with foreign firms such as M/s MAAG
Switzerland & M/s Renk Germany
30
 IN has primarily COGAG and CODOG
 Globally thrust is on Combination of Diesel Electric
and Gas (CODLAG) propulsion
 Combines the diesel engines used for propulsion and for
electric power generation greatly reducing service cost
 Electric motors work efficiently over a wide range of
revolutions and can be connected directly to the propeller
shaft so that simpler gearboxes can be used
 Diesel generators can be decoupled acoustically from the
hull of the ship, making it less noisy
 MTU Friedrichshafen along with GE Marine
System provided the German type 125 Class
Frigate CODLAG propulsion module
 Paxman has provided diesel power modules for
CODLAG propulsion system in new Type 23
Antisubmarine Warfare frigates of British Royal
Navy
 Paxman (diesel), GE (LM2500) and MTU are
established suppliers for IN and possibility of
Make in India through JV for CODLAG
Propulsion can be explored
 Large number of ships being inducted under
indigenous ships building programme
 Need is for Indian industry to acquire adequate
expertise and in-house competence in Propulsion
system machinery selection, design and integration
 Propulsion System Integration is considered a key
thrust area for 'Make in India' in marine
propulsion
 Nuclear power offers an ultimate AIP solution for high speed,
mobility, autonomy and submerged endurance
 With Arihant experience through model of introspection and
lessons learnt, India can further develop this technology
through indigenous capabilities and undertake "Make/Made
in India" developmental model
 India's second indigenous aircraft carrier (IAC-2) can utilise
indigenous experience of development and complex
installation of nuclear propulsion
 Electrical propulsion a fast maturing technology for marine
applications
 Advanced navies like US Navy, Royal Navy and French Navy
have in place major programmes for adoption
 Involvement of domestic shipyards, in building LPDs powered
with electric propulsion systems
 Private shipyards with huge investments in developing modern
state-of-the-art shipyards will be able to prove their
credentials for undertaking larger and more sophisticated
projects
Warship
building
Make in the
Marine
Propulsion
field
campaign
Large
future
induction
planned
Foreign
participation
Commercial
shipbuilding
Growth
opportunities
37
Defence industry, be it public sector or private, has to be part
of the national manufacturing policy mosaic
Bridging of capability gap in development of Main propulsion
system can be achieved through 'Make in India' with
collaborative approach between Indian Navy / Developing
agency and Industry aiming at optimum results
Participation of foreign firms in development of propulsion
systems for large IN ships and submarines on anvil with
paradigm of Make in India can act as the launch pad for
indigenisation
39
Make in India in Marine propulsion sector must be also seen
as Design in India
Procurement procedure which is not only looking after
financial correctness but also caters to technology needs
Complementarity in systems used for aerospace and
shipbuilding sectors by same OEMs to be utilised for getting
key technologies
Continuation of favourable policies by all governments in the
future for sustainable outputs
Liberalise FDI policy for foreign OEMs for setting up business
in India in partnership with public/ private players
Investment in R&D in field of Marine Propulsion by making
enhanced allocation to defence technology fund
Conducive policy in field of export to ensure 'Make in India'
in marine propulsion is also lucrative from export point of
view for a foreign firm investing/ setting up a manufacturing
facility in India
?