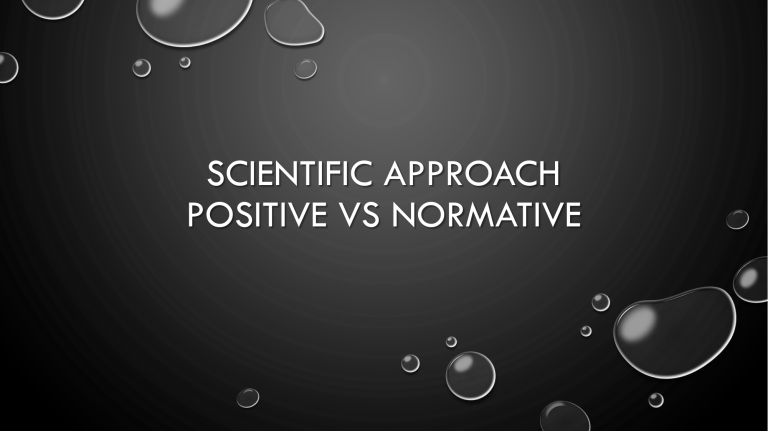 SCIENTIFIC APPROACH
POSITIVE VS NORMATIVE
POSITIVE ECONOMIC V.S NORMATIVE ECONOMICS
• MOST ECONOMIC DECISIONS AND POLICY ARE INFLUENCED BY VALUE JUDGEMENTS, WHICH
VARY FROM PERSON TO PERSON, RESULTING IN FIERCE DEBATE BETWEEN COMPETING
POLITICAL PARTIES. POSITIVE ECONOMICS AND NORMATIVE ECONOMICS ARE TWO
STANDARD BRANCHES OF MODERN ECONOMICS.
• POSITIVE ECONOMICS IS OBJECTIVE AND FACT BASED, WHILE NORMATIVE ECONOMICS IS
SUBJECTIVE AND VALUE BASED. POSITIVE ECONOMIC STATEMENTS MUST BE ABLE TO BE TESTED
AND PROVED OR DISPROVED. NORMATIVE ECONOMICS STATEMENTS ARE OPINION BASED, SO
THEY CANNOT BE PROVED OR DISPROVED.
WHAT IS GDP?
THE GROSS DOMESTIC PRODUCT (GDP) IS THE SUM OF ALL VALUE
ADDED IN A GIVEN ECONOMY. THE VALUE ADDED IS THE DIFFERENCE
BETWEEN THE VALUE OF THE GOODS AND SERVICES PRODUCED
AND THE VALUE OF THE GOODS AND SERVICES REQUIRED TO
PRODUCE THEM, ALSO KNOWN AS INTERMEDIATE CONSUMPTION.