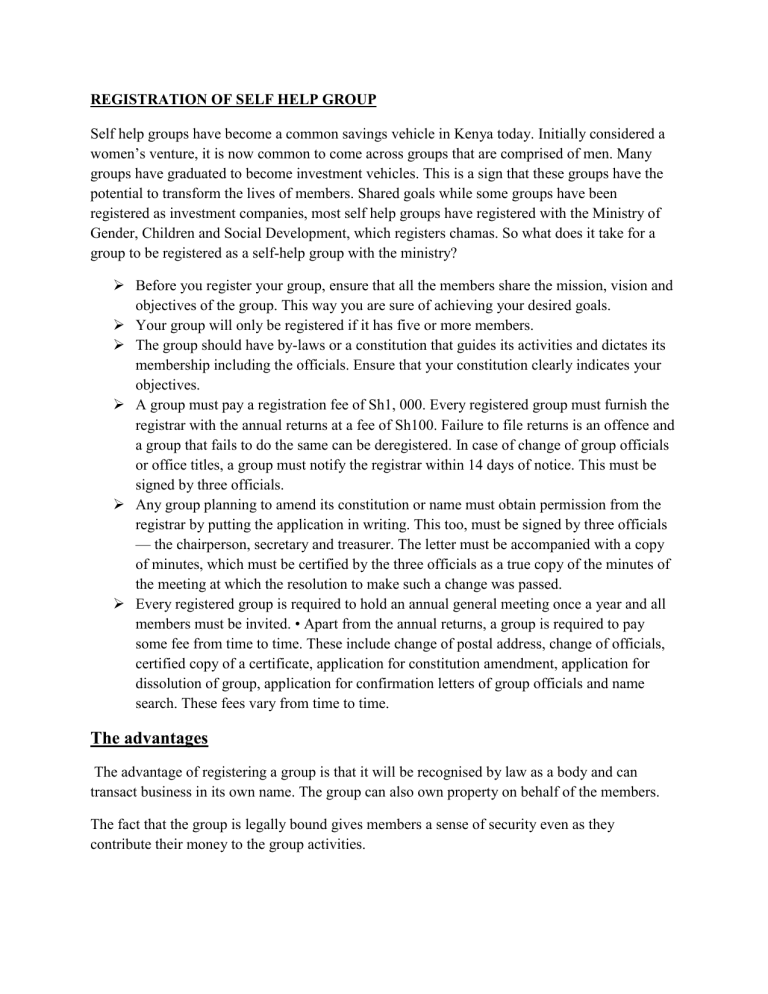 REGISTRATION OF SELF HELP GROUP
Self help groups have become a common savings vehicle in Kenya today. Initially considered a
women's venture, it is now common to come across groups that are comprised of men. Many
groups have graduated to become investment vehicles. This is a sign that these groups have the
potential to transform the lives of members. Shared goals while some groups have been
registered as investment companies, most self help groups have registered with the Ministry of
Gender, Children and Social Development, which registers chamas. So what does it take for a
group to be registered as a self-help group with the ministry?
 Before you register your group, ensure that all the members share the mission, vision and
objectives of the group. This way you are sure of achieving your desired goals.
 Your group will only be registered if it has five or more members.
 The group should have by-laws or a constitution that guides its activities and dictates its
membership including the officials. Ensure that your constitution clearly indicates your
objectives.
 A group must pay a registration fee of Sh1, 000. Every registered group must furnish the
registrar with the annual returns at a fee of Sh100. Failure to file returns is an offence and
a group that fails to do the same can be deregistered. In case of change of group officials
or office titles, a group must notify the registrar within 14 days of notice. This must be
signed by three officials.
 Any group planning to amend its constitution or name must obtain permission from the
registrar by putting the application in writing. This too, must be signed by three officials
— the chairperson, secretary and treasurer. The letter must be accompanied with a copy
of minutes, which must be certified by the three officials as a true copy of the minutes of
the meeting at which the resolution to make such a change was passed.
 Every registered group is required to hold an annual general meeting once a year and all
members must be invited. • Apart from the annual returns, a group is required to pay
some fee from time to time. These include change of postal address, change of officials,
certified copy of a certificate, application for constitution amendment, application for
dissolution of group, application for confirmation letters of group officials and name
search. These fees vary from time to time.
The advantages
The advantage of registering a group is that it will be recognised by law as a body and can
transact business in its own name. The group can also own property on behalf of the members.
The fact that the group is legally bound gives members a sense of security even as they
contribute their money to the group activities.
It is also important for every registered chama to be conversant with tax implications of their
property transactions, more so when they sell it and intend to split the cash. They should realise
that they are jointly liable to account for debts and obligations of the group.